Morgan Matson has been one of my favorite authors for a while now and she has recently released a brand new book and I love it. It is totally different from all of her other books and I really enjoyed this one. And yes, there are SPOILERS in this book, and a lot of them.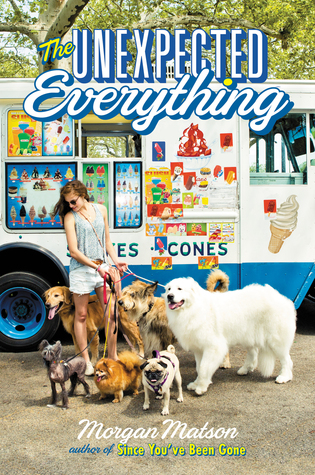 Title: The Unexpected Everything
Author: Morgan Matson
Publisher: Simon & Schuster
Pages: 519 (Hardback)
Released: May 3, 2016
Synopsis: Andie had it all planned out.
When you are a politician's daughter who's pretty much raised yourself, you learn everything can be planned or spun, or both. Especially your future.
Important internship? Check.
Amazing friends? Check.
Guys? Check (as long as we're talking no more than three weeks).
But that was before the scandal. Before having to be in the same house with her dad. Before walking an insane number of dogs. That was before Clark and those few months that might change her whole life.
Because here's the thing—if everything's planned out, you can never find the unexpected.
And where's the fun in that?
About the Author: Morgan Matson grew up in New York City and Greenwich, Connecticut. She attended Occidental College in Los Angeles but halfway though a theater degree, she started working in the children's department of Vroman's Bookstore and fell in love with YA literature. Following college graduation (and the proud bearer of an incredibly useful theater/English degree) she moved back East to attend the New School, where she received her M.F.A in Writing for Children. Amy & Roger's Epic Detour, inspired by Morgan's three cross-country road trips, was published in May 2010. It was named an ALA Top Ten Best Book, a PW "Flying Start" book, and was shortlisted for the Waterstone's Book Prize. In the meantime, Morgan moved back to California, went back to school again and in 2011 received an M.F.A. in Screenwriting from the University of Southern California. Her second book, Second Chance Summer, was published in May 2012 and draws largely on her experiences spending summers growing up in the Pocono Mountains of Pennsylvania. Her third book, Since You've Been Gone, was published in 2014. Morgan currently lives in Los Angeles, though she loves to travel and does it whenever she can. She is currently writing another book, to be published in 2016.
Before Reading: Before I (or my mom) preordered the book off of Amazon, I was excited to read it. The one thing that I knew before even starting the book I knew there would be a guy and something is not going to go as plan. The one thing I do love is not only the cover but how all of Morgan's book has an inside book cover picture and they are amazing, with my favorite being the one off of Since You've Been Gone.
My Favorite Part: I love the scene when Andie goes over to Clark's publishers home t are for the dog. Something about the love connection that was written in the lines was beautiful. Andie and Clark are in a tie for my favorite book couple by Morgan's with Amy and Roger. The fact that Andie dropped everything to go over and help a dog, which she didn't like dogs in the first place, was one of my favorite things. She didn't care about anything but Clark when she was there. She wanted to make sure that Clark was okay when the dog was sick, since he ate a whole box of chocolate that was sitting on the counter (which it was also dark chocolate, my favorite!) The funniest part also occurred in the same scene when Andie comes home and he dad is sitting in the kitchen and he has no clue where she was because her one single text didn't go through but his hundred did.
Favorite Character: I love Clark. Clark was hands down my favorite character. Not to be too weird but I would go out with Clark because he is so geeky in a way that it is cute. I love the fact that Clark had secrets about his identity as well as Andie since he didn't tell her that he was a published author, which she has heard of. I didn't picture him the way the book portrayed him. I always saw him with these geeky glasses, with brown hair and brown eyes. I don't have any clue why I saw him like that. I guess that is how I like my men.
Least Favorite Character: I hated Andie's friend Palmer. Palmer is Andie's best friend and I just never liked her. She seemed like one of those high school girls who really didn't care about anything so they sat in class and got all the guys. Palmer had her boyfriend Tom, who seemed AMAZING but I kind of feel like Palmer without Tom would be insane. But without a Palmer in the book, the relationship feelings and the whole atmosphere would be totally different.
Top Favorite Parts:
When the people for Andie's internship calls and tells her that she is unable to go to the intern because one of her recommendations pulled away from her at 7 am.

The scavenger hunt. Did you guys notice how excited Andie's dad was to help them, and that he actually STOLE A MENU FROM A RESTURANT? I guess that is what you are able to do when you are a senator.

After Andie finished Clark's second book and didn't talk to him because she wanted to know more.

While Andie is finding out what her summer job actually is: dog walking

When Andie was determined to see Clark's book reading in a completely different state while everything is going on with her dad and her friends. And the fact that she makes it and they get back together at the reading.

Clark didn't leave Andie after all

Andie's dad giving Andie her mom's old car because he knew that it was the right to give it to her.

Anytime that Andie is with Clark, obviously
One Thing I Wish I Could Change: The fact that Andie's mom is dead. I hated the fact that she didn't have anyone there to talk to, other than her friends before Clark. Her dad was never there so it was her, by herself. If Andie's mom was still alive, and had beaten the cancer, Andie wouldn't have to wonder how to fix all of her problems by herself, and have such a large collection of some stuff in her bathroom (yes guys, Morgan added that stuff in there). I guess if her mom was alive, nothing like this would happen and Andie and Clark would not be a thing.
Could I See This As A Movie: I could see it as a movie. I would love to see this as a movie. I don't know if it a bad thing that I actually have a cast picked out for most of the characters but I guess that tells you how much I love this book. The only thing I have to say is, the person that plays Clark needs to get nerd glasses so he fits my picture of Clark.
Andie: Troian Bellisario
Clark: Tyler Blackburn
Andie's Dad: Chris Bauer
Palmer: Anna Kendrick
Tom: Nick Robinson
Toby: Hailee Steinfeld
Bri: Alexandra Daddario
Have your read this book or anything by Morgan Matson before? Do you want to read this book or something like this one? Let me know what your thoughts are about this book in the comments!
Happy Reading,
❤ Ann