Believe it or not, the end of the year is fast approaching us. We only have like 141 days until January 1, 2018. But I was looking at my bookshelf and I realized that there are still a lot of books I would like to add to the collection and read before the end of the year. So I decided to turn this into a blog post. Welcome to whatever you want to call this post: Books I Would Like To Read Before 2018 or End of Year TBR or Book to Read. Let's just get started with the post. 
Title: Never Let You Go
Author: Kazuo Ishiguro
Publisher: Vintage International
Released: March 2006
Pages: 288 (Paperback)
From the acclaimed author of The Remains of the Day and When We Were Orphans, a moving new novel that subtly reimagines our world and time in a haunting story of friendship and love.
As a child, Kathy – now thirty-one years old – lived at Hailsham, a private school in the scenic English countryside where the children were sheltered from the outside world, brought up to believe that they were special and that their well-being was crucial not only for themselves but for the society they would eventually enter. Kathy had long ago put this idyllic past behind her, but when two of her Hailsham friends come back into her life, she stops resisting the pull of memory.
And so, as her friendship with Ruth is rekindled, and as the feelings that long ago fueled her adolescent crush on Tommy begin to deepen into love, Kathy recalls their years at Hailsham. She describes happy scenes of boys and girls growing up together, unperturbed – even comforted – by their isolation. But she describes other scenes as well: of discord and misunderstanding that hint at a dark secret behind Hailsham's nurturing facade. With the dawning clarity of hindsight, the three friends are compelled to face the truth about their childhood–and about their lives now.
A tale of deceptive simplicity, Never Let Me Go slowly reveals an extraordinary emotional depth and resonance – and takes its place among Kazuo Ishiguro's finest work.
So I actually sort of found this book on accident. One of my favorite songs has to be Never Let Me Go by Florence & the Machine. I typed the song into youtube and I noticed that there was a movie by the same name. Of course, I went and hit the trailer and I think I cried in it. Once I found out that it was a book, I went on a hunt for it. I bought it when I didn't even need it. We were getting one of Books-A-Million's discounts for buy two, get the third free. This was my third book. It has been with me for a few years now. 
Title: Tower of Dawn
Author: Sarah J. Maas
Publisher: Bloomsbury USA Children's Books
Release: September 5, 2017
Pages: 672 (Hardback)
In the next installment of the New York Times bestselling Throne of Glass series, follow Chaol on his sweeping journey to a distant empire.
Chaol Westfall has always defined himself by his unwavering loyalty, his strength, and his position as the Captain of the Guard. But all of that has changed since the glass castle shattered, since his men were slaughtered, since the King of Adarlan spared him from a killing blow, but left his body broken.
His only shot at recovery lies with the legendary healers of the Torre Cesme in Antica—the stronghold of the southern continent's mighty empire. And with war looming over Dorian and Aelin back home, their survival might lie with Chaol and Nesryn convincing its rulers to ally with them.
But what they discover in Antica will change them both—and be more vital to saving Erilea than they could have imagined.
I am so excited for this book to come out. I love Sarah J. Maas if you guys are new here. I have been excited for this book for a while now. But I already sort of have a copy of this book since I have it preordered and some other exciting stuff planned for this book and me. I can't wait to dive into the world of Throne of Glass and maybe I will begin liking Chaol a little more!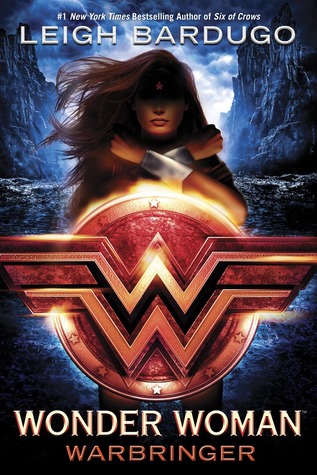 Title: Wonder Women: Warbringer
Author: Leigh Bardugo
Publisher: Random House Books for Young Readers
Release: August 29, 2017
Pages: 384 (Hardback)
She will become one of the world's greatest heroes: WONDER WOMAN. But first she is Diana, Princess of the Amazons. And her fight is just beginning. . . .
Diana longs to prove herself to her legendary warrior sisters. But when the opportunity finally comes, she throws away her chance at glory and breaks Amazon law—risking exile—to save a mere mortal. Even worse, Alia Keralis is no ordinary girl and with this single brave act, Diana may have doomed the world.
Alia just wanted to escape her overprotective brother with a semester at sea. She doesn't know she is being hunted. When a bomb detonates aboard her ship, Alia is rescued by a mysterious girl of extraordinary strength and forced to confront a horrible truth: Alia is a Warbringer—a direct descendant of the infamous Helen of Troy, fated to bring about an age of bloodshed and misery.
Together, Diana and Alia will face an army of enemies—mortal and divine—determined to either destroy or possess the Warbringer. If they have any hope of saving both their worlds, they will have to stand side by side against the tide of war.
Is there anyone out there that isn't excited for this book? Of course, there are some people but you know what I mean. This book has been something I have been dying to read for a while now, since like October so I am so excited to finally get the chance to read it! We still have a little bit of time till it comes out but I can't wait to get the book in my hands!
Title: Because You Love to Hate Me 
Editor: Ameriie
Publisher: Bloomsbury USA Children
Release: July 11, 2017
Pages: 320 (Hardback)
Leave it to the heroes to save the world–villains just want to rule the world.
In this unique YA anthology, thirteen acclaimed, bestselling authors team up with thirteen influential BookTubers to reimagine fairy tales from the oft-misunderstood villains' points of view.
These fractured, unconventional spins on classics like "Medusa," Sherlock Holmes, and "Jack and the Beanstalk" provide a behind-the-curtain look at villains' acts of vengeance, defiance, and rage–and the pain, heartbreak, and sorrow that spurned them on. No fairy tale will ever seem quite the same again!
Featuring writing from . . .
Authors: Renée Ahdieh, Ameriie, Soman Chainani, Susan Dennard, Sarah Enni, Marissa Meyer, Cindy Pon, Victoria Schwab, Samantha Shannon, Adam Silvera, Andrew Smith, April Genevieve Tucholke, and Nicola Yoon
BookTubers: Benjamin Alderson (Benjaminoftomes), Sasha Alsberg (abookutopia), Whitney Atkinson (WhittyNovels), Tina Burke (ChristinaReadsYA blog and TheLushables), Catriona Feeney (LittleBookOwl), Jesse George (JessetheReader), Zoë Herdt (readbyzoe), Samantha Lane (Thoughts on Tomes), Sophia Lee (thebookbasement), Raeleen Lemay (padfootandprongs07), Regan Perusse (PeruseProject), Christine Riccio (polandbananasBOOKS), and Steph Sinclair & Kat Kennedy (Cuddlebuggery blog and channel).
I am dying to read this book but I just haven't yet! Ever since I heard about this book, it is one that is always sitting in the back of my mind. Since school is starting and I'm going to be off my summer of not buying books, I am hoping that I can get my hands on the book! It just sounds so good and I have heard nothing but good things about it.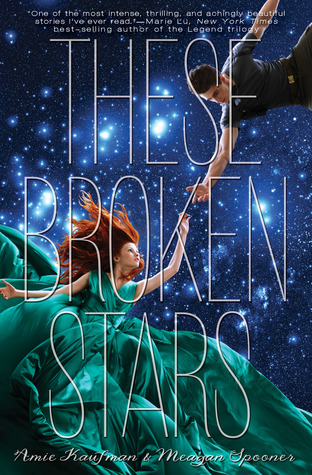 Title: These Broken Stars
Author: Amie Kaufman and Meagan Spooner
Publisher: Disney Hyperion
Released: December 10, 2013
Pages: 374 (Hardback)
Luxury spaceliner Icarus suddenly plummets from hyperspace into the nearest planet. Lilac LaRoux and Tarver Merendsen survive – alone. Lilac is the daughter of the richest man in the universe. Tarver comes from nothing, a cynical war hero. Both journey across the eerie deserted terrain for help. Everything changes when they uncover the truth.
The Starbound Trilogy: Three worlds. Three love stories. One enemy.
This book has been on my bookshelf for a few years now. Like four years or something. I still have yet to read it. I don't know why though. It does sound like something I would enjoy but for some reason, I just haven't. I think one of the reasons is the fact that I haven't particularly heard amazing things about the book so I have been a little nervous to go and read it. But I really want to go and dive into the book. 
Title: Dawn
Author: Elie Wiesel
Publisher: Hill and Wang
Released: May 21, 2006
Pages: 81 (Paperback)
Elisha is a young Jewish man, a Holocaust survivor, and an Israeli freedom fighter in British-controlled Palestine; John Dawson is the captured English officer he will murder at dawn in retribution for the British execution of a fellow freedom fighter. The night-long wait for morning and death provides Dawn, Elie Wiesel's ever more timely novel, with its harrowingly taut, hour-by-hour narrative. Caught between the manifold horrors of the past and the troubling dilemmas of the present, Elisha wrestles with guilt, ghosts, and ultimately God as he waits for the appointed hour and his act of assassination. Dawn is an eloquent meditation on the compromises, justifications, and sacrifices that human beings make when they murder other human beings.
I read Elie Wiesel's novel, Night, about a year ago and I loved it. There were so many amazing things about this book and I freaking loved it. The book opened my eyes to so many things. When my mom bought the book for me, she went ahead and bought me the two other books that Elie Wiesel wrote. I still have not read any more of his work and I am so excited to read some more of his work because it is some of the best out there.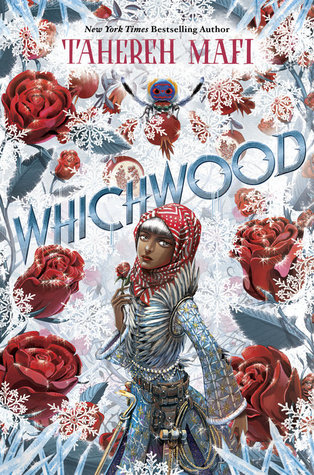 Title: Whichwood
Author: Tahereh Mafi
Publisher: Dutton Books for Young Readers
Release: November 14, 2017
Pages: 368 (Hardback)
A new adventure about a girl who is fated to wash the bodies of the dead in this companion to Furthermore.
Our story begins on a frosty night…
Laylee can barely remember the happier times before her beloved mother died. Before her father, driven by grief, lost his wits (and his way). Before she was left as the sole remaining mordeshoor in the village of Whichwood, destined to spend her days washing the bodies of the dead and preparing their souls for the afterlife. It's become easy to forget and easier still to ignore the way her hands are stiffening and turning silver, just like her hair, and her own ever-increasing loneliness and fear.
But soon, a pair of familiar strangers appears, and Laylee's world is turned upside down as she rediscovers color, magic, and the healing power of friendship.
I just read Furthermore and basically loved it. Not just because it was Tahereh Mafi but because it was so good. I want to be able to dive back into that world before the year is over! I don't want to wait another minute. I just want to have this book in my hands and read it this minute. I don't care if I get arrested. I will have this book in my hands. 
Title: The Becoming of Noah Shaw
Author: Michelle Hodkin
Publisher: Simon & Schuster Books for Young Readers
Release: November 7, 2017
Pages: 384 (Hardback)
In the first book of the Shaw Confessions, the companion series to the New York Times bestselling Mara Dyer novels, old skeletons are laid bare and new promises prove deadly. This is what happens after happily ever after.
Everyone thinks seventeen-year-old Noah Shaw has the world on a string.
They're wrong.
Mara Dyer is the only one he trusts with his secrets and his future.
He shouldn't.
And both are scared that uncovering the truth about themselves will force them apart.
They're right.
Even though I don't talk about Michelle Hodkin a lot, I really do enjoy her books. They are just so fun and light to read, well at least to me. They also have this mystery to them along with some darkness. I have been dying to read some of her other work so when I heard that one of my favorite characters from the book was getting their own series, I couldn't help but die a little. I just really wish it was closer to November. It will be here before our eyes though. 
What books do you want to read before the end of the year? Are you excited for any of these books? Have you read any of these books? Do you want to read any of these books after you read this post? What are you currently reading? What are some of your plans for the rest of the year? Let me know your thoughts in the comments! 
Happy Reading,