Welcome back everyone!
I was randomly reading some post the other day when I came across this one tag. I had a song stuck in my head, thanks to my sister, and the tag fit my current situation. Thanks to Lysi @ Living One Day @ A Time for introducing me to this tag. Her blog is spectacular and you should all check it out. But the tag was created by Katie @ Katesbookdate so make sure you check out her original video. 
MY JAM:
a song you MUST listen to every time it comes on, no matter how old or how many times you've listened to it / a book you'll never get sick of
A Court of Thorns and Roses by Sarah J. Maas. This book is perfection wrapped into happiness. I love this book way too much and I need to read it again for a third time. Yes, I've read it twice. Don't judge me. I love this book so much and Rhysand is in it. When your boyfriend is in a book, it is only right when you read it every so often and can quote the book. 
Song: Style by Taylor Swift – Of course I pick a Taylor Swift song. I just really love this song with my heart and I could listen to it over and over again for a whole day and not get tired. Taylor Swift just makes me really happy. 
THROWBACK:
a song that reminds you of the cringest time of your life / a book that also reminds you of this time (or just something you wouldn't like as much if you picked it up for the first time now)
The Candymakers by Wendy Mass. I did recently read the second book in the series this year but this book reminds me of this time so much. I was in middle school but I was reading books for third graders. Just no. No. No. No. 
Song: Baby by Justin Bieber – I was never a fan of Justin Bieber and I probably won't ever be. There was a time where this was the only song my sister liked. I also went through a stage at this point of life where I wore sweatpants with everything, didn't wear deodorant, and didn't brush my teeth. Yah…
REPLAY:
a recent song you have on repeat right now / a recent favorite book
Did I Mention I Love You by Estelle Maskame is amazing. I did read it a few months ago but it is recent enough for me. This book is beautiful inside out, even though it does have a step sister and step brother relationship. This book has to be one of my favorite books of the year. 
Song: Body Like A Back Road by Sam Hunt – I could listen to this song forever and ever. But do not, and I repeat, do not drive with your eyes closed. It is very dangerous kids. Who knows what could happen.
GETS ME:
this song IS ME / this book is me in book form
I don't really think that there is a book like me. If there is, I just haven't met it. I'm really stumped here. 
Song: L.A. Devotee by Panic! At the Disco – This song is crazy, there are times I have no idea what they are saying and it's so different. Plus, there is a little key change in the song and that's how my life is, things are always changing right in the middle of it. 
WUT:
weird but I like it? – a unique book that stuck out to you for whatever reason
An Ember In The Ashes by Sabaa Tahir just because how much I didn't like it. The writing as different and unique unlike the other books I have read. It just was not my book and it will always stay in my mind one of the books I hate in the world. 
Song: Feels by Calvin Harris featuring Pharrell Williams and Katy Perry – Have you heard this song? I mean it is good but when you think about it, it is a little weird. 
LET'S GO:
best pump up song (for workouts or just life) – a book that inspired you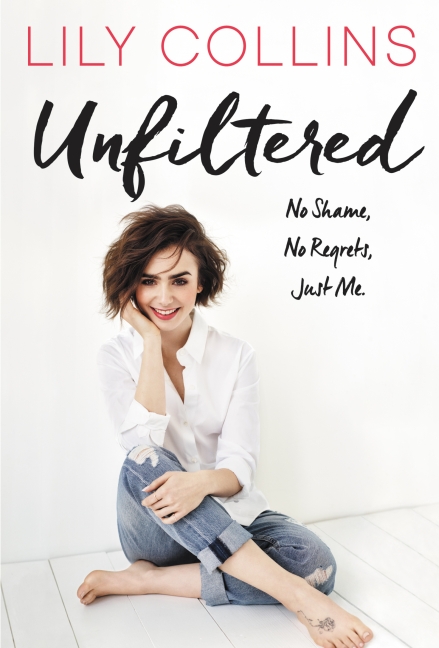 Unfiltered: No Shame, No Regrets, Just Me. by Lily Collins. This book is amazing and I will forever talk about this book. This book taught me so much and it has really opened my eyes to so many other things.
Song: Despacito Remix – Justin Bieber,  Luis Fonsi and Daddy Yankee – The song is just so upbeat and it would totally keep me working out, if I ever worked out! Anytime the song comes on, I am always dancing, making my own words up, and doing something strange.
CHILL:

favorite chill, relaxing song / a book you'd curl up with and read on a rainy day
The 100 by Kass Morgan. The relationships, the realness, the storyline fits the whole rainy day scenario. The book is so light and fluffy that I can't help but love.  
Song: Malibu by Miley Cyrus – It's so relaxing and peaceful that always puts a smile on my face. It's amazing. 
ADDICTING:
guilty pleasure song – one that's catchy and addicting but not a whole lot of substance / guilty pleasure/trashy/fast/light read
Any Nicholas Sparks novel. Not much goes into one of those books and they always end up the same way. It's my guilty pleasure. 
Song: Sign of The Times by Harry Styles – I don't like Harry Styles at all. Never have and probably never will. But whenever this song comes on, I can't help but let my lungs fill up with the words of this song. It's so powerful and to be honest, I cried the first time I heard the song. 
I Tag: 
Kayla @ Kdrewthebookworm
Jess @ JBelkBooks
And of course, anyone else who wants to participate in the tag! 
Have you read any of these books? Are any of these songs some of your favorite? What is your favorite song currently? Have you done this tag? Let me know your thoughts in the comments! 
Happy Reading,