I love reading a book and you find your name in there. Especially when you see it spelled just like you. Most people I know with the name Ann spells it with an (Anne) but in this book, there was a Ann. That is one of the reasons I read this book. No, I'm kidding. I have been told and I have seen how amazing this book is for a while now. I finally gave the book a try, which leads us to hear. Let me introduce to you a spoiler free book review of Red Queen.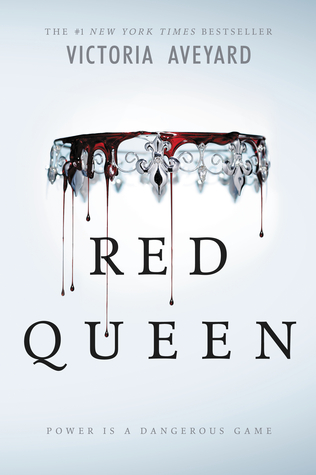 Title: Red Queen
Author: Victoria Aveyard
Publisher: HarperTeen
Released: February 10, 2015
Pages: 383 (Hardback)
This is a world divided by blood – red or silver.
The Reds are commoners, ruled by a Silver elite in possession of god-like superpowers. And to Mare Barrow, a seventeen-year-old Red girl from the poverty-stricken Stilts, it seems like nothing will ever change.
That is, until she finds herself working in the Silver Palace. Here, surrounded by the people she hates the most, Mare discovers that, despite her red blood, she possesses a deadly power of her own. One that threatens to destroy the balance of power.
Fearful of Mare's potential, the Silvers hide her in plain view, declaring her a long-lost Silver princess, now engaged to a Silver prince. Despite knowing that one misstep would mean her death, Mare works silently to help the Red Guard, a militant resistance group, and bring down the Silver regime.
But this is a world of betrayal and lies, and Mare has entered a dangerous dance – Reds against Silvers, prince against prince, and Mare against her own heart.
About the Author: Victoria Aveyard is an author and screenwriter, born and raised in a small town in Western Massachusetts. Both her parents are public school teachers, as well as avid film, television, and literature fans. Victoria grew up on a steady diet The Lord of the Rings, Star Wars, Indiana Jones, Harry Potter, and LOST. She pursued a degree in Writing for Film & Television at the University of Southern California's School of Cinematic Arts. After graduating college in 2012, Victoria moved home from Los Angeles  and began writing the manuscript that would become Red Queen. 
She has since published three #1 New York Times bestselling and USA Today bestselling books, two New York Times bestselling novellas, and continues pursuing her writing career while living full-time in Los Angeles, California.
The Red Queen series is currently being translated into 37 languages and counting.
My Review: 
Mare Barrow is a Red. Reds are not as special as Silvers. There are some Silvers with powers. Silvers are the rich people, the royals, and the stuck up ones in the town. Reds are the poor ones, the merchants, and the forgotten ones. Mare Barrow is a robber as a Red and she has found herself almost part of the army. She has now found herself in a situation. She is in a room with Silvers and learning that she has the powers of a Silver. But what will Mare be up against now with this new ability.
I had to freak out a few times while I was reading the book. The first one you have already heard about but it was the fact that my name was in the book! And it was spelled the way I spell it too! In the book, Mare's birthday was listed. I was actually sitting in the middle of church when I read this part so imagine me sitting there, trying to fight back my excitement. Mare has the same birthday as me. How often do you get to read a book and you have this much luck in it?!?!
The writing of the book was pretty good to me. I was drawn into most of the character, but I was able to figure out most of the ending by the middle of it. I didn't know for sure that I was right but I had a really good guess about it. Victoria Aveyard has a way to pull you into a book and makes you want to read more and more. The whole book really wasn't original since it seems like a few other books I have read or have heard of but the plot was really interesting. There were some big plot twist and surprising things that take place in the book that made me want to keep reading. Trust me, you will be seeing a review for the next book in the series by the end of the year! 
Red Queen was planned out so well and it was detailed to perfection. There were moments that I found the book a little boring but that happens in almost every book, right? It was like I was in the book as a character and I was experiencing everything. And I learned how happy I was to be in the world I am today. It showed me how happy I am to have the family I have and how lucky I am to be doing what I am. There might be times where I hate my family or be times I hate going to school or don't feel like reading but I love them. Mare is used to almost nothing so it opened my eyes to how some people actually have to live. 
I did not like the love triangle at all through the book. Here is Mare, the person who is not supposed to be associating with the Silvers but yet she is in love with a Silver. Mare is engaged to Maven even though she really loved Cal. Even though they are both royalty she has to have some problem in the love interest field. I might not have enjoyed the triangle as much because I had some problems with Mare, the main character in the first place because she is one of those characters who has to worry so much about her family. Her family means everything, and also that friend who I didn't like so I didn't learn her name but I know that it starts with a K. Mare was a little annoying and I found her hard to enjoy as much as I did for Cal. I wish Cal was the narrator of the book. I might have liked it a little more. 
Overall, I would have to give the book a 3.5 out of 5. It was really interesting and I needed to know answers that it kept me drawn in but the originality was what got me. If you were a fan of The Hunger Games or Game of Thrones, you should totally give this book a try. If you are not one for fighting or magical powers, this is not the book for you. Or if you are not one for plot twist and surprises, you should probably give this book a toss in the no pile. I will totally be giving the second book a try because it is supposed to be better than this one. It just will be a little while, which you will learn the reason later.
Have you read this book? What did you think about it? Did you read the other books in the series? Who was your favorite character? Let me know your thoughts in the comments! 
Happy Reading,