Yep, you read that right. I have never done a TBR post ever. Not once in my two years of blogging for some really strange reason. I am finally going to be doing one of these since summer has officially started for me! I'm not saying that I am going to be getting to all of these books because you never know when a slump can come or what books I am going to buy but these are some I am planning on reading this summer.
Title: Lord of Shadows
Author: Cassandra Clare
Publisher: Margaret K. McElderry Books
Released: May 23, 2017
Pages: 704 (Hardback)
Sunny Los Angeles can be a dark place indeed in Cassandra Clare's Lord of Shadows, the sequel to the #1 New York Times and USA TODAY bestselling Lady Midnight.
Emma Carstairs has finally avenged her parents. She thought she'd be at peace. But she is anything but calm. Torn between her desire for her parabatai Julian and her desire to protect him from the brutal consequences of parabatai relationships, she has begun dating his brother, Mark. But Mark has spent the past five years trapped in Faerie; can he ever truly be a Shadowhunter again?
And the faerie courts are not silent. The Unseelie King is tired of the Cold Peace, and will no longer concede to the Shadowhunters' demands. Caught between the demands of faerie and the laws of the Clave, Emma, Julian, and Mark must find a way to come together to defend everything they hold dear—before it's too late.
I have had this book sitting on my shelf since the week it came out. Now, it is still sitting there unread. I really want to dive back into the world of Cassandra Clare and read more about Emma! I have been shying away so many reviews of this book and I need to know about how great the book is. Plus, there is a name on the book that is CASSANDRA CLARE. Cassandra freaking Clare and I have not read it yet. 
Title: Once and For All
Author: Sarah Dessen
Publisher: Viking Books for Young Readers
Released: June 6, 2017
Pages: 400 (Hardback)
As bubbly as champagne and delectable as wedding cake, Once and for All, Sarah Dessen's thirteenth novel, is set in the world of wedding planning, where crises are routine.
Louna, daughter of famed wedding planner Natalie Barrett, has seen every sort of wedding: on the beach, at historic mansions, in fancy hotels and clubs. Perhaps that's why she's cynical about happily-ever-after endings, especially since her own first love ended tragically. When Louna meets charming, happy-go-lucky serial dater Ambrose, she holds him at arm's length. But Ambrose isn't about to be discouraged, now that he's met the one girl he really wants.
Sarah Dessen's many, many fans will adore her latest, a richly satisfying, enormously entertaining story that has everything—humor, romance, and an ending both happy and imperfect, just like life itself.
I love all of Sarah Dessen's books. She has such a great writing style and it pulls you in as soon as you start reading it. As a kid, I wanted to be a wedding planner so this book is right up my ally. I am really excited to read this book and I really want to dive into another Sarah Dessen book. The cover is just way too beautiful as well.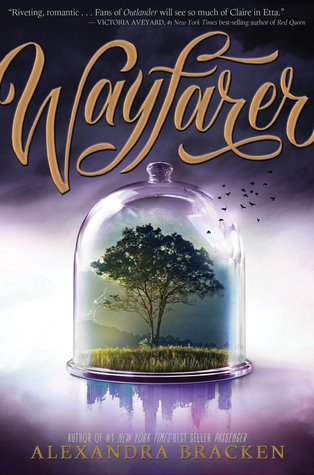 Title: Wayfarer
Author: Alexandra Bracken
Publisher: Disney-Hyperion
Released: January 3, 2017
Pages: 532 (Hardback)
All Etta Spencer wanted was to make her violin debut when she was thrust into a treacherous world where the struggle for power could alter history. After losing the one thing that would have allowed her to protect the Timeline, and the one person worth fighting for, Etta awakens alone in an unknown place and time, exposed to the threat of the two groups who would rather see her dead than succeed. When help arrives, it comes from the last person Etta ever expected—Julian Ironwood, the Grand Master's heir who has long been presumed dead, and whose dangerous alliance with a man from Etta's past could put them both at risk.
Meanwhile, Nicholas and Sophia are racing through time in order to locate Etta and the missing astrolabe with Ironwood travelers hot on their trail. They cross paths with a mercenary-for-hire, a cheeky girl named Li Min who quickly develops a flirtation with Sophia. But as the three of them attempt to evade their pursuers, Nicholas soon realizes that one of his companions may have ulterior motives.
As Etta and Nicholas fight to make their way back to one another, from Imperial Russia to the Vatican catacombs, time is rapidly shifting and changing into something unrecognizable… and might just run out on both of them.
Even though I was not the biggest fan of the first book in the series, I still want to go and give the second book a try. I want to give the other book a try for two reasons: I have the book sitting on my shelf so I want my money's worth, and I have always liked Alexandra Bracken. The cover is really pretty as well so the money I spent on it will be used in good measures. I also really need to know what my new boyfriend Nicholas has been up to as well. 
Title: Love, Rosie
Author: Cecelia Ahern
Publisher: Hachette Books
Released: January 6, 2015
Pages: 448 (Paperback)
What happens when two people who are meant to be together can't seem to get it right?
Rosie and Alex are destined for each other, and everyone seems to know it but them. Best friends since childhood, they are separated as teenagers when Alex and his family relocate from Dublin to Boston.
Like two ships always passing in the night, Rosie and Alex stay friends, and though years pass, the two remain firmly attached via emails and letters. Heartbroken, they learn to live without each other. But destiny is a funny thing, and in this novel o f several missed opportunities, Rosie and Alex learn that fate isn't quite done with them yet.
I know basically nothing about this book other than the fact there is a movie based on it. I have the book, it's been here since like February, so why not read it. The movie has two of my favorite people out there – Lily Collins and Sam Clafin. I just want to read the book because it seems like the perfect summer read. 
Title: Carve the Mark
Author: Veronica Roth
Publisher: Katherine Tegen Books
Released: January 17, 2017
Pages: 468 (Hardback) 
In a galaxy powered by the current, everyone has a gift.
Cyra is the sister of the brutal tyrant who rules the Shotet people. Cyra's currentgift gives her pain and power — something her brother exploits, using her to torture his enemies. But Cyra is much more than just a blade in her brother's hand: she is resilient, quick on her feet, and smarter than he knows.
Akos is the son of a farmer and an oracle from the frozen nation-planet of Thuvhe. Protected by his unusual currentgift, Akos is generous in spirit, and his loyalty to his family is limitless. Once Akos and his brother are captured by enemy Shotet soldiers, Akos is desperate to get this brother out alive — no matter what the cost.
The Akos is thrust into Cyra's world, and the enmity between their countries and families seems insurmountable. Will they help each other to survive, or will they destroy one another?
Carve the Mark is Veronica Roth's stunning portrayal of the power of friendship — and love — in a galaxy filled with unexpected gifts.
I had some problems with Veronica Roth's series Divergent. I'm not saying that the series wasn't bad but I just didn't care for it as much as others. I haven't heard much about what people have thought about it because I have tried to stay away from it until I read the books and reviewed it. I don't want that to have a factor in my review. I want to know how I truly feel about Veronica Roth's writing and this book is the key to that. Like most of these books, I already have this book since the day it came out. 
Title: By Your Side
Author: Kasie West
Publisher: HarperTeen
Released: January 31, 2017
Pages: 346 (Paperback)
In this irresistible story, Kasie West explores the timeless question of what to do when you fall for the person you least expect. Witty and romantic, this paperback original from a fan favorite is perfect for fans of Stephanie Perkins and Morgan Matson.
When Autumn Collins finds herself accidentally locked in the library for an entire weekend, she doesn't think things could get any worse. But that's before she realizes that Dax Miller is locked in with her. Autumn doesn't know much about Dax except that he's trouble. Between the rumors about the fight he was in (and that brief stint in juvie that followed it) and his reputation as a loner, he's not exactly the ideal person to be stuck with. Still, she just keeps reminding herself that it is only a matter of time before Jeff, her almost-boyfriend, realizes he left her in the library and comes to rescue her.
Only he doesn't come. No one does.
Instead it becomes clear that Autumn is going to have to spend the next couple of days living off vending-machine food and making conversation with a boy who clearly wants nothing to do with her. Except there is more to Dax than meets the eye. As he and Autumn first grudgingly, and then not so grudgingly, open up to each other, Autumn is struck by their surprising connection. But can their feelings for each other survive once the weekend is over and Autumn's old life, and old love interest, threaten to pull her from Dax's side?
The main character gets locked in a library? That is the best idea for a book I can think of! Kasie West is one of my new favorite authors because of the light, easy, fun, writing style she has. I am so excited to read this book because of the amazing synopsis it has. And it seems like a perfect beach read and I am really excited to be getting to the beach this summer. It still feels like yesterday I was at the beach. 😦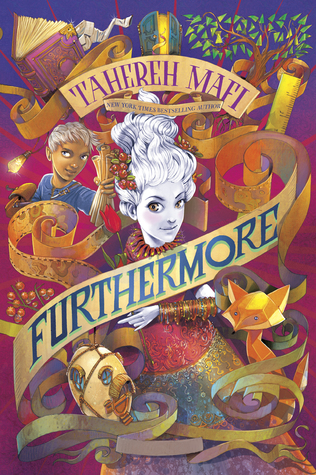 Title: Furthermore
Author: Tahereh Mafi
Publisher: Dutton Books for Young Readers
Released: August 30, 2016
Pages: 416 (Hardback)
The bestselling author of the Shatter Me series takes readers beyond the limits of their imagination in this captivating new middle grade adventure where color is currency, adventure is inevitable, and friendship is found in the most unexpected places.
There are only three things that matter to twelve-year-old Alice Alexis Queensmeadow: Mother, who wouldn't miss her; magic and color, which seem to elude her; and Father, who always loved her. The day Father disappears from Ferenwood he takes nothing but a ruler with him. But it's been almost three years since then, and Alice is determined to find him. She loves her father even more than she loves adventure, and she's about to embark on one to find the other.
But bringing Father home is no small matter. In order to find him she'll have to travel through the mythical, dangerous land of Furthermore, where down can be up, paper is alive, and left can be both right and very, very wrong. Her only companion is a boy named Oliver whose own magical ability is based in lies and deceit–and with a liar by her side in a land where nothing is as it seems, it will take all of Alice's wits (and every limb she's got) to find Father and return home to Ferenwood in one piece. On her quest to find Father, Alice must first find herself–and hold fast to the magic of love in the face of loss.
HELLO!?!? It's Tahereh Mafi. THE Tahereh Mafi and I have yet to read this book. I have no idea what this book has in store for it. But it is Tahereh Mafi we are talking about. She could write the phone book and I would LOVE it. This cover is just so amazing and I want to figure out what the figures mean on it. And come on. Do I need to say it again. Tahereh Mafi wrote this book and she has never disappointed me before. 
I also want to finish the Pretty Little Liars series by: Sara Shepard. I still have like 10 books in the series left so it would have been a little hard to give all those books their own little section. I really need to know what all is going on in this series so I hope to get these books done by the end of summer!
What books are you planning on reading this summer? What is your favorite thing about summer? How are you spending the summer? Anything fun planned for the summer? Have you read any of these books? What did you think about them? Let me know your thoughts in the comments! 
Happy Reading,