If you have not noticed, but I am addicted to Hamilton. From the very first time I heard about this, I have loved it. It's crazy to think that I first heard them at the Grammy's this year. How did I go so long without knowing who they were? But yes, I know this is an older tag but I really don't care. I'm listening to the Hamilton Soundtrack and I wanted to do it since I haven't yet. This tag was created by Maureen Keavy of YouTube so make sure you check out her video!
But Firstly, Who is Alexander Hamilton?
Alexander Hamilton was an American statesman and one of the Founding Fathers of the United States. He was an influential interpreter and promoter of the U.S. Constitution, as well as the founder of the nation's financial system, the Federalist Party, the United States Coast Guard, and The New York Post newspaper. As the first Secretary of the Treasury, Hamilton was the main author of the economic policies of the George Washington administration. He took the lead in the funding of the states' debts by the Federal government, as well as the establishment of a national bank, a system of tariffs, and friendly trade relations with Britain. He was opposed by the Democratic-Republican Party led by Virginia planters Thomas Jefferson and James Madison. They denounced Hamilton as too friendly toward Britain and toward monarchy in general.

Source: Wikipedia
---
The Room Where It Happens:
Book World You Would Put Yourself In
Of course this has to be my answer. But I would love to be a Shadowhunter. Who wouldn't want to be running around, trying to kill demons and all these creatures that are not visible to the human eye? Plus, you gets to play with weapons and you have the abilities to become invisible when you have to. The whole thing just sounds amazing – and plus there is a certain character named Jace Herondale!
The Schuyler Sisters:
Underrated Female Character
Mor from A Court of Mist and Fury by: Sarah J. Maas. Mor is just one of the sweetest characters in the whole book series and I want to learn so much more about her. Mor is a mystery in the making and I can't wait to read more about her in A Court of Wings and Ruin which comes out May 2, 2017. Why do I have to wait so long!
My Shot:
A Character That Goes After What They Want and Doesn't Let Anything Stop Them
I have to do it. We all knew it was coming. Aelin from Throne of Glass series. There is never stopping her, no matter who you are or what you are. She has a way around you and there is no way to change her mind. Because of these qualities, I love her so much more.
Stay Alive:
A Character You Wish Was Still Alive
There is a certain character in the Harry Potter series by: J.K. Rowling that died protecting a certain main character. Most people don't like this character but they were my favorite character. If you don't know who they are, you need to either read the book or watch the movies again.
Burn:
The Most Heartbreaking End To A Relationship You've Ever Read
Beware of spoilers because let me tell you – I will go at it. But it has to go to William Compton and Sookie Stackhouse in The Sookie Stackhouse Series by: Charlaine Harris. Yes, Bill did a lot of stuff to loose Sookie's trust and respect but I really loved them together. They really never talk after a few books in the series but he comes up. I really loved them together and I wish they were still together, rather than Sookie and Sam Merlotte.
You'll Be Back:
Sassiest Villain
Hands down, Draco Malfoy from the Harry Potter series by: J.K. Rowling. Draco was one of the villains who had a powerful dads who would threaten people with that power. Draco would then go and do something stupid and hilarious. Draco was just out there and acted as one of the sassiest characters in the whole entire book series.
The Reynolds Pamphlet:
A Book With a Twist That You Didn't See Coming
I talk about this book way too much. Maybe that is just my opinion as well. Oh well. But there is a twist in Everything Everything by: Nicola Yoon that I would have never of guessed. Seriously. I'm not gonna even talk about it because you need to go and read that book!
Satisfied:
Favorite book with multiple POVs

Legend by: Marie Lu has multiple POVs, well two. June and Day take you through their life and struggles with themselves and it was beautiful. There are so many books with this writing technique but this is my current favorite!
Who Lives, Who Dies, Who Tells Your Story:
A Book/Series You Feel Like Will Be Remembered Throughout History
Game of Thrones by: George R.R. Martin will live on forever. Look at it right now. It was written in 1996 and it is 2016. 10 years later, there is a TV Show on HBO and there might be a Broadway show based on the series. This series has changed the way that many others have written and it has changed the live as many things in the world today.
There's the tag! Trust me, I still have about half the soundtrack to listen to since it is about 2 and a half hours long. I love this whole entire Broadway show and the songs are so amazing. Some are funny like my favorite song out of the whole entire show, The Reynolds Pamphlet with the line: "Never Gon' Be President Now"
Trust me, Lin-Manuel Miranda's face tells the whole entire story of my life, especially in my Civics and Economics Class. But the play does teach us some very good lessons in the whole entire world. Who knew listening to amazing music would help you learn? Just go and listen to the soundtrack. Your life will change. If you get the chance to go and see them live, jump on that chance. I wish I could go and see it but I live too far away! But they are doing a US 2017 Tour so maybe they will come closer? But just remember what Aaron Burr told Alexander Hamilton at the beginning of the whole entire show: Smile More.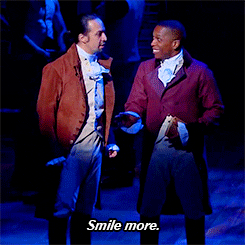 Do you like Hamilton? Have you heard about them before? Have you gotten to see the show in person? What books have you read from the tag? Did you like them? Let me know your thoughts in the comments!
Happy Reading,