Last night, I finished Queen of Shadows at about 2 am and I was totally okay with it. The book was so amazing and might have had me in tears about three times at the ending but that's okay. This book is way too good not to review – and I have reviewed all the other books in the series. Beware of spoilers because it will definitely be occurring a lot. Make sure you check out the other books in the series and their review's here:
Throne of Glass #1
Crown of Midnight #2
Heir of Fire #3
Also, a little side note from me. While I was typing this, my sister was trying to talk my parents into putting up our Christmas tree and it worked. We know have our Christmas tree up on November 19.
---
Title: Queen of Shadows
Author: Sarah J. Maas
Publisher: Bloomsbury USA Childrens
Released: September 1, 2015
Pages: 648 (Hardback)
The queen has returned.
Everyone Celaena Sardothien loves has been taken from her. But she's at last returned to the empire—for vengeance, to rescue her once-glorious kingdom, and to confront the shadows of her past…
She has embraced her identity as Aelin Galathynius, Queen of Terrasen. But before she can reclaim her throne, she must fight.
She will fight for her cousin, a warrior prepared to die for her. She will fight for her friend, a young man trapped in an unspeakable prison. And she will fight for her people, enslaved to a brutal king and awaiting their lost queen's triumphant return.
The fourth volume in the New York Times bestselling series continues Celaena's epic journey and builds to a passionate, agonizing crescendo that might just shatter her world.
About the Author: Sarah J. Maas is the #1 New York Times bestselling author of the Throne of Glass series and A Court of Thorns and Roses series, as well as a USA Today and international bestselling author. Sarah wrote the first incarnation of the Throne of Glass series when she was just sixteen, and it has now sold in thirty-five languages. A New York native, Sarah currently lives in Pennsylvania with her husband and dog. Empire of Storms, the fifth Throne of Glass novel, is available now. She graduated Magna Cum Laude from Hamilton College in 2008 with a degree in Creative Writing and a minor in Religious Studies. Sarah lives in Bucks County, PA, and over the years, she has developed an unhealthy appreciation for Disney movies and bad pop music. She adores fairy tales and ballet, drinks too much tea, and watches an ungodly amount of TV. When she's not busy writing, she can be found exploring the historic and beautiful Pennsylvania countryside with her husband and canine companion.
My Review:
One of my big problems with the whole entire book came in within the first few pages in the book. At the end of Heir of Fire, Celaena goes and says that when she goes back to the king and all, she would be Celaena and not Aelin. Nope. The first time that she tells people her name, she says Aelin and Sarah J. Maas has her name as Aelin. Don't get me wrong, I like the fact that she is using her actual birth name instead of Celaena but it clearly says that she going as Celaena. It really only bothered me for the first few chapters of the book but it was always something in the back of my mind.
Chaol has changed sides. He's also mad at Aelin in a way for allowing the Valg's into the city. In the second book, Chaol is beaten and taken by a group of Rebels that Nehemia was a co-leader of. Well, plot twist: Chaol is now one of the leaders and he is with this girl named Nesryn. When he first sees Aelin, he has plans to see Arobynn, which firstly was a problem for me. He finally gets the chance to talk to her and he list all the problems that 'she has created'. It was Aelin that caused the Valgs to come into the town and start controlling the Kings and all. Including their friend Dorian.
After Sorcha's death in Heir of Fire, Dorian changed. He was scared to do anything that broke his fathers trust. Dorian placed the black ring on his finger and the collar around his next and allowed the Valg Prince control him. Little did anyone know that the King was in control of them. The Valgs listened to him and only him.
I always knew there was something off with Duke Perrington from the very first book. He was strange and controlling like he was out of place or something. It turns out that he was because he wasn't Duke Perrington. He was truly Erawan, the King of Morath and he was the creator of the Valgs.
While I was reading the book, I was about 100 pages in and not once was Rowan in the book. He didn't get his on section like Dorian, Chaol, Aedion, Aelin, and the others and I wanted him to. I wanted to get inside of his head and know how much he missed Aelin. How he was dealing with her being gone. How much he wanted to be there to protect her but we all got something better. Rowan comes into the plot and stays there whole entire time. Not once did he leave. He surprises Aelin in the middle of the streets and she comes after him. For so long, I have wanted them back together and they were together.
Finally, there was a relationship problem with Aelin and Rowan. Basically, Aelin went to touch the tattoos on his face and he told her not to touch him like that. Rowan already was hesitant to sleep with his queen because they weren't together. After the big fight and all, Aelin never wanted to hurt him. She didn't talk to him or anything. After an event with Lorcan, the two begin to talk and Rowan explains why he really came.
Rowan originally came to see Aelin because he knew that Lorcan was tracking her down and he had the feeling that it was for Maeve since he was still under her control. Rowan crossed the ocean to get to her. In reality, he came to see Aelin because the months they had spent apart were torture for him. He missed her in so many ways that he needed to see her. Little did he actually know, Lorcan was looking for Aelin but not because of Maeve.
Lorcan is almost like Rowan, but a lot stronger and powerful. Lorcan, unlike Rowan was still under Maeve's control and still obeyed her.  There were several times that Lorcan almost killed Aelin but Rowan was always there to protect her. During the third and final attempt to kill Aelin, Lorcan reveals that he has the ring that will protect Aelin from being controlled by the Valg. In return, he wanted the Wrdmarks. Rowan and Aelin was still not talking and it made the whole situation more sentimental. Rowan felt like he didn't protect her and I felt so bad for her.
Rowan was a lot sweeter and loving in this book than the other books. Somehow he was able to keep his hands off of her, until the end of the book which was something that I was shocked he could do that. Every night, Aelin would wear those nightgowns that was very short and showed a lot more skin than what he was used to. Rowan's head was telling him to do the right thing but in his heart, he wanted to do so much more.
I loved the fact that Sarah J. Maas included the struggles that Dorian had to go through with the Valg inside of him. The Valg controlled his whole life. Dorian was having an intense battle inside of him including himself and the Valg. The fact that we saw the whole process on how the progress worked was amazing.
Of course, Arobynn had to be killed in this book. He was one of the first characters included in the book that Aelin talked to. He told her about the problems in the town and that her cousin Aedion was captured and was going to be killed. Arobynn told Aelin that he will help her as long as she will help him. Since Aelin was captured by Arobynn, she knew what he would do if she said no. Aelin agreed to help him but never trusted him at all. Aelin freed Aedion and did a few other test for him but not once trusted him.
During one of her trips to his place, and her final trip, Aelin and her court decided to bring a Valg to Arobynn. Aelin and Rowan had a plan to trick Arobynn with the Valg and it worked. After the dinner, Arobynn and Aelin went to torture the Valg, while Rowan and Aedion were outside of the room, listening. Arobynn was told by the Valg that to turn someone into a Valg, you give them your blood and the ring goes on their finger. Arobynn repeats the steps on Aelin and she becomes part of the Valg. Rowan hated the fact that he had to hear Aelin say, "I love you, Arobynn," and it obviously broke his heart. But, Aelin wasn't under any control of anyone. The ring was fake. My heart broke when we all thought that she was under control.
How did I go so long without talking about Manon is probably your question by now. I hated Manon in the previous book. I thought she was stuck up, and she was way too confident in herself. Manon had control over this one new character named Elide and I have so many thoughts about them. Firstly, are they together because Manon mentioned so many times that Elide was hers and she watched over here so many times. Manon protected her from Elide's uncle from being captured when they all found out she was a witch. Elide screamed so loud when Aelin and Manon got into a fight.
Yep, Aelin and Manon got into a fight in the book and it was pretty exciting. Lysandra was taken and Aelin wanted to go and save her. When she did, Chaol made the stupid mistake of running off, trying to kill Dorian. Manon and her Thirteen came over to Chaol and began to beat him up. Aelin, Rowan and the others ran off and Rowan told Aelin to always stay in front of him, which ended up saving her life but injuring Rowan. Manon shot him in the shoulder, which was meant to hit Aelin in the heart. Rowan was hit pretty bad and you could feel the pain of Rowan. Manon and Aelin went on again and again, trying to kill each other. Aelin was pretty close to killing Manon when she heard the scream of Elide. Aelin let go of Manon and Manon now owed Aelin her life.
Manon's help actually came in handy, which actually surprised me for once. Manon warned Aelin that Dorian was still in there and she needs to save him. Aelin already had a plan to save him along with all of them and I had the feeling that something was going to happen. After knowing that the King knew that Aelin was actually Celaena, along with Dorian going after her, I had the feeling that something bad was going to happen. It turns out that Dorian stabs her in the side.
Rowan could feel the whole thing and there was nothing that he could do to save her. Lorcan had turned his back on all of them and Rowan needed to save the plan. The bombs began to go off and magic was released to the world. Magic was free, which was what the whole plan was.
Aelin finally saved Dorian. A weight was lifted from my chest, but my heart had to sink back into my body again when the King claimed that he killed Chaol. For about 10 pages, you can't help but believe that Chaol was dead. Thank you Sarah J. Maas for not killing Chaol. The book would not be the same without him. The King tells them all that he has been controlled by a Valg and the only reason why he went after Aelin was to get the Valg after him. The whole scene, my mind was screaming: LIES LIES LIES. NOTHING IS TRUE OUT OF HIS MOUTH.
Aelin picks up a knife and stabs the King. Dorian became the King. Aelin reveals to them all that she is looking out for the town until Dorian is ready. Aelin reveals she has magic and she sees Rowan before passing out.
During the first book, I was complaining about how Philippa was not in the book as much as I wanted her to be. I liked her in the book and really wanted to learn about her. She finally got back into the plot and I was so excited! After the war with Chaol, Dorian, Aelin, the King, etc, Chaol practically dies. Now, I really didn't like Chaol in the book like I said earlier but Philippa came back to help him get better. When I read her name, I was laying in my bed basically freaking out because I knew that it was her from the first book.  Of course, I had to go back and check back on my previous review to make sure that I wasn't going crazy, but I am known to be going crazy. I'm so excited to see her back into the plot and I really hope that she is included in the next book.
I surprisingly liked Lysandra from the first moment. She was looking out for Aelin from the very beginning even though Aelin said that she would kill her next time that she saw her. Lysandra was always there for Aelin and ended up being the person that killed Arobynn. I don't know if I liked her so much because of her loyalty or the fact that she is a shape-shifter.
Overall, I would have to give this book a 4.7 out of 5. There were some things that I loved but of course, I didn't like some of the events that occurred in the book. I didn't like the fact that Aelin almost killed Dorian the night that she freed Aedion. I didn't like the fact that Nesyrn was with Chaol but at the same time that she was. But I loved the scene at the end of the book where Rowan had to carry Aelin to the bathroom right after the fight and them ending up kissing on the bed.
The Sequel: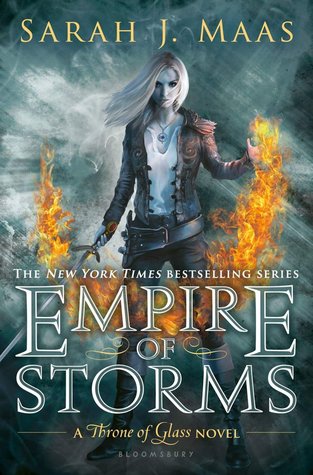 Title: Empire of Storms
Author: Sarah J. Maas
Publisher: Bloomsbury USA Childrens
Released: September 6, 2016
Pages: 693 (Hardback)
The long path to the throne has only just begun for Aelin Galathynius. Loyalties have been broken and bought, friends have been lost and gained, and those who possess magic find themselves at odds with those who don't.
As the kingdoms of Erilea fracture around her, enemies must become allies if Aelin is to keep those she loves from falling to the dark forces poised to claim her world. With war looming on all horizons, the only chance for salvation lies in a desperate quest that may mark the end of everything Aelin holds dear.
Aelin's journey from assassin to queen has entranced millions across the globe, and this fifth installment will leave fans breathless. Will Aelin succeed in keeping her world from splintering, or will it all come crashing down?
Have you read this book or have you been wanting to read it for a while? Who is your favorite character in the series? Do you ship Aelin with Dorian, Chaol or Rowan? Let me know your thoughts in the comments!
Happy Reading,