November is coming to an end and December is coming. It's crazy to think that so much has happened this month. I turned 16, celebrated Thanksgiving, got a car (sort of)… But anyway, November was a pretty good reading month since I was able to read the entire Throne of Glass series. Because of that, beware of spoilers for the series in the description of each book! Let's get on with the wrap up!
Books Read:
Throne of Glass by: Sarah J. Maas
Celaena Sardothien life has been rough. Having to make her own life path since her parents death, being trained with a guy named Arobynn Hamel, and living in the mines for a year, she has been wanting to get out. Waiting for her chance. When the King finds her and invites her to fight for her chance of freedom, she jumps on it. Little does she know that she will find romance and come close to death, several different times.
Crown of Midnight by: Sarah J. Maas
After becoming the King's Champion, Celaena Sardothien is now working for the king. Celaena is sent to go and kill whoever the King wants dead. Celaena had been sent on a mission to go and find these people that might be conspiring against the king, and someone she knows is up there. Little does anyone know that Celaena is sparing his life to get information will end in dramatic changes.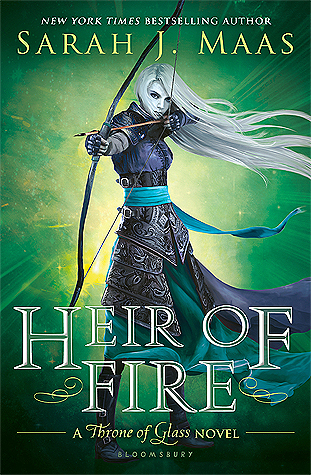 Heir of Fire by: Sarah J. Maas
After being sent to be with people she is like, Celaena Sardothien is finally ready to learn who she truly is. Celaena is actually Aelin, who is supposed to be dead. After arriving to the land of the Fae, Celaena meets Rowan, who has been assigned to train Celaena on everything she needs to know. After her life changes completely and having to learn a whole new schedule, Celaena struggles to accept who she truly and find in love in mysterious ways.
Queen of Shadows by: Sarah J. Maas
Aelin Galathynius has finally accepted her life as the Queen of Terrasen. After finding her first member of her court, Rowan, she returns back to find everything broken. Chaol has left the kingdom and Dorian has became part of the Valg. Aelin thought she was going to be coming back just to save her cousin Aedion but it turns into a lot more. After meeting with her past master Arobynn and following his instruction, Aelin learns that she has gotten herself into more than what she thought she would.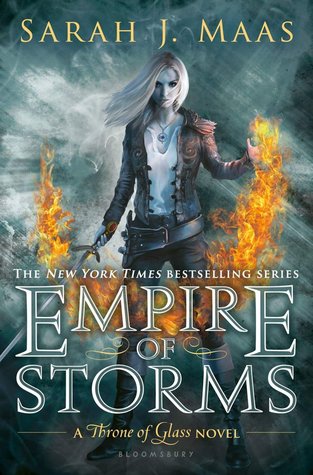 Empire of Storms by: Sarah J. Maas
After saving Dorian from the Valg and killing the King, Aelin and her court are making their way back to Terrasen. Since magic has been released back into the atmosphere, Aelin and the others don't need to hide. After finding out that Aelin can't get go back to Terrasen, Aelin fights to get her country back. Aelin must team up with the witches to defeat everything that comes in Aelin's way.
Movie Watched:
Joy – Directed by: David O. Russell
Living in a house with your ex-husband, grandmother, mom, dad, and two kids is not how Joy expected her life to end up as. Her dream is to care for her kids and do something she likes. After breaking a glass of wine on a boat of her dad's girlfriend, she comes up with an idea of a mop that is self cleaning and machine wash safe. Through it all, she never gives up and it takes her places she never thought she would go.
Books Bought:
I'll Give You The Sun by: Jandy Nelson

The Sun Is Also A Star by: Nicola Yoon

The Girl You Left Behind by: Jojo Moyes

Tales From the Shadowhunter Academy by: Cassandra Clare
Current Obsessions:
My First Car:
My parents bought me a car from my birthday – sort of. It depends on what your definition is of buying a car is. For my birthday, my parents decided to get my one of those DNA tester things (because I really wanted to know) and something else. I had no clue what that thing was until I read what it was. My dream car is a Porsche – my dream is for any car that is less than a 2012, any type of car would be fine. Well, my parents got me my Porsche. Now my car is parked on a shelf in my room because it is so important, and expensive.
Satisfied (Remix) By: Sia, Miguel and Queen Latifah
If you didn't know already, coming out soon is The Hamilton Remix, where several artist are performing their version of popular Hamilton songs. Satisfied is one of them and when you make Sia sing it, it is perfection. I love Sia voice. I have always liked Sia. Sia has to be one of my favorite singers in the whole entire world and this song makes me love her so much more. The song fits her voice like it has always been her song and there is nothing wrong with her performance. You should all check it out, fans of Sia or Hamilton, or not, you should seriously check it out.
Favorite Post of November:
Empire of Storms (ToG #5): Book Review
There you have it! There is my November all wrapped up for you! How was your November? What was your favorite thing that happened this month? What was your favorite movie you watched? What was your favorite book you read this month? Let me know your thoughts in the comments!
Happy Reading,