Happy Thursday!
Sorry for all the weird posting right now but I am currently studying for the PSAT and that is taking most of my time. Also, I have been in a reading slump for the past few days and I hadn't been able to get out of it. When I am in a reading slump, I don't feel like doing anything. Anyone else get that feeling? But anyway, hopefully you all are safe during Hurricane Matthew and stay dry!
I am part of my school's Book Club and this year's book was Panic by Laruen Oliver. I have had some different opinions on Lauren Oliver's books and I was interested to see if I liked this book. Quite honestly, I liked this book more than others but my favorite book is Vanishing Girls. So, if you want to look for an intense, high powered book, check this book out!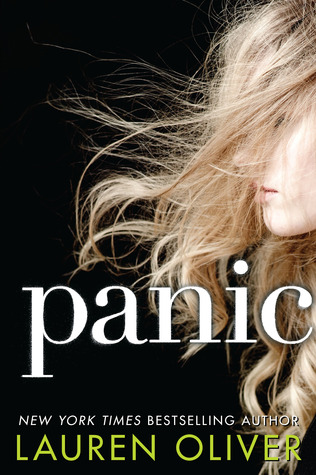 Title: Panic
Author: Lauren Oliver
Publisher: HarperCollins
Released: March 4, 2014
Pages: 408 (Hardback)
Panic began as so many things do in Carp, a dead-end town of 12,000 people in the middle of nowhere: because it was summer, and there was nothing else to do.
Heather never thought she would compete in Panic, a legendary game played by graduating seniors, where the stakes are high and the payoff is even higher. She'd never thought of herself as fearless, the kind of person who would fight to stand out. But when she finds something, and someone, to fight for, she will discover that she is braver than she ever thought.
Dodge has never been afraid of Panic. His secret will fuel him, and get him all the way through the game, he's sure of it. But what he doesn't know is that he's not the only one with a secret. Everyone has something to play for.
For Heather and Dodge, the game will bring new alliances, unexpected revelations, and the possibility of first love for each of them—and the knowledge that sometimes the very things we fear are those we need the most.
About the Author: Lauren Oliver is the cofounder of content development company Paper Lantern Lit. She is also the New York Times bestselling author of the YA novels Replica, Vanishing Girls, Panic, and the Delirium trilogy: Delirium, Pandemonium, and Requiem, which have been translated into more than thirty languages. The film rights to both Replica and Lauren's bestselling first novel, Before I Fall, were acquired by AwesomenessTV; a major motion picture adaptation of Before I Fall was announced by Open Road Films in 2016. Her novels for middle grade readers include The Spindlers, Liesl & Po, and the Curiosity House series, co-written with H. C. Chester. She has written one novel for adults, Rooms.
A graduate of the University of Chicago and NYU's MFA program, Lauren Oliver divides her time between New York, Connecticut, and a variety of airport lounges. You can visit her online at www.laurenoliverbooks.com
What is Panic?
Panic is the game that is played by graduated High School students to win a pot of money, with this years' being $67,900. Students compete in rounds of challenges that deals with their fears. No one can know about the game but the players since it is illegal in Carp. If the cops found them, they could be arrested. There is a production team, which consist of 2 secret judges and a 'host'. No one know who they judges are and if anyone finds out who they are, the judge get fired out of their job. The only one the players know who they are is the host, who this year was Diggin. One by one, the players are eliminated, until there is one, who wins the pot of money. The money is all donated by Carp's high school students, who are required to donate $1 every day to the pot.
Main Characters:
Heather: Contestant in Panic, best friends with Bishop and Natalie. Heather looks out for her little sister Lily since her mom Krista is more worried about herself. Heather wants to leave her mom's house as soon as she can because she can't handle it anymore. Heather is known by her friends as the risk taker and very caring.
Natalie: Contestant in Panic, best friends with Bishop, Heather and Dodge. Natalie is scared to take risk but very creative. Natalie cares very deeply for people when she gets to meet them. She is always looking out for other people, especially her closest friends. During the first game, she questions what she is doing in the games but she continues in Panic.
Bishop: Against the games during Panic, best friends with Heather and Natalie. From the very beginning, he told Heather that he didn't want her to be playing in the games. Bishop looks out for all of his friends and doesn't want anything to happen to any of them. Bishop seems like he doesn't have any secrets, but in reality, he is keeping a pretty big one. 
Dodge: Contestant in Panic, friends with Natalie, Heather and Bishop. Dodge has a sister named Dayna, who has her own problems. Dodge is playing for Dayna, and hoping for revenge on the person who did it to Dayna. Dodge wants the best for Dayna and he wants to win for her, no matter what. He is more reserved than most of the characters and very confident in himself. Dodge was ready for the games and he knows nothing will stop him from winning the money.
The Writing:
One of the reasons I really don't like Lauren Oliver is the word play she has within her books. I really am not a fan of her writing but for some reason, in her books, her writing is always different. In this book, Lauren adds an element of suspicion and excitement that none of her other books had. You read through both Dodge and Heather's side of the story, so you see Panic in the eyes of the man and the women perspective.
The book includes words that are not too advanced but not too easy to read. Typically, some of the YA books includes words that advanced reads get tired of. Panic includes words that you typically don't think about putting in books.
My Rating:
I would have to give this book a 4.4 out of 5 stars. The book was exciting and thrilling but there were a few sections that were pretty obvious. I did get bored during some of the events during the book but, I wish that some of the rounds of Panic went into more detail, like the deadliest one during the middle of the book. Panic will make you stay up til the crack of dawn because you don't want to put it down. You will be on the edge of your seat the whole time of reading since you want to know what happens next.
One of the other things I hate about this book is how light the paperback version is. The paper that creates the cover of the book, bent, folded, and ripped really easily. The cover is really pretty on the paperback but I wish that it was a little more durable since anytime I would put it my desk at school, it would get destroyed (and it has only been this book). 😦
What clubs were you part of when you were in high school, or are in right now? I'm currently in DECA, FBLA, and Book Club and my dream is DECA and FBLA didn't meet on the same day but it does. What was one of your favorite High School reads? What book are you currently reading? How is it? Let me know your thoughts in the comments!
Happy Reading,