In honor of Taylor Swift's album Reputation coming out today, I thought I would go and do the Taylor Swift Book Tag. Yes! I have done the tag before but it was back in March 2016 so I highly doubt you all remember it. So do me a favor and do two things today. Enjoy reading this post and enjoy the rest of Taylor Swift's album. 
WE ARE NEVER EVER GETTING BACK TOGETHER:
PICK A BOOK OR SERIES THAT YOU WERE PRETTY SURE YOU WERE IN LOVE WITH, BUT THEN WANTED TO BREAK UP WITH
I'll Give You The Sun by Jandy Nelson. I really enjoyed the first 20 some pages. I also heard it was really good. Yeah, that never happened. It was sort of hard for me to make it through the book. 
RED:
PICK A BOOK WITH RED ON THE COVER
Sarah J. Maas' A Court of Thorns and Roses of course. It is one of my favorite books in the world and it was also the first red books I thought of. 
THE BEST DAY:
PICK A BOOK THAT MAKES YOU FEEL NOSTALGIC
Twilight by Stephanie Meyer. A lot of stuff happened that year and anytime I talk about the book, I can't help but think about it. And the thing that bothers me the most is the fact that they all aren't good memories. Most are good but about 25% aren't. Enough with that already.
LOVE:
PICK A BOOK WITH FORBIDDEN LOVE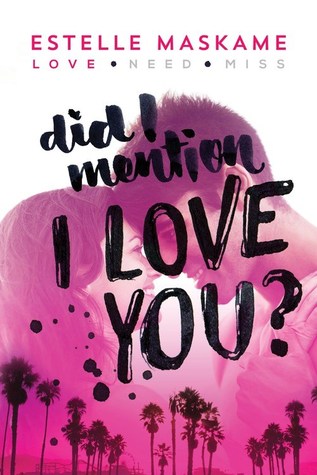 Did I Mention I Love You? by Estelle Maskame for sure. Tyler is Eden's step-brother. Both of them have some interesting feelings for each other. If you have yet to read this book despite my constant talking about it, you need to. 
I KNEW YOU WERE TROUBLE:
PICK A BOOK WITH A BAD CHARACTER YOU COULDN'T HELP BUT LOVE
Bill Compton from The Sookie Stackhouse Mystery by Charlaine Harris. I know he wasn't all good but he was just a bad character. I just couldn't help but love Bill no matter what he could do. 
INNOCENT:
PICK A BOOK THAT SOMEONE RUINED THE ENDING FOR YOU
Sarah J. Maas' Empire of Storms. And this someone is me. I might have, or might not have, been flipping through the pages to figure out the page numbers and I might have read something I didn't need to know when I was only like 300 pages in. I hated myself then and I still do. 
EVERYTHING HAS CHANGED:
A CHARACTER WHO GOES THROUGH AN EXTENSIVE CHARACTER DEVELOPMENT

Bellamy Blake from The 100 series by Kass Morgan. I really don't know how to explain Bellamy without spoiling the whole series but Bellamy was really scared about facing the truth from the beginning. Bellamy just grows tremendously through the whole entire thing. I just love him. A lot.  
YOU BELONG WITH ME:
MOST ANTICIPATED BOOK RELEASE
There are so many book releases for the upcoming forever basically but ever since I heard that Sasha Alsberg and Lindsay Cummings were releasing a book, I have been wanting to read this book. It's called Zenith and it is supposed to come out January 16, 2018, so I am super excited! 
FOREVER AND ALWAYS:
FAVORITE BOOK COUPLE
This is super hard because there are so many answers to this! I think I am going to have to go with Feyre and Rhysand from A Court of Thorns and Roses by Sarah J. Maas. You knew they were coming a part of this tag. You knew it didn't you. 
COME BACK BE HERE:
BOOK YOU WOULD LEAST LIKE TO LENT OUT FOR FEAR OF MISSING IT TOO MUCH
NONE OF THEM. THESE ARE MY BABIES. WHY DO YOU THINK I WOULD DO SUCH A THING. It is like this album. No one is allowed to touch my baby. 
I Tag: 
I tag anyone who wants to do this tag! If you are a Swiftie or are a fan of this album, you should totally do this tag. 🙂 
Have you read any of these books? What did you think about them? Do you agree with any of these answers? Are you a fan of Taylor Swift? What is your favorite song from her? What is your favorite song off this album? Let me know your thoughts in the comments! 
Happy Reading,