There are only two more months in 2017 and it is hard for me to wrap my mind around. It is also really hard for me to wrap my head around the fact that I'm turning 17 soon and I have my license. Taylor Swift's new album is coming out and parade season is starting. Life is a crazy thing, let me tell you that. But with all these amazing things happening, there are book releases as well.  Here are four books I want to get my hands on this month. 
Title: The Becoming of Noah Shaw
Author: Michelle Hodkin
Publisher: Simon & Schuster Books for Young Readers
Release: November 7, 2017
Pages: 384 (Hardback)
In the first book of the Shaw Confessions, the companion series to the New York Times bestselling Mara Dyer novels, old skeletons are laid bare and new promises prove deadly. This is what happens after happily ever after.
Everyone thinks seventeen-year-old Noah Shaw has the world on a string.
They're wrong.
Mara Dyer is the only one he trusts with his secrets and his future.
He shouldn't.
And both are scared that uncovering the truth about themselves will force them apart.
They're right.
About the Author: Michelle Hodkin is the author of the Mara Dyer Trilogy, which was a New York Times, USA Today, and Publishers Weekly bestselling series. The trilogy, which includes The Unbecoming of Mara Dyer, The Evolution of Mara Dyer, and The Retribution of Mara Dyer, was described as "haunting and dreamlike" by Cassandra Clare and "darkly funny, deliciously creepy, and genuinely thoughtful" by Veronica Roth. Lev Grossman has called Hodkin "One of the greatest talents in Young Adult fiction." The novels were praised by Romantic Times, MTV's Hollywood Crush, and the Los Angeles Times, and books from the series appeared on several state reading lists. Additionally, The Retribution of Mara Dyer was selected as one of TIME.com's Top 10 YA Books of 2014. Hodkin grew up in Florida, went to college in New York, and studied law in Michigan, before finally settling in Brooklyn last year. 
Why I Want to Read This Book: I have been wanting to read this book for so long now. I don't know if I have mentioned it before or not but I love Noah Shaw. He was my favorite character in the book series. Now he has his own and of course I had to jump on that book. I can't wait to get my hands on this book because I know it will be amazing.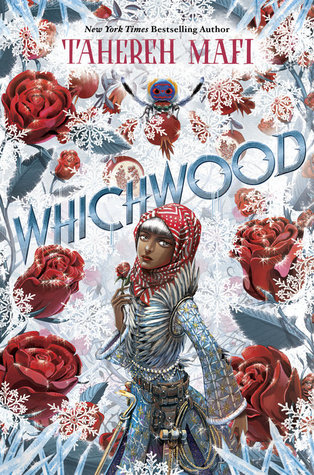 Title: Whichwood
Author: Tahereh Mafi
Publisher: Dutton Books for Young Readers
Release: November 14, 2017
Pages: 368 (Hardback)
A new adventure about a girl who is fated to wash the bodies of the dead in this companion to Furthermore.
Our story begins on a frosty night…
Laylee can barely remember the happier times before her beloved mother died. Before her father, driven by grief, lost his wits (and his way). Before she was left as the sole remaining mordeshoor in the village of Whichwood, destined to spend her days washing the bodies of the dead and preparing their souls for the afterlife. It's become easy to forget and easier still to ignore the way her hands are stiffening and turning silver, just like her hair, and her own ever-increasing loneliness and fear.
But soon, a pair of familiar strangers appears, and Laylee's world is turned upside down as she rediscovers color, magic, and the healing power of friendship.
About the Author: Tahereh Mafi is the New York Times and USA Today bestselling author of the Shatter Me series. She was born in a small city somewhere in Connecticut and currently resides in Santa Monica, California with her husband, fellow author Ransom Riggs. She can usually be found over-caffeinated and stuck in a book. Shatter Me is her first series, with television rights optioned by ABC Signature Studios; Furthermore, her newest project will be out on August 30th, 2016.
Why I Want to Read This Book: I love Tahereh Mafi. I recently read Furthermore and really enjoyed it so when I heard there was going to be a companion novel or something that goes along with this world, I knew that I needed to read the book. Plus, can we take a minute and talk about that amazing cover? Is that not one of the prettiest covers you have ever seen? The detail in it is just amazing and makes me want to read it more.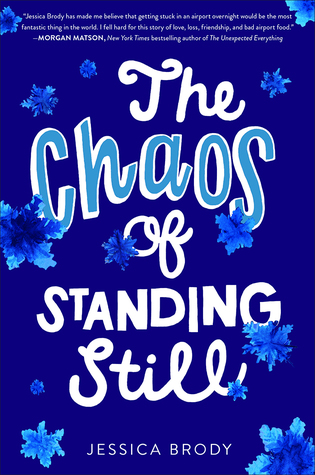 Title: The Chaos of Standing Still
Author: Jessica Brody
Publisher: Simon Pulse
Release: November 28, 2017
Pages: 320 (Hardback)
Over the course of one chaotic night stranded at the Denver airport, Ryn confronts her shattered past thanks to the charm of romance, the uniqueness of strangers, and the magic of ordinary places in this stunning novel from the author of Boys of Summer.
Ryn has one unread text message on her phone. And it's been there for almost a year.
She hasn't tried to read it. She can't. She won't. Because that one message is the last thing her best friend ever said to her before she died.
But as Ryn finds herself trapped in the Denver International Airport on New Year's Eve thanks to a never-ending blizzard on the one-year anniversary of her best friend's death, fate literally runs into her.
And his name is Xander.
When the two accidentally swap phones, Ryn and Xander are thrust into the chaos of an unforgettable all-night adventure, filled with charming and mysterious strangers, a secret New Year's Eve bash, and a possible Illuminati conspiracy hidden within the Denver airport. But as the bizarre night continues, all Ryn can think about is that one unread text message. It follows her wherever she goes, because Ryn can't get her brialliantly wild and free-spirited best friend out of her head.
Ryn can't move on.
But tonight, for the first time ever, she's trying. And maybe that's a start.
As moving as it is funny, The Chaos of Standing Still is a heartwarming story about the earth-shattering challenges life throws at us—and the unexpected strangers who help us along the way.
About the Author: Jessica Brody knew from a young age that she wanted to be a writer. She started self "publishing" her own books when she was seven years old, binding the pages together with cardboard, wallpaper samples, and electrical tape.
After graduating from Smith College in 2001 where she double majored in Economics and French and minored in Japanese, Jessica later went on to work for MGM Studios as a Manager of Acquisitions and Business Development. In May of 2005, Jessica quit her job to follow her dream of becoming a published author.
Since then, Jessica has sold over twelve novels for teens, tweens, and adults including 52 Reasons to Hate My Father, The Karma Club, My Life Undecided, and the three books in the Unremembered trilogy, the first of which is currently in development as a major motion picture by the producers of The Vampire Academy, Zero Dark Thirty, Life of Pi, and Slumdog Millionaire. In 2016, she will release two new contemporary novels, A Week of Mondays (August) and Boys of Summer (April), and in 2017, her debut middle grade novel entitled, Addie Bell's Shortcut to Growing Up, will hit bookstore shelves.
Jessica also writes books for the Descendants: "School of Secrets" series, based on the hit Disney Channel Original movie, Descendants!
Jessica's books are published and translated in over twenty foreign countries. (Click here for a full list of foreign sales and publishers.) She currently splits her time between California and Colorado.
Why I Want to Read This Book: I keep saying that I am going to try another Jessica Brody book I haven't! I read one of her books back a few years ago and I remember how light and fun it was. Something about the cover of this book is speaking to me and the whole synopsis sounds really cool. You know how on Snapchat, one of the subscription people (whatever you want to call it) have two people that never meet and they switch phones to see if they want to go out? I sort of get those vibes from this book. I know, I am strange but I do.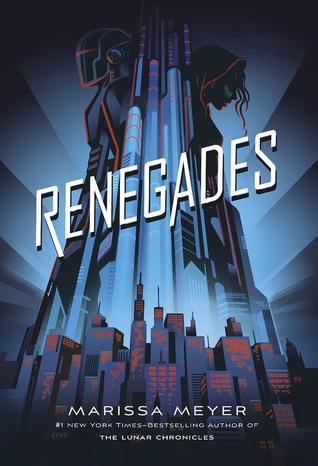 Title: Renegades
Author: Marissa Meyer
Publisher: Feiwel & Friends
Release: November 7, 2017
Pages: 576 (Hardback)
From #1 New York Times-bestselling author Marissa Meyer, comes a high-stakes world of adventure, passion, danger, and betrayal.
Secret Identities.
Extraordinary Powers.
She wants vengeance. He wants justice.
The Renegades are a syndicate of prodigies—humans with extraordinary abilities—who emerged from the ruins of a crumbled society and established peace and order where chaos reigned. As champions of justice, they remain a symbol of hope and courage to everyone…except the villains they once overthrew.
Nova has a reason to hate the Renegades, and she is on a mission for vengeance. As she gets closer to her target, she meets Adrian, a Renegade boy who believes in justice—and in Nova. But Nova's allegiance is to a villain who has the power to end them both.
About the Author:  Marissa Meyer is an American novelist. Her debut novel, Cinder, was released on January 3, 2012. It is the first in her series The Lunar Chronicles. Meyer was born in Tacoma, Washington and attended Pacific Lutheran University, where she received a degree in creative writing. Before writing Cinder, Meyer worked as a book editor for five years and wrote Sailor Moon fan fiction under the pen name of Alicia Blade. In an interview with The News-Tribune, she said that doing the fan fiction helped her learn the craft of writing, gave her instant feedback and taught her how to take criticism.
Why I Want to Read This Book: Though I have only read The Lunar Chronicles, I have been wanting to read Marissa Meyer's other books. I know basically nothing about this book other than the fact that the cover is what is bringing me in. Since I have never been disappointed with one of her books, I am really excited to see what her other books are like. 
What books are you looking forward to reading this month? What makes you so excited to read them? What are you looking forward to this month? Can you believe that this year is almost over? Are you ready for Thanksgiving or Christmas more? Let me know your thoughts in the comments!
Happy Reading,