Though the school year has just begun, it has felt like it is normal for me. I have fallen into a schedule I really enjoy and I hope to continue through the year! I'm already doing too much with filling out Nation Technical Honor Society paperwork, my other four clubs I'm in (DECA, FBLA, NHS, and Book), football games, and learning another language. But somehow I am managing to read some books. I don't know how I read so many, even though it really isn't that much. Let's just jump into the post. 
BOOKS READ:
Dawn by: Elie Wiesel
Elisha has just been ordered to kill a man. A man he has never met before. A man who has no purpose in dying. But being an Israeli freedom fighter, he has no choice. At the age of being 18, being a fighter, and a Holocaust survivor, he has seen enough. Elisha has to do what he needs to with the help of his friends, he begins to wonder about what life could be like. 
Dead Until Dark by: Charlaine Harris
Sookie Stackhouse had a pretty regular life. She went to work as a waitress at a bar. She came home and spent the rest of her time with her grandmother and cat. Something that she does that no one else is doing is reading people's thoughts. But since vampires are out of the coffin, literally, Sookie Stackhouse is finally going to learn things she never imagined. Sookie soon learns that she can't hear their thoughts and why people don't really think about them as people. Well, at least people who are living.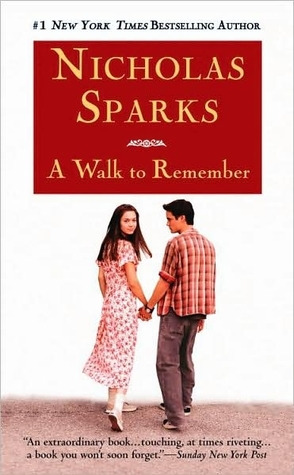 A Walk To Remember by: Nicholas Sparks
Landon Carter lived in Beaufort, North Carolina, where most people knew other. Landon just happens to know most people. So he knew that Jamie Sullivan knew more. When Landon decided that he was going to take his senior so he decided to take Drama class. With this class, Jamie is coming with the package. Now Landon needs a date for the dance and he decides to bring Jamie as his date. The only thing Jamie has Landon promise is he can't fall in love with each other. He originally thinks that is going to be an easy thing to do but as time goes on, he manages to prove himself wrong. 
Two by Two by: Nicholas Sparks
Russel Green had his life all planned out. He had a wife who he loved and he has his perfect daughter named London. Now, his life isn't what he wanted it. His wife is becoming more and more different. He isn't in love with what he is doing for a living. And now he is worried about his father. When Russ didn't think life could get any worse, his wife leaves him alone and helpless right when he doesn't have a job. Now, Russ is all alone, jobless, and taking care of his daughter. He has no idea what else he has to do. 
Never Let You Go by: Kazuo Ishiguro
Kathy is 30 something-year-old women who can't help but think of past memories when she happens to reunite with friends from the past. They aren't always the best memories either. As a graduate of Hailsham, she has been raised to believe so many things. But once she is out in the real world and life is not as easy as she thought it would be, these memories just begin to fly right into play. 
Is Everyone Hanging Out Without Me (And Other Concerns) by: Mindy Kaling
Mindy Kaling has always been a little different from the people that have been around her. She hasn't been afraid to be her true self. She isn't afraid to hear what other people say about her. Mindy' life hasn't been easy though. Mindy Kaling takes you through her life with her memoir about how she has gotten to where she is today, well 2011. Mindy will keep you thinking about your life and how you are special to someone. 
Frosted Kisses by: Heather Helper
Penny's parents have just gotten divorced. Her dad decided to stay in Manhatten and her and her mom has moved back to her hometown. And things are totally different than Manhatten. Penny is now living in the countryside and her mom is now owning a cupcake business. Penny has her friends Tally and Blake, and she also has her current crush, Marcus. But when everything in her life is going so great, life has a way of throwing things right back at her. 
Books Bought:
Glass Sword by: Victoria Aveyard

Cruel Crown by: Victoria Aveyard

Tower of Dawn by: Sarah J. Maas
I'm really sorry about this very terrible picture. I literally took this picture like 2 hours because I forgot about it. My hand was shaking so bad for some reason and I couldn't get the lighting right at all. 
Current Obsessions:
The Good Doctor –
This show has only had one episode premiere but I am already in love with this show. I loved Freddie Highmore in Bates Motel so when I found out he was going to be in this show, I couldn't help but want to watch it. I was in tears by the end of that episode. Like it was so good! It had such a great story and is written so well. I know that there are some people that are saying that they sort of overdo Shaun since he has autism and Savant syndrome but with my personal experience with autistic kids (my mom once worked with a few when she was an EC assistant), I feel like they sort of handled him pretty well. Plus, we have amazing phrases in the show that just make you want to either cry or burst out laughing, including: "…and I want to be rich so I can have a television."
Sarah J. Maas Event – 
This month, I got to see one of my favorite authors in the whole entire world. Sarah J. Maas has such a great writing style and her characters always make me fall in love with them. I might have missed Band Practice and gotten a 90 for my score for the game but I don't care. I got to see her in person and I loved it. Sarah J. Maas is hilarious and I almost left the place in tears, twice. That woman is powerful with her words. Sadly, I wasn't one of the 50 that got to meet her but just listening to her was amazing. I hope that one day I am able to meet her and see her again. 
I can't believe that I didn't watch one single movie this month! I know, it is crazy to think about that. But I did read 7 books so I am proud of myself. October is going to be crazy so who knows what might happen. 
Have you read any of these books? What did you think about them? How was your September? What was your favorite book and movie you watched in September? Let me know your thoughts in the comments! 
Happy Reading,