A few months ago, my mom was doing a project for her master's and she had to watch some movies, along with some books. Since we are both Nicholas Sparks' fans, we decided to watch this one. I sort of cheated with this one because I had yet to read the book. Here I am, several months later with the book review of the book! So yeah. Let's dive into this book review for A Walk to Remember, which is spoiler free.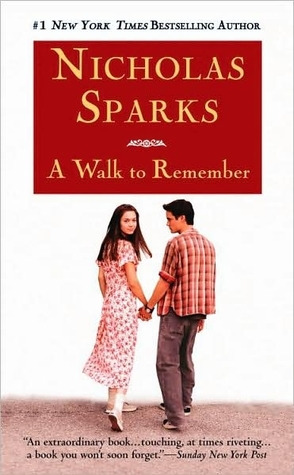 Title: A Walk To Remember
Author: Nicholas Sparks
Publisher: Warner Books 
Published: 1999
Pages: 240 (Paperback)
Every April, when the wind blows from the sea and mingles with the scent of lilacs, Landon Carter remembers his last year at Beaufort High. It was 1958, and Landon had already dated a girl or two. He even swore that he had once been in love. Certainly the last person in town he thought he'd fall for was Jamie Sullivan, the daughter of the town's Baptist minister. A quiet girl who always carried a Bible with her schoolbooks, Jamie seemed content living in a world apart from the other teens. She took care of her widowed father, rescued hurt animals, and helped out at the local orphanage. No boy had ever asked her out. Landon would never have dreamed of it. Then a twist of fate made Jamie his partner for the homecoming dance, and Landon Carter's life would never be the same. Being with Jamie would show him the depths of the human heart and lead him to a decision so stunning it would send him irrevocably on the road to manhood…
About the Author: Nicholas Sparks is one of the world's most beloved storytellers. All of his books have been New York Times bestsellers, with over 105 million copies sold worldwide, in more than 50 languages, including over 75 million copies in the United States alone.
Sparks wrote one of his best-known stories, The Notebook, over a period of six months at age 28. It was published in 1996 and he followed with the novels Message in a Bottle (1998), A Walk to Remember (1999), The Rescue (2000), A Bend in the Road (2001), Nights in Rodanthe (2002), The Guardian (2003), The Wedding (2003), True Believer (2005) and its sequel, At First Sight (2005), Dear John (2006), The Choice (2007), The Lucky One (2008), The Last Song (2009), Safe Haven (2010), The Best of Me (2011), and The Longest Ride (2013) as well as the 2004 non-fiction memoir Three Weeks With My Brother, co-written with his brother Micah. His eighteenth novel, See Me, published on October 12, 2015. His newest book, Two by Two, will be published on October 4, 2016.
Film adaptations of Nicholas Sparks novels, including The Choice, The Longest Ride, The Best of Me, Safe Haven (on all of which he served as a producer), The Lucky One, Message in a Bottle, A Walk to Remember, The Notebook, Nights in Rodanthe, Dear John and The Last Song, have had a cumulative worldwide gross of over three-quarters of a billion dollars.
In 2012, Sparks and his publishing agent and creative partner Theresa Park, launched Nicholas Sparks Productions, with Park as President of Production.  A film version of The Guardian is currently in development, as is a film based on Football Hall of Famer Gale Sayers's friendship with Chicago Bears teammate Brian Piccolo.
Sparks lives in North Carolina. He contributes to a variety of local and national charities and is a major contributor to the Creative Writing Program (MFA) at the University of Notre Dame, where he provides scholarships, internships, and a fellowship annually. He co-founded The Epiphany School in New Bern, North Carolina in 2006. As a former full scholarship athlete (he still holds a track and field record at the University of Notre Dame) he also spent four years coaching track and field athletes at the local public high school. In 2009, the team he coached at New Bern High School set a World Junior Indoor Record in the 4 x400 meter, in New York. The record still stands. Click to watch the Runner's World video with Nicholas.
The Nicholas Sparks Foundation, a 501(c)(3) nonprofit committed to improving cultural and international understanding through global education experiences for students of all ages was launched in 2011. Between the foundation, and the personal gifts of the Sparks family, more than $15 million dollars have been distributed to deserving charities, scholarship programs, and projects. Because the Sparks family covers all operational expenses of the foundation, 100% of donations are devoted to programs.
MY REVIEW: 
Landon Carter lived in Beaufort, North Carolina, where most people knew other. Landon just happens to know most people. So he knew that Jamie Sullivan knew more. When Landon decided that he was going to take his senior so he decided to take Drama class. With this class, Jamie is coming with the package. Now Landon needs a date for the dance and he decides to bring Jamie as his date. The only thing Jamie has Landon promise is he can't fall in love with each other. He originally thinks that is going to be an easy thing to do but as time goes on, he manages to prove himself wrong. 
This isn't my first time reading a Nicholas Sparks book. But this was my first book I have read after seeing the movie. While I was reading the book, there were a few things that I knew were coming but like most adaptations, the book and movie were so different so there were times I really didn't know what was going to happen. But like most of these books that are written by Nicholas Sparks, they make me emotional. 
I don't think I have ever shared this story with you all but this book just channeled so many of these emotions that I had. About 6 months ago, we were having my school's spring concert. This one kid, who I was friends with but not really friends with lost his dad in a work accident. He got up and talked about how amazing his dad was right before we played one of the most emotional songs, On A Hymnsong of Philip Bliss. I don't know what was about this book but I channeled all those emotions. This book had me in tears but the end of that book. I couldn't hold it back. So many things were happening that I didn't know what to do. And to think that I saw the movie before the book. 
I really enjoyed the writing of this book. For some reason, this book really didn't feel like a Nicholas Sparks novel. The writing just seems so amazing and so different from his other work. I don't know if is because it is one of his first books and his ideas were fresh but I really liked it. I literally sat down and didn't get up unless I had to. I really want to know why I waited for so long to read this book now. If I didn't know better, it has to be one of my favorite Nicholas Sparks books. This book just had so many details and the characters were just thought out so well. I loved the characters in this book. They were just amazing, that I couldn't help but love them. I grew attached to these characters and the book ripped my heart out. 
With me living in North Carolina, I feel like I have some special relationship with this book. I knew what some of these locations were like so it was basically like a movie for me. I was in love with the setting. I love going to different places in North Carolina and Beaufort is one of those but I have seen so many amazing photos of this place. I've been to Morehead City, and even Seven Springs (even if it was on one of the first pages). I think it really helps an author when they live in the area they are writing about. I feel they get to their reader more since they know what it is like. 
Overall, I would have to give this book a 5 out of 5. This has to be one of the best-written Nicholas Sparks. I just really loved the flow of it and how the book was set up. It was well thought out and was just amazing. I will tell you this: if you have ever read the book, you need to watch the movie. Even though the book and movie are different, they are still really good. 
Have you read this book? What did you think about the book? Have you read Nicholas Sparks' other books? What did you think about it? Are you into books like this? Have you seen the movie? What did you think about the movie? Did you like the book or movie better? Let me know your thoughts in the comments! 
Happy Reading,