Though I mainly read dystopian novels, I want to read a good romance novel every once and a while. I stumbled upon Nicholas Sparks about three years ago and he is one of my go-to romantic authors. Plus, he lives in North Carolina so I had to read one of his books one of those days. But if you have never read something by Nicholas Sparks, I hope this helps you find one you want to read! And if you have, I hope this gives you a few more books to read of his! 
A Little About Nicholas Sparks: 
Nicholas Sparks is one of the world's most beloved storytellers. All of his books have been New York Times bestsellers, with over 105 million copies sold worldwide, in more than 50 languages, including over 75 million copies in the United States alone.
Sparks wrote one of his best-known stories, The Notebook, over a period of six months at age 28. It was published in 1996 and he followed with the novels Message in a Bottle (1998), A Walk to Remember (1999), The Rescue (2000), A Bend in the Road (2001), Nights in Rodanthe (2002), The Guardian (2003), The Wedding (2003), True Believer (2005) and its sequel, At First Sight (2005), Dear John (2006), The Choice (2007), The Lucky One (2008), The Last Song (2009), Safe Haven (2010), The Best of Me (2011), and The Longest Ride (2013) as well as the 2004 non-fiction memoir Three Weeks With My Brother, co-written with his brother Micah. His eighteenth novel, See Me, published on October 12, 2015. His newest book, Two by Two, will be published on October 4, 2016.
Film adaptations of Nicholas Sparks novels, including The Choice, The Longest Ride, The Best of Me, Safe Haven (on all of which he served as a producer), The Lucky One, Message in a Bottle, A Walk to Remember, The Notebook, Nights in Rodanthe, Dear John and The Last Song, have had a cumulative worldwide gross of over three-quarters of a billion dollars.
In 2012, Sparks and his publishing agent and creative partner Theresa Park, launched Nicholas Sparks Productions, with Park as President of Production.  A film version of The Guardian is currently in development, as is a film based on Football Hall of Famer Gale Sayers's friendship with Chicago Bears teammate Brian Piccolo.
Sparks lives in North Carolina. He contributes to a variety of local and national charities and is a major contributor to the Creative Writing Program (MFA) at the University of Notre Dame, where he provides scholarships, internships, and a fellowship annually. He co-founded The Epiphany School in New Bern, North Carolina in 2006. As a former full scholarship athlete (he still holds a track and field record at the University of Notre Dame) he also spent four years coaching track and field athletes at the local public high school. In 2009, the team he coached at New Bern High School set a World Junior Indoor Record in the 4 x400 meter, in New York. The record still stands. Click to watch the Runner's World video with Nicholas.
The Nicholas Sparks Foundation, a 501(c)(3) nonprofit committed to improving cultural and international understanding through global education experiences for students of all ages was launched in 2011. Between the foundation, and the personal gifts of the Sparks family, more than $15 million dollars have been distributed to deserving charities, scholarship programs, and projects. Because the Sparks family covers all operational expenses of the foundation, 100% of donations are devoted to programs.
HIS BOOKS:

 
Wokini: A Lakota Journey to Happiness and Self-Understanding – Released 1990

The Notebook – Released 1996

Message in a Bottle – Released 1998

A Walk to Remember – Released 1999

The Rescue – Released 2000

A Bend in the Road – Released 2001

Nights in Rodanthe – Released 2002

The Guardian – Released 2003

The Wedding – Released 2003

Three Weeks with My Brother – Released 2004

True Believer – Released 2005

At First Sight – Released 2005

Dear John – Released 2006

The Choice – Released 2007

The Lucky One – Released 2008

The Last Song – Released 2009

Safe Haven – Released 2010

The Best of Me – Released 2011

The Longest Ride – Released 2013

See Me – Released 2015

Two by Two – Released 2016
ABOUT HER BOOKS: 
Safe Haven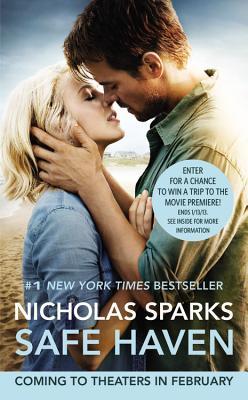 Love hurts. There is nothing as painful as heartbreak. But in order to learn to love again, you must learn to trust again.
When a mysterious young woman named Katie appears in the small North Carolina town of Southport, her sudden arrival raises questions about her past. Beautiful yet self-effacing, Katie seems determined to avoid forming personal ties until a series of events draws her into two reluctant relationships: one with Alex, a widowed store owner with a kind heart and two young children; and another with her plainspoken single neighbor, Jo. Despite her reservations, Katie slowly begins to let down her guard, putting down roots in the close-knit community and becoming increasingly attached to Alex and his family.
But even as Katie begins to fall in love, she struggles with the dark secret that still haunts and terrifies her . . . a past that set her on a fearful, shattering journey across the country, to the sheltered oasis of Southport. With Jo's empathic and stubborn support, Katie eventually realizes that she must choose between a life of transient safety and one of riskier rewards . . . and that in the darkest hour, love is the only true safe haven.
Safe Haven was bought by Relativity Media and was released as a movie in 2013. The movie stars Julianne Hough and Josh Duhamel. Lasse Hallstrom was hired as the directed.
The Lucky One 
In his 14th book, bestselling author Nicholas Sparks tells the unforgettable story of a man whose brushes with death lead him to the love of his life. 
After U.S. Marine Logan Thibault finds a photograph of a smiling young woman buried in the dirt during his tour of duty in Iraq, he experiences a sudden streak of luck — winning poker games and even surviving deadly combat. Only his best friend, Victor, seems to have an explanation for his good fortune: the photograph — his lucky charm. 
Back home in Colorado, Thibault can't seem to get the woman in the photograph out of his mind and he sets out on a journey across the country to find her. But Thibault is caught off guard by the strong attraction he feels for the woman he encounters in North Carolina – Elizabeth, a divorced mother — and he keeps the story of the photo, and his luck, a secret. As he and Elizabeth embark upon a passionate love affair, his secret soon threatens to tear them apart — destroying not only their love, but also their lives. 
Filled with tender romance and terrific suspense, THE LUCKY ONE is an unforgettable story about the surprising paths our lives often take and the power of fate to guide us to true and everlasting love. 
Along with most of his book, The Lucky One was also bought as a movie by Warner Bros. Production and was directed by Scott Hicks. Zac Efron and Taylor Schilling were cast as the characters Logan and Beth. 
The Notebook
A man with a faded, well-worn notebook open in his lap. A woman experiencing a morning ritual she doesn't understand. Until he begins to read to her. An achingly tender story about the enduring power of love.
A man with a faded, well-worn notebook open in his lap. A woman experiencing a morning ritual she doesn't understand. Until he begins to read to her. The Notebook is an achingly tender story about the enduring power of love, a story of miracles that will stay with you forever. 
Set amid the austere beauty of coastal North Carolina in 1946, The Notebook begins with the story of Noah Calhoun, a rural Southerner returned home from World War II. Noah, thirty-one, is restoring a plantation home to its former glory, and he is haunted by images of the beautiful girl he met fourteen years earlier, a girl he loved like no other. Unable to find her, yet unwilling to forget the summer they spent together, Noah is content to live with only memories…until she unexpectedly returns to his town to see him once again. 
Allie Nelson, twenty-nine, is now engaged to another man, but realizes that the original passion she felt for Noah has not dimmed with the passage of time. Still, the obstacles that once ended their previous relationship remain, and the gulf between their worlds is too vast to ignore. With her impending marriage only weeks away, Allie is forced to confront her hopes and dreams for the future, a future that only she can shape. 
Like a puzzle within a puzzle, the story of Noah and Allie is just the beginning. As it unfolds, their tale miraculously becomes something different, with much higher stakes. The result is a deeply moving portrait of love itself, the tender moments and the fundamental changes that affect us all. Shining with a beauty that is rarely found in current literature, The Notebook establishes Nicholas Sparks as a classic storyteller with a unique insight into the only emotion that really matters. 
"I am nothing special, of this I am sure. I am a common man with common thoughts and I've led a common life. There are no monuments dedicated to me and my name will soon be forgotten, but I've loved another with all my heart and soul, and to me, this has always been enough." 
And so begins one of the most poignant and compelling love stories you will ever read…The Notebook
Released as Nicholas Sparks' first movie adaptation, The Notebook was released by New Line Cinema. Released June 25, 2004, The Notebook stars Ryan Gosling, Rachel McAdams, and James Marsden. Nick Cassavetes directed the movie. 
MY OPINIONS ON NICHOLAS SPARKS: 
I actually have some mixed emotions about Nicholas Sparks. For the most part, I am a big fan of his work but sometimes his books get on my nerves. I can't just go and sit there and read a bunch of his books at one time. Since all of his books are so similar and all, I just can't. But his writing is just so good. I love his writing. The books have beautiful covers and I love them. Nicholas Sparks creates these worlds that I love. All these characters have a great backstory and I always end up crying at the end of them. If you haven't given one of his books a try before, you should totally give it a try. 
Have you read anything by Nicholas Sparks? What did you think about it? Have you gotten to meet him? What was it like? What is your favorite book by him? Who is your favorite author and why? Is there any author that you would want me to do this for? Let me know your thoughts in the comments! 
Happy Reading,