It's my sister's birthday! Happy birthday! I was going to do like a siblings tag or something but she doesn't sit still and it would turn into a post about makeup anyway. So this one is for you sis. I was watching Christine over on polandbananasbooks when I thought this would be the perfect tag for her birthday. I am not a big fan of makeup but I will wear it and all. I also know the basis of it so yeah. Let's just get into the tag! 
Primer:
Pick a Book That Left a Lasting Impression
So many books come to mind but I think I have to go with Veronica Roth's Divergent. I read this book when I really got into reading. I was already a reader but this book shaped a lot of the books I read today.
Foundation:
Pick Your Favorite First Book in a Series
I have to agree with Christine here and say Throne of Glass by Sarah J. Maas. This book is one of my favorite books in the world. Though the book series gets better through the story, this has to be one of my favorite books of all time. Without this book, I would still have no idea who Sarah J. Maas was and I wouldn't have gotten the chance to see her the other day. 
Concealer:
Pick a Character You Wish You Could Get Rid Of
There are a few when I am asked this question but the first one has to be, and I am very sorry, but Ginny Weasley from Harry Potter. I actually found her quite annoying and she got on my nerves way too much. Plus, she sort of ruined how I wanted the whole series to end. 
Powder:
Pick Your Favorite Last Book in a Series
City of Heavenly Fire by Cassandra Clare. I laughed, I cried, I had every emotion with this book. This book was just perfection and it told me, even more, reasons why Cassandra Clare is the queen of writing. 
Eyebrows:
A Book That You Think Everyone Should Read
So many books, of course! Currently, I still have to go with my favorite forbidden romance book written by the amazing Estelle Maskame. Did I Mention I Love You? is one of those books you all should go and read. And I will never stop talking about this book. Never. 
Eyeshadow:
Pick a Book That Has Your Favorite Colors on The Cover
This is a lot more complicated than you think. My favorite color is black but I sort of like blue a little more. I know. It is very complicated. But Shatter Me by Tahereh Mafi sort of combines both black and blue. This book is also pretty good! 
Eyeliner:
Pick a Dark & Mysterious Book
I don't really read that many dark novels but if I have to pick one, it would have to be Pet Sematary by Stephen King. Like this book is so dark and mysterious that I couldn't help but love. 
Mascara:
Pick a Long Book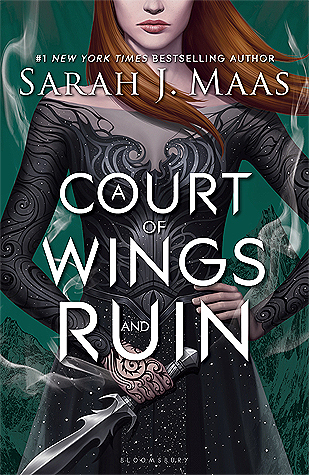 Sarah J. Maas' A Court of Wings and Ruin has 705 pages. And I loved every moment of it as well. This book was so good and I loved it. And Rhysand was there and he made me cry. 
Blush:
Pick A Book That Had Some Cringe-Worthy Romance
Nicholas Spark's Dear John. John literally went away to serve his country and his girlfriend breaks up with him. Now, his girlfriend is married and all and all John wants is her. No. Just no. It was bad. 
Highlighter:
Pick a Book That Brightened Your Day
Once and For All by Sarah Dessen. I loved reading this book. The whole time I was reading this book, I couldn't help but have a smile on my face through the whole thing. It was such a great book. 
Lipstick:
Your Favorite Book Kiss
This thing is ripping my heart out! There are so many! But the first one that comes to mind actually does include my sister! My sister was trying to guess all this stuff out from The 100 by Kass Morgan and for some reason, she did some lucky guesses and figured out the whole thing. The book version. Not the show. She's never seen the show. But Bellamy Blake and Clarke Griffin has to currently take the spot. 
I Tag: 
Since it is my sister's birthday and she likes to share her things (totally), I am tagging everyone to participate in this tag! 
Have you read any of these books? What did you think about them? What would you put in place for answers? Do you wear makeup? What are your thoughts about makeup? What are your favorite brands of makeup? Let me know your thoughts in the comments! 
Happy Reading,