It's September already and school is back in session. A lot of fun things are going to be happening this month including football games, parades, my sister's birthday, my new phone, and a few more other stuff. Along with all of that, books are being released that I can't wait to get my hands on! Here are a few of the books I am really excited to get my hands on this month! 
Title: Tower of Dawn
Author: Sarah J. Maas
Publisher: Bloomsbury USA Children's Books
Release: September 5, 2017
Pages: 672 (Hardback)
In the next installment of the New York Times bestselling Throne of Glass series, follow Chaol on his sweeping journey to a distant empire.
Chaol Westfall has always defined himself by his unwavering loyalty, his strength, and his position as the Captain of the Guard. But all of that has changed since the glass castle shattered, since his men were slaughtered, since the King of Adarlan spared him from a killing blow, but left his body broken.
His only shot at recovery lies with the legendary healers of the Torre Cesme in Antica—the stronghold of the southern continent's mighty empire. And with war looming over Dorian and Aelin back home, their survival might lie with Chaol and Nesryn convincing its rulers to ally with them.
But what they discover in Antica will change them both—and be more vital to saving Erilea than they could have imagined.
About the Author: Sarah J. Maas is the #1 New York Times bestselling author of the Throne of Glass series and A Court of Thorns and Roses series, as well as a USA Today and international bestselling author. Sarah wrote the first incarnation of the Throne of Glass series when she was just sixteen, and it has now sold in thirty-five languages. A New York native, Sarah currently lives in Pennsylvania with her husband and dog. Empire of Storms, the fifth Throne of Glass novel, is available now. She graduated Magna Cum Laude from Hamilton College in 2008 with a degree in Creative Writing and a minor in Religious Studies. Sarah lives in Bucks County, PA, and over the years, she has developed an unhealthy appreciation for Disney movies and bad pop music. She adores fairy tales and ballet, drinks too much tea, and watches an ungodly amount of TV. When she's not busy writing, she can be found exploring the historic and beautiful Pennsylvania countryside with her husband and canine companion.
Why I Want to Read This Book: Does this one really shock you? You think I could not go and buy the Sarah J. Maas when it comes out? I'm so excited to dive into another Sarah J. Maas novel because she is one of my favorites. Even though the book comes out in like 4 days, that is way too many for me. Despite Chaol not being one of my favorite characters from Throne of Glass, I am still really excited an read for this book. 
Title: Warcross
Author: Marie Lu
Publisher: G.P. Putnam's Sons Books for Young Readers
Release: September 12, 2017
Pages: 416 (Hardback)
From #1 New York Times bestselling author Marie Lu—when a game called Warcross takes the world by storm, one girl hacks her way into its dangerous depths.
For the millions who log in every day, Warcross isn't just a game—it's a way of life. The obsession started ten years ago and its fan base now spans the globe, some eager to escape from reality and others hoping to make a profit. Struggling to make ends meet, teenage hacker Emika Chen works as a bounty hunter, tracking down players who bet on the game illegally. But the bounty hunting world is a competitive one, and survival has not been easy. Needing to make some quick cash, Emika takes a risk and hacks into the opening game of the international Warcross Championships—only to accidentally glitch herself into the action and become an overnight sensation.
Convinced she's going to be arrested, Emika is shocked when instead she gets a call from the game's creator, the elusive young billionaire Hideo Tanaka, with an irresistible offer. He needs a spy on the inside of this year's tournament in order to uncover a security problem . . . and he wants Emika for the job. With no time to lose, Emika's whisked off to Tokyo and thrust into a world of fame and fortune that she's only dreamed of. But soon her investigation uncovers a sinister plot, with major consequences for the entire Warcross empire.
In this sci-fi thriller, #1 New York Times bestselling author Marie Lu conjures an immersive, exhilarating world where choosing who to trust may be the biggest gamble of all.
About the Author: I write young adult novels, and have a special love for dystopian books. Ironically, I was born in 1984. Before becoming a full-time writer, I was an Art Director at a video game company. Now I shuffle around at home and talk to myself a lot. 🙂
I graduated from the University of Southern California in '06 and currently live in LA, where I spend my time stuck on the freeways.
Why I Want to Read This Book: Marie Lu is one of those autobuy authors. Marie Lu is able to create these worlds that half the authors I read are unable to. She is able to make me love a character and hate it in the same book. And vice versa. This book sounds like nothing she has written in the past and I want to know where this book takes these turns. And look at this cover. Who wouldn't want to pick up a book with such a fun, bright, colorful cover like this one?
Title: The Dreadful Tale of Prosper Redding
Author: Alexandra Bracken
Publisher: Disney-Hyperion
Release: September 5, 2017
Pages: 272 (Hardback)
"I would say it's a pleasure to meet thee, Prosperity Oceanus Redding, but truly, I only anticipate the delights of destroying thy happiness."
Prosper is the only unexceptional Redding in his old and storied family history — that is, until he discovers the demon living inside him. Turns out Prosper's great-great-great-great-great-something grandfather made — and then broke — a contract with a malefactor, a demon who exchanges fortune for eternal servitude. And, weirdly enough, four-thousand-year-old Alastor isn't exactly the forgiving type. 
The fiend has reawakened with one purpose — to destroy the family whose success he ensured and who then betrayed him. With only days to break the curse and banish Alastor back to the demon realm, Prosper is playing unwilling host to the fiend, who delights in tormenting him with nasty insults and constant attempts trick him into a contract. Yeah, Prosper will take his future without a side of eternal servitude, thanks.
Little does Prosper know, the malefactor's control over his body grows stronger with each passing night, and there's a lot Alastor isn't telling his dim-witted (but admittedly strong-willed) human host. 
From #1 New York Times best-selling author Alexandra Bracken comes a tale of betrayal and revenge, of old hurts passed down from generation to generation. Can you ever fully right a wrong, ever truly escape your history? Or will Prosper and Alastor be doomed to repeat it?
About the Author: I was born in Phoenix, Arizona and spent all of my life there up until college–I miss it all of the time, but primarily when I'm forced to deal with ice/snow/mass transit/or some combination of the three.  I'm a middle child, which supposedly means I'm full of angsty feelings of neglect, but, in reality, it just means I'm always sandwiched between my older sister and younger brother in Christmas pictures.  On a whole, I had a pretty typical childhood, with only one big exception: my dad was a big time Star Wars collector, which means I went to more antique shows, toy stores, and Star Wars conventions then you could ever imagine! No, really, I'm up to six conventions. I will now pause to let that soak in… I recently graduated with a degree in History and English from The College of William & Mary in Virginia. (Four years in Colonial Williamsburg is enough to give anyone a sense of humor about life, trust me.) I began writing Brightly Woven there during my sophomore year as a birthday present to my dearest, darlingest friend Carlin… and finished six months AFTER that date. The number one question I get asked is how I wrote a novel while I was still in school. There are two answers to this: sacrificing a social life and a depressingly effective will to see even the most futile projects through.  I signed with my agent on my 21st birthday, and sold it later that year.  I spent a good portion of my senior year buried under edits, and the rest of that year trying to figure out what else I was going to do with my life. After graduating, I left my colonial bonnets behind and moved to New York City, where I attended the Columbia Publishing Course and worked in publishing for five years. I now write full time.
Why I Want to Read This Book: Before you say anything else, I don't care that this is a middle school novel. This cover, this description, this author, what could be better? I have had my ups and downs with Alexandra Bracken but this book sounds so good! I have been waiting for this book to be released since I first heard Alexandra Bracken talk about it on her Instagram story, with the promo of the cover and her dog.
Title: Genuine Fraud
Author: E. Lockhart
Publisher: Delacorte Press
Release: September 5, 2017
Pages: 272 (Hardback)
The story of a young woman whose diabolical smarts are her ticket into a charmed life. But how many times can someone reinvent themselves? You be the judge.
Imogen is a runaway heiress, an orphan, a cook, and a cheat.
Jule is a fighter, a social chameleon, and an athlete. 
An intense friendship. A disappearance. A murder, or maybe two. 
A bad romance, or maybe three.
Blunt objects, disguises, blood, and chocolate. The American dream, superheroes, spies, and villains. 
A girl who refuses to give people what they want from her.
A girl who refuses to be the person she once was.
About the Author: I am the author of We Were Liars,  Fly on the Wall, Dramarama, The Disreputable History of Frankie Landau-Banks and the Ruby Oliver quartet: The Boyfriend List, The Boy Book,  The Treasure Map of Boys, and Real Live Boyfriends. How to Be Bad was co-written with Lauren Myracle and Sarah Mlynowski.
Disreputable History was a Printz Award honor book, a finalist for the National Book Award, and recipient of the Cybils Award for best young adult novel. We Were Liars is a New York Times bestseller. It  won the Goodreads Choice Award and was Amazon's #1 YA novel of 2014.
I have a doctorate in English literature from Columbia University. My field was 19th-century British novel.  In 2013 I chaired the committee on Young People's Literature for the National Book Awards. I currently teach creative writing at Hamline University's low-residency MFA program in Writing for Children.
Why I Want to Read This Book: After reading We Were Liars a few years ago, I fell in love with E. Lockhart. Her writing is amazing and so much fun to read. There is a mystery within her writing that I love. When I first heard that she was releasing another book (which was at the Sarah Dessen signing I went to) I wanted to get my hands on this book. This book seems like it is going to be similar to We Were Liars and that can be a good or a bad thing. I'll end up loving it but hating at the same time. If you have read the book, you know what I am talking about, right?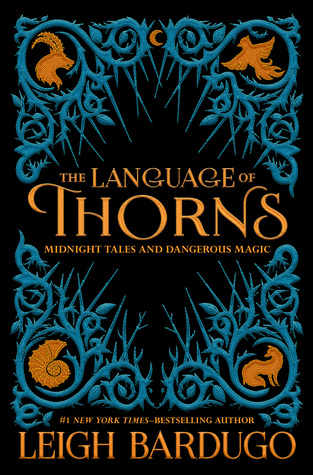 Title: The Language of Thorns: Midnight Tales and Dangerous Magic
Author: Leigh Bardugo
Publisher: Macmillan/Imprint
Release: September 23, 2017
Pages: 224 (Hardback)
Love speaks in flowers. Truth requires thorns.
Travel to a world of dark bargains struck by moonlight, of haunted towns and hungry woods, of talking beasts and gingerbread golems, where a young mermaid's voice can summon deadly storms and where a river might do a lovestruck boy's bidding but only for a terrible price.
Inspired by myth, fairy tale, and folklore, #1 New York Times–bestselling author Leigh Bardugo has crafted a deliciously atmospheric collection of short stories filled with betrayals, revenge, sacrifice, and love.
Perfect for new readers and dedicated fans, these tales will transport you to lands both familiar and strange—to a fully realized world of dangerous magic that millions have visited through the novels of the Grishaverse.
This collection of six stories includes three brand-new tales, all of them lavishly illustrated with art that changes with each turn of the page, culminating in six stunning full-spread illustrations as rich in detail as the stories themselves.
About the Author: Leigh Bardugo is the #1 New York Times bestselling and USA Today bestselling author of the Six of Crows Duology and the Grisha Trilogy (Shadow and Bone, Siege and Storm, and Ruin and Rising), as well as the upcoming Wonder Woman: Warbringer (Aug 2017) and The Language of Thorns (Sept 2017).
She was born in Jerusalem, grew up in Los Angeles, and graduated from Yale University. These days, she lives and writes in Hollywood where she can occasionally be heard singing with her band.
She would be delighted if you followed her on Twitter, elated if you visited her web site, and fairly giddy if you liked her selfies on Instagram. 
Why I Want to Read This Book: I first talked about Leigh Bardugo in my August book releases. I have heard nothing but great things about this book, since people were able to get samplers of it a few months ago. I know very little about the book other than there is myths and fairy tales within the book and I sort of want to keep it this way. The cover is just so beautiful and it looks so amazing. 
Are you excited to read any of these books? What's your September looking like? Anything fun planned? Any good books being planned to be read? Have you read any arcs or samplers for these books? Let me know your thoughts in the comments! 
Happy Reading,