It's already the end of August. God does time fly by! School has started, homework is piling, and marching band practices are long. But I am totally loving it. My schedule is a changing so the post might slow down a little. Since it is the end of the month, you know what time it is. It's my August Wrap Up! Welcome and make yourself at home.
Books Read:
Love, Rosie by: Cecelia Ahern
Rosie Dunne and Alex Stewart have been best friends since they were young. They would always get in trouble, spend time, and write notes to one another. They were inseparable. When Alex's dad gets a job opportunity, Alex has to move to the United States. With this move, it causes some big problems in their friendship. Not just problems but big life changes. Follow their life through notes, letters, emails, etc to each other and friends and learn that friendships are not always that easy.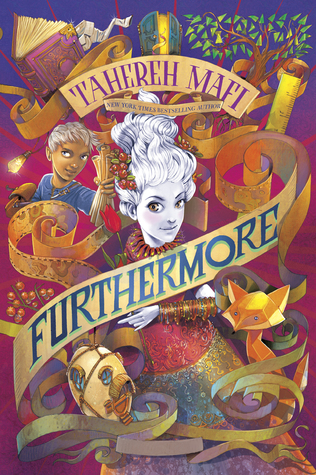 Furthermore by: Tahereh Mafi
Alice has never had it easy. Her mom doesn't really care for her. She was kicked out of school for making fun of a boy. Her dad has taken off and they don't have any clue where he went. And she has a power with color that she doesn't want anyone to know about. When she turns 12, she learns her life is going to get harder when she doesn't think life could get better. With the help of an unlikely friend, she might be able to make life better by bringing her dad home. The only problem is they need to dive into the unknown. Land that many don't know and that could be deadly. Will she trust this unlikely friend to make through alive? Or will she let her father down to stay alive?
A Thousand Pieces of You by: Claudia Gray
Marguerite Caine grew up in a physicist family. She was the only one who wants to have art. Her life was great, minus the incident. Out of nowhere, Marguerite's father dies from a loose brake. Their suspect? One of her parent's assistants, Paul. Paul has always loved and treated her parents like his own. The only thing Marguerite wants to do is kill Paul. With the help of Theo, her parent's other assistant, and the Firebird, she'll be going into territories she's never thought about: other dimensions. Will she be able to find Paul before he finds her? 
Ten Thousand Skies Above You by: Claudia Gray
Marguerite Caine has finally gotten her family back together. She has her dad back and she has her amazing boyfriend, Paul, one of her parents' assistance. She even has her friend and another assistant, Theo. Well, she has most of Theo back. Now, Wyatt Conley is trying to get her on his side, still. And the best way he knows to do is send Paul's soul into a million different dimensions. With the help of Theo, will Marguerite be able to get Paul back and have him all to herself? 
Puppy Love by: A. Destiny and Catherine Hapka
At 15, Lauren has just gotten her first puppy. Her parents aren't crazy about the dog and neither is her sister since she's allergic. Lauren has convinced them once for her to have a puppy, she needs to convince them again, with the help of puppy kindergarten. On her first day, she meets two new friends, Rachel, and Jamal. She also meets the man of her dreams – the teacher. 17-year-old Adam, who has an Irish accent, and very attractive. But to make life more difficult, Jamal is 15-years-old, jock who is very easy on the eyes as well. With trying to get her puppy trained, Lauren might just meet Mr. Perfect as well. 
I'll Give You The Sun by: Jandy Nelson
Noah and Jude Sweetwine are twins. As kids, they were always together. Jude was Noah's best friend. Jude had other friends but Noah was her's too. But at the age of 13, everything began to go downhill. Now, at the age of 16, neither of them are talking to each other. They won't deal with each other since the death of their movie. They won't deal with each other since Jude got to go to the school Noah wanted to go to. With art being the one big part of their life as kids, will this passion of art still be part of their life while they are older? 
Movies Watched: 
How To Be Single – Directed by: Christian Ditter
After breaking up with her long-time boyfriend Josh, Alice decides to go to a town she has never been before, New York. Lucky for her, Alice's sister Meg lives nearby. Alice is also lucky enough to befriend outgoing, partier Robin who gets Alice out there. But there is so much going on that Alice doesn't know what to think. With Meg trying to get pregnant and just breaking up with Josh, she doesn't know if she wants to take Robin's offer up. But Robin does not give up. Robin will do everything in her power to show Alice how to have a good time. Stars Dakota Johnson (Fifty Shades of Gray), Rebel Wilson (Pitch Perfect), Leslie Mann (The 40-Year-Old Virgin), and Alison Brie (Glow). 
The Switch – Directed by: Will Speck and Josh Gordon
Wally Mars basically had everything he wanted. He had his best friend, Kassie Larson. Obviously, when Kassie announced that she wanted to have a baby, Wally thought he would be the lucky guy. That was not the case. Kassie had other plans for the baby daddy. When Kassie has a party celebrating her getting pregnant, Wally does a few things but only remembers a few. He remembers being angry, drunk, and jealous. He also remembers Diane Sawyer but doesn't know why. 7 years later, Kassie moves back to town and Wally begins to remember a few things from that night that might possibly change everything. Stars Jason Bateman (Juno) and Jennifer Aniston (Marley & Me). 
The Legend of Tarzan – Directed by: David Yates
After several years of being John Clayton the Third, Tarzan is making his way back home. To Africa. Tarzan isn't going alone though. He is bringing his wife Jane, who made it very clear she was coming with him, and George Washington Williams, a guy who wants to beat out Leon Rom and King Leopold. The two of them are collecting slaves and diamonds to gain all the power of the land. But as soon as Tarzan is said to be coming, Leon Rom's mission might be closing in. And the thing he has to do is kidnap Jane. Stars Alexander Skarsgard (True Blood), Margot Robbie (Suicide Squad), and Samuel L. Jackson (Miss Peregrine's Home for Peculiar Children). 
Who Gets the Dog? – Directed by: Huck Butko
Dr. Olive Green and Clay Lonnergan finally had enough. They are tired of their fights. They are tired of each other. They are finally deciding on a divorce. The only problem they have is Wesley. Wesly is their baby. Their Labrador Retriever. Neither Olive or Clay want to lose Wesley. So they take it to court to decide who gets to keep Wesley. With the help of several people, including friends, Olive and Clay have to somehow get along for Wesley's sake. But who knows. They might just come back into each other's arms. Stars Alicia Silverstone (King Cobra) and Ryan Kwanten (True Blood). 
Juno – Directed by: Jason Reitman
16-year-old Juno MacGuff got knocked up by her friend and admirer Paulie Bleeker. The first and only option to Juno was an abortion. As soon as she gets there, she could not go through with it. She knows she has to keep the baby. She knows one other thing: there is no way she could raise this kid. With the help of her friend Leah, Juno is able to find some adoptive parents that are willing to care for the baby as much as Juno would. Without even realizing it, Juno is able to become part of a new family but she has to destroy a few friendships through it. Stars Ellen Page (Inception), Michael Cera (Sausage Party), Jennifer Gardner (Valentine's Day), and Jason Bateman (This Is Where I Leave You). 
Neighbors – Directed by: Nicholas Stoller
Mac and Kelly had their life together. They had their first kid, they had a house, and they had great friends. Since they lived in a quiet neighborhood, when the house next door sold, they were expecting a family. Not a fraternity. When the fraternity begins to go insane, Mac and Kelly's minds do the same. Then comes war. Who would remain to dominate over the land? The frat boys or the homeowners. Stars Seth Rogers (Kung Fu Panda 2), Rose Byrne (Bridesmaids), Zac Efron (Baywatch), and Dave Franco (21 Jump Street).
Neighbors 2: Sorority Rising – Directed by: Nicholas Stoller
With Mac and Kelly expecting their second child, all they want is to sell their house. The fraternity is gone so all they need is a buyer. Once a buyer comes in, that's when everything falls apart. Not only does a sorority move in, but Teddy is helping them. Since Teddy doesn't have anything better to do, he thinks helping these girls might do some good. These girls have other plans. When they get rid of Teddy, war is on, yet again. This time it is the sorority and the homeowners, plus Teddy. And you thought the frat house was bad. Stars Seth Rogers (Sausage Party), Rose Bryne (28 Weeks Later), Zac Efron (Mike and Dave Need Wedding Dates), Chloe Grace Moretz (The 5th Wave), and Dave Franco (Now You See Me). 
I Give It A Year – Directed by: Dan Mazer
Nat and Josh decided that even though they had been dating for only 7 months, they were going to get married. From the very beginning, the family and friends know it was going to fail. The made bets, debating about how long they would last. Josh and Nat were always told how hard the first year but they never really knew how hard it truely is until they are stuck in this life. Stars Rose Bryne (Neighbors), Rafe Spall (One Day), Anna Faris (Scary Movie), and Simon Baker (The Devil Wears Prada). 
Current Obsessions: 
Bates Motel –
I recently got into this show after hearing how amazing this show was. I freaking love this show. It is addicting and it is so amazing. I don't know how I lived before this show. Bates Motel follows Norma and Norman Bates move after the death of Sam, Norma's husband. After purchasing a motel in White Pine, Oregon, Norma learns that there is more to the town than it lets on. I just freaking love the show. As I was actually writing this wrap-up, I was watching The Gong Show and Freddie Highmore's new show The Good Doctor trailer played. It wasn't until today that I realized that it was him. You missed my epic freak out. 
Candy Crush Saga – 
So I have been playing this game for about four years now and I love this game. I just really got back into the game and I really enjoy it. I'm on like level 711 or something and I am really enjoying it. It's just so fun and addicting. I have to limit myself to this game because I would play this game all day. I highly doubt I would ever find the end of this game or ever stop playing it. 
Have you read any of these books? What did you think about them? Have you seen any of these movies? What were your thoughts? How was your August? What was your favorite book and movie you watched in August? Let me know your thoughts in the comments! 
Happy Reading,