Something you all might not know about me is the fact that I suffer from really oily skin. I hate my skin. I have tried so many products, which resulted in my having an allergic reaction. After a year or two of trying to find the right combination! Since I feel like writing something fun, this was the post that came to mind. Hopefully, you all enjoy this post and maybe you'll want to try some of these products. 
Biore Baking Soda Pore Cleanser:
I actually just got the hang of this product. One thing I really love about Biore is how many coupons I seem to receive. Anytime I go and buy some of their stuff, I always end up getting some sort of coupon with it. I use this every morning and it smells amazing. Like I love this stuff. I always did the lemon juice and baking soda when I had a pimple so the fact I have the baking soda cleanser makes my skin so soft. I think this has to work the best out of all these products but I have used so many things, I have no idea what really does it.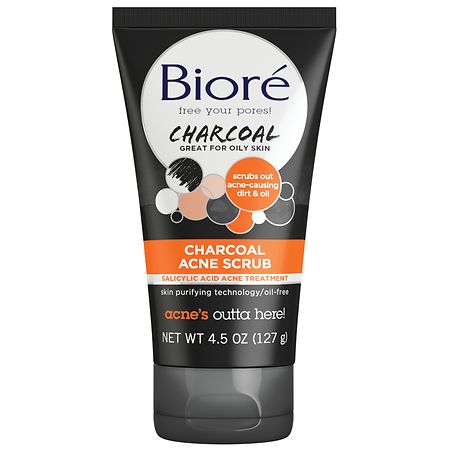 Biore Charcoal Acne Scrub:
This was the first product that I got from Biore and I seriously fell in love with it. I had always heard that charcoal was good for the skin so I tested it. I really didn't see results for about three days but it seriously works. To think of it, I need to go and get another bottle soon. But it doesn't really have a smell. I smell a little bit of mint but that is just me since no one else smells it. I really enjoy the feeling that it adds to my face and it truly works.
Equate Breakout Control Acne Cleanser:
Back when I was beginning this whole face treatment stuff, I found out that I was allergic to a product that was in a lot of the products we had at home. My dad was able to figure out what I was allergic to and he ended up just buying the cheapest one he saw at Walmart. Ever since then, I haven't gone back. I used to only use it whenever I had a pimple and it would dry it out but I just love this stuff in the shower. I wash my face, place this on my face and continue my shower. It is always the last thing that comes off my face. My face always feels so clean whenever I do it. I will say this, if you have a stuffed up nose, this will clean it out quickly. 
Neutrogena Oil-Free Acne Moisturizer:
I don't use this product every day. This is going to sound really strange but despite my oily skin, I can also have dry skin. So whenever my skin feels really dry, I'll throw this on my face. I have played around with this product so much, we sometimes need a break. I once heard or read that it was bad for your face to put lotion on it. I never really did more research on it but it sort of scared me because it contains oils or something that leads to pimples. So I got this stuff and I love it. I love the smell so much (I have the pink grapefruit) and it is the only Neutrogena product I own. I tried their face stuff but it honestly didn't work for me. But this stuff does. 
Biore Charcoal Pore Strips:
I literally just tried this product for the first time about a week before I got the idea for this post. My sister received a free trial of one from a magazine she is subscribed to. I have always, always, loved to watch videos of people taking these strips off and the wonder junk that was on the strip when they took it off. when I finally got to try one for the first time, I loved it. Some much junk came off my nose. I suffer from a lot of blackheads on my nose. Since I have only used them three times, about half of them are gone. And it can suck things out of a pimple! I had a pimple on the side of my nose when I did it the last time and I totally forgot about it. It pulled all this junk out of it and pimple no more. I love this. It really doesn't bother you when it is on and it really gives me a good time to sit around and read. 
Have you used any of these products? What do you use on your skin? Do you recommend any products for me? How long does it take you to get ready in the morning? Do you have a routine you perform to clean your face? Let me know your thoughts in the comments!
Happy Reading,