A few years ago, my sister actually wanted to read. Once she got out of her reading stage, she gave me all of her books, even though there were only like 10 of them and I never heard of half of them. Now I have them sitting on my bookshelf, waiting to be read. Since I'm not buying books this summer, I thought why not go and read one. I grabbed a random book and read it. That leads us to this point of time. A review, written by me! Welcome to a spoiler free review of Puppy Love. 
Title: Puppy Love
Authors: A. Destiny and Catherine Hapka
Publisher: Simon Pulse
Released: September 2, 2014
Pages: 240 (Paperback)
First crush, first love, first kiss—in this addition to the sweet and clean Flirt series, Lauren gets a lesson in love when she takes her new puppy to training classes.
Fifteen-year-old Lauren has always loved dogs, but could never have one of her own until her highly allergic older sister went to college. Now she has her very own puppy, and she's head over heels…until the cute little monster starts chewing everything in sight and barking loud enough to drive the whole family crazy!
So it's off to puppy kindergarten they go. There, Lauren quickly falls for the dog trainer, a seventeen-year-old dog whisperer with a hot accent.
But is he really the one for her…or would she be better matched with Jamal, a fellow fumbling owner her own age with an unruly mutt?
Will Lauren graduate from puppy kindergarten with a just a well-trained pup? Or will she have a new boyfriend by her side?
About the Authors: A. Destiny is the coauthor of the Flirt series. She spends her time reading, writing, and watching sweet romance movies. She will always remember her first kiss.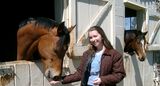 Catherine Hapka has written more than one hundred books for children and adults, as a ghostwriter for series as well as original titles, including the Romantic Comedies Something Borrowed, The Twelve Date of Christmas, and Love on Cue. She lives in Pennsylvania.
My Review:
At the age of 15, Lauren has just gotten her first puppy. All her life she has been wanting one but with her sister being allergic, she has never been able to have one. When her sister headed off to college, her parents decided that Lauren could get a dog. But when Puppy School becomes part of her life, more and more begins to change for her. With an attractive, Irish 17-year-old teaches the class and an attractive, 15-year-old out of her league jock becomes a member of the class, Lauren's life takes some strange turns. 
As I said, my sister got this book a while ago. I didn't really pick this book out. When my sister was getting rid of a bunch, I took her books. I was standing in front of my bookshelf and I finally decided to read it. I regret ever taking a chance on it. But I really thought it was going to be better since it was a contemporary romance novel. It just wasn't good at all. 
The characters caused me way too many problems. I'm 16 so since the characters were teenagers, I thought I could relate. Nope. Lauren is 15 but here she is, basically doing nothing that normal 15-year-olds. Then we have Adam who has basically no social skills when it comes to anything other than dogs. Jamal was just way too old and mature to be 15. There are so many things that he did that made me think he was like 10 but then there were times I thought he was 30. There was no real backstory to any of these characters and they just weren't thought of well. If they would have thought the characters through a little more, the book might have been better but that didn't happen.
The idea of the book was pretty good when it comes to the genre of the book. I think it went in the wrong direction and it really didn't have that well of authors that wrote the book. It felt so unthought of and it almost felt like there was no detail in the book. It was like you were watching a movie and the only thing you ever saw was what the main character was seeing and thinking. And there were so many things that the characters were lacking that the whole underdevelopment of the novel was shown. If Kasie West or Morgan Matson was to go and write a book about the same idea, the book would be a million times better. 
Just to continue on with what I was previously talking about, the writing was just bad. There was nothing there. I didn't enjoy reading it. The relationships seemed forced and sort of awkward, even to read. There was the lack of detail when it came to the locations and the whole relationship between the characters. There was a lack of vibrant words and exciting details that typically make me want to read a book. There were no layers in this process that I really wanted in this book. It was almost like the authors were too fluffy with the book and wanted to annoy the heck out of me because of Lauren. I seriously hope that the authors know that teenagers don't think about relationships ALL THE TIME. 
I will say that there were two good things about the whole book. The fact that is was paced well and it was a quick read. I sat down and read this book in like 3 hours or so and that was with me talking to my parents, reading some stuff for Girl Scouts, and eating a doughnut. The book didn't seem to take place way too fast or way too slow. I liked how at the beginning of every chapter, it would tell you the day and if it goes back in time, it told you how long it has been. Basically, the whole set up was amazing. If you need to find a book you can read quickly, here you go. 
And I want to say this is the last thing but I could be wrong but I don't think you would consider this book to be Young Adult. With the way the book was developed and written, it is aimed more towards middle grade than anything else. With the poorly developed plot, terrible writing, and with the love triangle that filled the whole book, this book would fit perfectly with the rest of those books in the middle-grade section in the school library my mom works in. 
Overall, I would have to give this book a 2 out of 5. If you have thought about checking this book out or you are planning on reading it, just don't. It isn't worth the time or energy. Just don't think about this book. If you are looking for a book similar to what I talked about, you should totally give it a try though. I just didn't enjoy the book as you all just read. 
Have you read this book? What did you think about it? Do you have any pets? Who was your favorite character and why? Did you ever train a dog? Do you judge books by their cover? Let me know your thoughts in the comments! 
Happy Reading,