Tahereh Mafi has always been one of my favorite authors in the world. I have had her middle grade book sitting on my bookshelf for a while now and I am finally getting my hands (and eyes) on these beautiful pages. I'm writing you this review, without spoilers, to your screens because why not.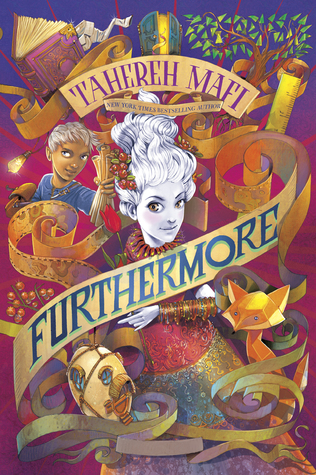 Title: Furthermore
Author: Tahereh Mafi
Publisher: Dutton Books for Young Readers
Released: August 30, 2016
Pages: 416 (Hardback)
Alice Alexis Queensmeadow, 12, rates three things most important: Mother, who wouldn't miss her; magic and color, which seem to elude her; and Father, who always loved her. Father disappeared from Ferenwood with only a ruler, almost three years ago. But she will have to travel through the mythical, dangerous land of Furthermore, where down can be up, paper is alive, and left can be both right and very, very wrong. Her only companion is Oliver whose own magic is based in lies and deceit. Alice must first find herself—and hold fast to the magic of love in the face of loss.
About the Author: Tahereh Mafi is the New York Times and USA Today bestselling author of the Shatter Me series. She was born in a small city somewhere in Connecticut and currently resides in Santa Monica, California with her husband, fellow author Ransom Riggs. She can usually be found over-caffeinated and stuck in a book. Shatter Me is her first series, with television rights optioned by ABC Signature Studios; Furthermore, her newest project, will be out on August 30th, 2016.
My Review: 
Alice's life has never been perfect. She has been kicked out of school for picking on a kid named Oliver, even though he started it. Her mother has never cared about her for a day in her life. And her father has taken off years ago and no one has any idea where he might be. The one thing she does have is magic and color. She senses color differently than others. As she turns 12, she dives into this world with an unlikely friend to find out things she never thought she might know. 
Tahereh Mafi has done it again. I had read and loved her Shatter Me series and loved them. I have recommended this book series to about everyone and they all love it. Now with this book being a middle grade, I was a little nervous. I think I have to love this more than Shatter Me. I literally loved this book. I mean, I had a few things that I didn't like but I really enjoyed this book. 
These characters that were written were some of the most beautiful characters I have seen. You really get to see Alice and Oliver grow up from being 12 and 13-year-olds. Yes, they are still a pain but aren't all kids that age? But there were so many good things about these characters I couldn't help but love. The love that Alice had for her father that never died even when he left. Oliver, and his insane way with words and helping Alice even though he knew that she hated him. These two were amazing and I will always ship them no matter what Tahereh Mafi might do to them. 
What is it with Tahereh Mafi and male characters? She somehow is making me fall in love with a 13-year-old and that is not okay. I personally would vote for Oliver over Alice just because of everything that he has gone through and just because of how powerful he was. Even though he is one of the characters that grow a lot, you really can't help but love him. I found Alice to be a little annoying at times but that is just because of who she was I guess. But somehow, in forms I don't know, Tahereh Mafi made reading Alice fun. Even if I found her annoying. 
Tahereh Mafi brought us a book that was so colorful and playful to read with so many amazing details that will make your heart melt. The book is told in some sort of third person (I am terrible at point of views guys) but it is amazing. The narrator has such a beautiful mind and it was so fun getting to read it because it was beautifully written. There were so many details that I couldn't help but love the whole book. It was so light and whimsical that I can't help but love every minute of it. It was almost like I was inside of the novel and I was the narrator at times because it was amazingly written. I am not one to read poetry for some reason but reading this was almost like poetry. AND I LOVED IT. 
I do have to say that the ending was different. I almost felt like I was missing something. The ending is good, don't get me wrong there. But I wanted something else. It is almost like I am missing the cheese on a cheeseburger. But it might just have been me because it isn't the first time that it has ever happened to me while reading a book.  
So the book deals with magic? Yes and Tahereh Mafi writes it in a sense that I have never thought about. I would have wanted a little more magic in the characters to be involved but once you get into the book and you can't stop thinking about it, you can't help but forget about it a little. There are also things that you get to learn about while you are reading the book that makes you really excited to read Whichwood. You learn a few things and you just want to dive back into the world of this book. At least this book is coming out near my birthday so I can get it with my money. And I'll probably drive myself over there personally to get it. 
Overall, I would have to give this book a 4 out of 5. Tahereh Mafi has a way with words that I can't help but love. I love the worlds that she is able to character with just words. I don't need any more reassurance to know that Tahereh Mafi will always be one of those authors that I want to have in my life. And I will freak out about if I ever got the chance to meet her. If you haven't read this book, you should totally pick it up, no matter how old you are. 
Have you read this book? What did you think about it? Do you agree with what I said? Are you planning on reading the next book in the series? Could you relate to any of this? Did you prefer this book or her other series, Shatter Me? Let me know your thoughts in the comments! 
Happy Reading,