It feels like a while since I did a post like this! And I really like doing these because I love to give out book recommendations. Since I started my marching band practice yesterday, I thought I would share my love of music with you. If you are a big music lover like I am, you should totally check out these books because you might enjoy them as much as I do.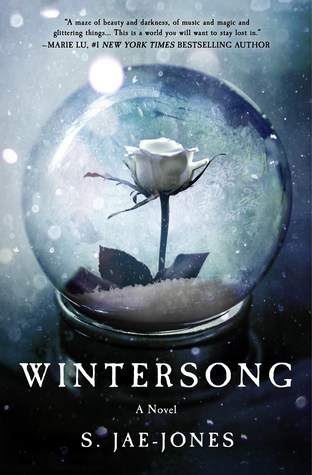 Title: Wintersong
Author: S. Jae Jones
Publisher: Thomas Dunne Books
Release: February 7, 2017
Pages: 436 (Hardback)
Beware the goblin men and the wares they sell.
All her life, nineteen-year-old Liesl has heard tales of the beautiful, mysterious Goblin King. He is the Lord of Mischief, the Ruler Underground, and the muse around which her music is composed. Yet, as Liesl helps shoulder the burden of running her family's inn, her dreams of composition and childish fancies about the Goblin King must be set aside in favor of more practical concerns.
But when her sister Käthe is taken by the goblins, Liesl journeys to their realm to rescue her sister and return her to the world above. The Goblin King agrees to let Käthe go—for a price. The life of a maiden must be given to the land, in accordance with the old laws. A life for a life, he says. Without sacrifice, nothing good can grow. Without death, there can be no rebirth. In exchange for her sister's freedom, Liesl offers her hand in marriage to the Goblin King. He accepts.
Down in the Underground, Liesl discovers that the Goblin King still inspires her—musically, physically, emotionally. Yet even as her talent blossoms, Liesl's life is slowly fading away, the price she paid for becoming the Goblin King's bride. As the two of them grow closer, they must learn just what it is they are each willing to sacrifice: her life, her music, or the end of the world.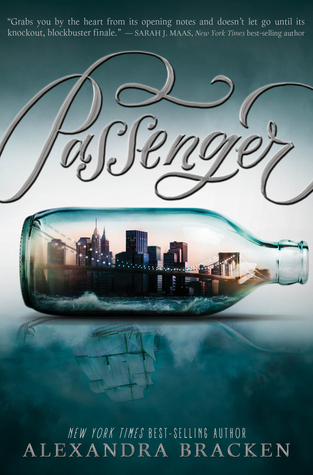 Title: Passenger
Author: Alexandra Bracken
Publisher: Disney-Hyperion
Released: January 5, 2016
Pages: 486 (Hardback)
Passage, n.
i. A brief section of music composed of a series of notes and flourishes.
ii. A journey by water; a voyage.
iii. The transition from one place to another, across space and time.
In one devastating night, violin prodigy Etta Spencer loses everything she knows and loves. Thrust into an unfamiliar world by a stranger with a dangerous agenda, Etta is certain of only one thing: she has traveled not just miles but years from home. And she's inherited a legacy she knows nothing about from a family whose existence she's never heard of. Until now.
Nicholas Carter is content with his life at sea, free from the Ironwoods—a powerful family in the colonies—and the servitude he's known at their hands. But with the arrival of an unusual passenger on his ship comes the insistent pull of the past that he can't escape and the family that won't let him go so easily. Now the Ironwoods are searching for a stolen object of untold value, one they believe only Etta, Nicholas' passenger, can find. In order to protect her, he must ensure she brings it back to them—whether she wants to or not.
Together, Etta and Nicholas embark on a perilous journey across centuries and continents, piecing together clues left behind by the traveler who will do anything to keep the object out of the Ironwoods' grasp. But as they get closer to the truth of their search, and the deadly game the Ironwoods are playing, treacherous forces threaten to separate Etta not only from Nicholas but from her path home… forever.
Title: Just Listen
Author: Sarah Dessen
Publisher: Viking Books for Young Readers
Released: April 6, 2006
Pages: 371 (Hardback)
Last year, Annabel was "the girl who has everything" — at least that's the part she played in the television commercial for Kopf's Department Store.
This year, she's the girl who has nothing: no best friend because mean-but-exciting Sophie dropped her, no peace at home since her older sister became anorexic, and no one to sit with at lunch. Until she meets Owen Armstrong.
Tall, dark, and music-obsessed, Owen is a reformed bad boy with a commitment to truth-telling. With Owen's help, maybe Annabel can face what happened the night she and Sophie stopped being friends.
Title: The Last Song
Author: Nicholas Sparks
Publisher: Grand Central Publishing
Released: September 8, 2009
Pages: 390 (Hardback)
Seventeen year-old Veronica "Ronnie" Miller's life was turned upside-down when her parents divorced and her father moved from New York City to Wilmington, North Carolina. Three years later, she remains angry and alienated from her parents, especially her father… until her mother decides it would be in everyone's best interest if she spent the summer in Wilmington with him.
Ronnie's father, a former concert pianist and teacher, is living a quiet life in the beach town, immersed in creating a work of art that will become the centerpiece of a local church. The tale that unfolds is an unforgettable story about love in its myriad forms – first love, the love between parents and children – that demonstrates, as only a Nicholas Sparks novel can, the many ways that deeply felt relationships can break our hearts… and heal them.
Title: Ten Miles Past Normal
Author: Francis O'Roark Dowell
Publisher: Atheneum Books for Young Readers
Released: March 22, 2011
Pages: 211 (Hardback)
Janie Gorman wants to be normal. The problem with that: she's not. She's smart and creative and a little bit funky. She's also an unwilling player in her parents' modern-hippy, let's-live-on-a-goat-farm experiment (regretfully, instigated by a younger, much more enthusiastic Janie). This, to put it simply, is not helping Janie reach that "normal target." She has to milk goats every day…and endure her mother's pseudo celebrity in the homemade-life, crunchy mom blogosphere. Goodbye the days of frozen lasagna and suburban living, hello crazy long bus ride to high school and total isolation–and hovering embarrassments of all kinds. The fresh baked bread is good…the threat of homemade jeans, not so much. 
It would be nice to go back to that old suburban life…or some grown up, high school version of it, complete with nice, normal boyfriends who wear crew neck sweaters and like social studies. So, what's wrong with normal? Well, kind of everything. She knows that, of course, why else would she learn bass and join Jam Band, how else would she know to idolize infamous wild-child and high school senior Emma (her best friend Sarah's older sister), why else would she get arrested while doing a school project on a local freedom school (jail was not part of the assignment). And, why else would she kind of be falling in "like" with a boy named Monster—yes, that is his real name. Janie was going for normal, but she missed her mark by about ten miles…and we mean that as a compliment. 
Frances O'Roark Dowell's fierce humor and keen eye make her YA debut literary and wise. In the spirit of John Green and E. Lockhart, Dowell's relatable, quirky characters and clever, fluid writing prove that growing up gets complicated…and normal is WAY overrated.
Have you read any of these books? What did you think about them? Do you play an instrument? What instrument do you play? Or what instrument do you wish to play? Is there any other book you would add to this list? Let me know your thoughts in the comments! 
Happy Reading,