Oh hello! I didn't see you there in my pile of tissues saying goodbye to June. But I guess July is good enough for now since I'm going to go on our first family trip (finally) and I have to go to band practice soon. Even though I am on a book buying ban, that doesn't mean that I don't want books that are coming out this month. Here are 3 books that are coming out this month.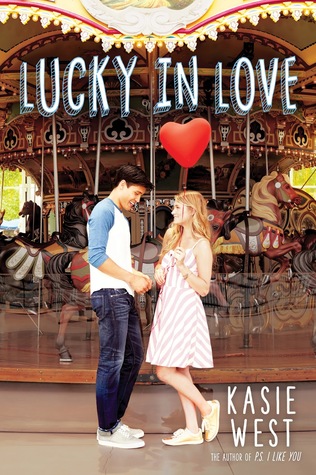 Title: Lucky in Love
Author: Kasie West
Publisher: Scholastic
Release: July 25, 2017
Pages: 333 (Hardback)
In this new contemporary from YA star Kasie West, a girl who wins the lottery learns that money can cause more problems than it solves, especially when love comes into the picture.
Maddie doesn't believe in luck. She's all about hard work and planning ahead. But one night, on a whim, she buys a lottery ticket. And then, to her astonishment —
She wins!
In a flash, Maddie's life is unrecognizable. No more stressing about college scholarships. Suddenly, she's talking about renting a yacht. And being in the spotlight at school is fun… until rumors start flying, and random people ask her for loans. Now, Maddie isn't sure who she can trust.
Except for Seth Nguyen, her funny, charming coworker at the local zoo. Seth doesn't seem aware of Maddie's big news. And, for some reason, she doesn't want to tell him. But what will happen if he learns her secret?
With tons of humor and heart, Kasie West delivers a million-dollar tale of winning, losing, and falling in love.
About the Author: I write YA. I eat Junior Mints. Sometimes I go crazy and do both at the same time. My novels are: Pivot Point and its sequel Split Second. And my contemporary novels: The Distance Between Us, On the Fence, The Fill-In Boyfriend, PS I Like You, and By Your Side. My agent is the talented and funny Michelle Wolfson.
Why I Want to Read This Book: Kasie West is in the top ten of favorite contemporary writers in my book. I have read two of her books now and I have loved both of them a lot. Even if I never heard of Kasie West, I would want to give the book a try just because of the cover. The whole concept of the book seems really cool and plus, there is a chessy relationship. Sign me up. Also, there is money involved and what could be better than money? Maybe books but you could go and buy books with that money. 
Title: Because You Love to Hate Me 
Editor: Ameriie
Publisher: Bloomsbury USA Children
Release: July 11, 2017
Pages: 320 (Hardback)
Leave it to the heroes to save the world–villains just want to rule the world.
In this unique YA anthology, thirteen acclaimed, bestselling authors team up with thirteen influential BookTubers to reimagine fairy tales from the oft-misunderstood villains' points of view.
These fractured, unconventional spins on classics like "Medusa," Sherlock Holmes, and "Jack and the Beanstalk" provide a behind-the-curtain look at villains' acts of vengeance, defiance, and rage–and the pain, heartbreak, and sorrow that spurned them on. No fairy tale will ever seem quite the same again!
Featuring writing from . . .
Authors: Renée Ahdieh, Ameriie, Soman Chainani, Susan Dennard, Sarah Enni, Marissa Meyer, Cindy Pon, Victoria Schwab, Samantha Shannon, Adam Silvera, Andrew Smith, April Genevieve Tucholke, and Nicola Yoon
BookTubers: Benjamin Alderson (Benjaminoftomes), Sasha Alsberg (abookutopia), Whitney Atkinson (WhittyNovels), Tina Burke (ChristinaReadsYA blog and TheLushables), Catriona Feeney (LittleBookOwl), Jesse George (JessetheReader), Zoë Herdt (readbyzoe), Samantha Lane (Thoughts on Tomes), Sophia Lee (thebookbasement), Raeleen Lemay (padfootandprongs07), Regan Perusse (PeruseProject), Christine Riccio (polandbananasBOOKS), and Steph Sinclair & Kat Kennedy (Cuddlebuggery blog and channel).
About the Editor: Ameriie is a Grammy-nominated singer-songwriter, producer, and writer of fiction. She is the editor of the villains anthology BECAUSE YOU LOVE TO HATE ME. The daughter of a Korean artist and an American military officer, she was born in Massachusetts, raised all over the world, and graduated from Georgetown University with a bachelor's in English. She lives mostly in her imagination, but also on Earth with her husband, her parents and sister, and about seven billion other people.
When she isn't writing or creating music, she talks books, beauty, and more on her YouTube channel Books Beauty Ameriie.
Why I Want to Read This Book: I love reading books like this. I love getting to read a bunch of author's short stories about a single topic. You never know what author's you could discover. You get to know if you want to read more from an author or never read it again. Plus, there are a bunch of booktubers that are part of this?! I am loosing my mind because so many of them I have been wanting to read something from. 
Title: Paper Hearts
Author: Ali Novak
Publisher: Sourcebooks Fire
Release: July 4, 2017
Pages: 384 (Hardback)
"I'm sorry," he said, slowly untying the ribbon that held his mask in place. "It's just-I didn't want you to think of me any differently."
Somehow I kept my mouth from falling open. I knew his face, but my mind couldn't accept that he was the person looking down at me.
"My real name is Alec."
Felicity has her entire future planned. Ever since her older sister ran away, she's had the full weight of her mother's expectations on her shoulders. So she works hard to get straight As and save for college.
Except sometimes the best things in life are unplanned-like when Felicity meets a handsome, masked stranger while she is volunteering at a charity masquerade ball. She never thought he'd flirt with her. And she certainly never thought he'd turn out to be a member of the world-famous Heartbreakers band, Alec.
Then Felicity uncovers a shocking family secret. Suddenly, she, Alec, and her two best friends are off on a road trip to find Felicity's missing sister. And she's about to discover that unexpected turns have a peculiar way of landing her right where she needs to be…
About the Author:  Ali Novak is a Wisconsin native and graduate of the University of Wisconsin-Madison's creative writing program. She started writing her debut novel My Life with the Walter Boys when she was only fifteen, and since then, her work has received more than 130 million hits online. When she isn't writing, Ali enjoys Netflix marathons and traveling with her husband Jared. You can follow Ali on Twitter, Instagram, Snapchat, Wattpad, and Facebook @Fallzswimmer.
Why I Want to Read This Book: Yes, I know that this is the second book in a series that I haven't read yet. But when I was looking for books to include on this list, I saw this was one of the books. Now, I want to read these books. These covers are so pretty that I can't help but want. Plus, I haven't read one thing from a wattpad author that I have hated… Hint hint Estelle Maskame. I'm really excited to give these books a try. 
What books are you looking forward to reading this month? What makes you so excited to read them? Are you going on vacation? Where are you going or where did you go? Let me know your thoughts in the comments!
Happy Reading,