Exams have officially begun and more than likely, I am taking one as you read this. As long as you read it the day it was released. As much as I hate exam week, I love this magical button on WordPress called Schedule. This is going to be my best friend for a while but who cares! But I have continued on with the Pretty Little Liars series and I have now finished book 5. Now, if you have not read any of the books that happens before this one, you are at risk of being spoiled. I know it is going to happen. I just know. 
Ali's Pretty Little Lies | Pretty Little Liars | Flawless | Perfect | Unbelievable | Pretty Little Secrets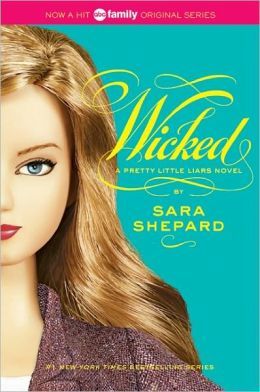 Title: Wicked
Author: Sara Shepard
Publisher: HarperCollins Publishers
Released: June 2, 2009
Pages: 339 (Paperback)
In idyllic Rosewood, Pennsylvania, four very pretty girls just can't help but be bad. . . .
Hanna will do anything to be Rosewood's queen bee. Spencer's digging up her family's secrets. Emily can't stop thinking about her new boyfriend. And Aria approves a little too strongly of her mom's taste in men.
Now that Ali's killer is finally behind bars, the girls think they're safe. But those who forget the past are condemned to repeat it. And they should know by now that I'm always watching. . . .
About the Author: For as long as she can remember, Sara Shepard has been writing. However, when she was young she also wanted to be a soap opera star, a designer for LEGO, a filmmaker, a claymation artist, a geneticist, and a fashion magazine editor when she grew up. She and her sister have been creating joint artistic and written projects for years, except they're pretty sure they're the only ones who find them funny.
She got her MFA at Brooklyn College and now lives outside Philadelphia, PA with her husband and dogs. Her first adult novel is called The Visibles/All The Things We Didn't Say.
Sara's bestselling young adult series, Pretty Little Liars, is loosely based on her experiences growing up on Philadelphia's Main Line…although luckily she never had any serious stalkers. The series has also inspired the ABC Family television series of the same name.
My Review: 
Christmas Break is up for Hanna Marin, Spencer Hastings, Emily Fields, and Aria Montgomery and they thought all their problems with A were gone. With Ian Thomas' trial coming up for the murder of Alison DiLaurentis, they thought that their lives could go back to normal. But little do these girls know that locking Ian up wasn't going to fix their A problems. Now, A is back and destroying their lives, along with everything else in their life. 
Let me get this off my mind before my mind explodes. This has been in almost every thought I have had the past few days and I can finally get rid of it. Some of the stuff that Sara Shepard put in the Pretty Little Secrets contradicted what happened in this book. And, these books are supposed to chronologically be behind each other. But some of the stuff that was said in this book was not correct. When Spencer found out that her Grandmother died, Sara Shepard put that Spencer has not gone to her Grandmother's house in Florida in years but in fact she went to Florida in Pretty Little Secrets. Then, Aria started to have these Christmas memories with Meredith and her family, even though in PLS she was getting married and divorced. I understand that there was a time difference from when these books were written but couldn't the stories still go along with each other? 
The writing in this book seemed like the past two or three books in the series. And I actually really like it. These books are so easy to read and to follow which is one of the reasons I really enjoy reading these books. There is a certain simplicity of Sara Shepard's writing and it makes the book so light. But yet, there is so much within the book. So many twist and turns that you really don't expect, like the fact that Spencer was adopted? You want to sit there and read more and more and then you realize that you have finished the book. 
The characters are developing so nicely and they are starting to form into these real people within my head. These characters are becoming friends to me because of all this time I am spending with them. I am starting to know which characters are my favorite and which characters I can live without. There are so many things that I want to know about these characters and the only thing that I can do is continue to read these books! 
I'm starting to think that Alison, yes Alison Dilaurnetis, might be A. Like I told you, if you haven't read any of the books at the top, you will be spoiled. Alison has, well had, a twin who is now dead. When Ian suddenly appeared dead at the end of the book, and he was sort of leading Spencer onto the fact there might be twins, something is pointing to Ali. Who else knew that Ali had a twin other than her own family and possibly Mr. Hastings? No one. Something is telling me Ali is, since A magically appeared back the same time that Emily thought she saw Ali? Does that sound a little weird to anyone else?
Overall, I would have to give this book a 4 out of 5 stars. I don't think this is my favorite book in the series but it was one of my favorites. It had some really good qualities within it and the book is making me want to continue on with the series and I know I am going to be doing so! And if you want to know how close these books are to the show, they aren't even related. The show and the book are two totally different things. 
Have you read this book? Who do you think is the new A? What is your favorite genre of book? Which of the girls is your favorite liar? Let me know your thoughts in the comments!
Happy Reading,