This week has been really busy for me and that is one of the reasons I haven't been posting as much as I was planning on it. I got inducted into my school's National Honor Society on Monday, Tuesday I had a band concert, and Thursday I had Awards Night at my school. Through it all, I did get to finish one book, which was Passenger by Alexandra Bracken. So I'm bringing you all a spoiler free book review for the first time in a while.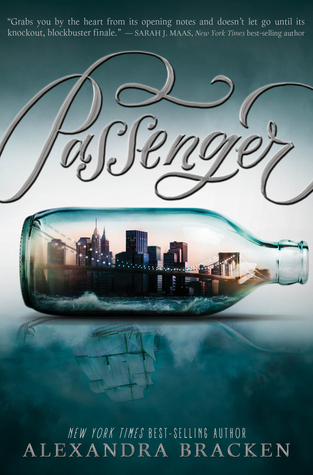 Title: Passenger
Author: Alexandra Bracken
Publisher: Disney-Hyperion
Released: January 5, 2016
Pages: 486 (Hardback)
Passage, n.
i. A brief section of music composed of a series of notes and flourishes.
ii. A journey by water; a voyage.
iii. The transition from one place to another, across space and time.
In one devastating night, violin prodigy Etta Spencer loses everything she knows and loves. Thrust into an unfamiliar world by a stranger with a dangerous agenda, Etta is certain of only one thing: she has traveled not just miles but years from home. And she's inherited a legacy she knows nothing about from a family whose existence she's never heard of. Until now.
Nicholas Carter is content with his life at sea, free from the Ironwoods—a powerful family in the colonies—and the servitude he's known at their hands. But with the arrival of an unusual passenger on his ship comes the insistent pull of the past that he can't escape and the family that won't let him go so easily. Now the Ironwoods are searching for a stolen object of untold value, one they believe only Etta, Nicholas' passenger, can find. In order to protect her, he must ensure she brings it back to them—whether she wants to or not.
Together, Etta and Nicholas embark on a perilous journey across centuries and continents, piecing together clues left behind by the traveler who will do anything to keep the object out of the Ironwoods' grasp. But as they get closer to the truth of their search, and the deadly game the Ironwoods are playing, treacherous forces threaten to separate Etta not only from Nicholas but from her path home… forever.
About the Author: I was born in Phoenix, Arizona and spent all of my life there up until college–I miss it all of the time, but primarily when I'm forced to deal with ice/snow/mass transit/or some combination of the three.  I'm a middle child, which supposedly means I'm full of angsty feelings of neglect, but, in reality, it just means I'm always sandwiched between my older sister and younger brother in Christmas pictures.  On a whole, I had a pretty typical childhood, with only one big exception: my dad was a big time Star Wars collector, which means I went to more antique shows, toy stores, and Star Wars conventions then you could ever imagine! No, really, I'm up to six conventions. I will now pause to let that soak in… I recently graduated with a degree in History and English from The College of William & Mary in Virginia. (Four years in Colonial Williamsburg is enough to give anyone a sense of humor about life, trust me.) I began writing Brightly Woven there during my sophomore year as a birthday present to my dearest, darlingest friend Carlin… and finished six months AFTER that date. The number one question I get asked is how I wrote a novel while I was still in school. There are two answers to this: sacrificing a social life and a depressingly effective will to see even the most futile projects through.  I signed with my agent on my 21st birthday, and sold it later that year.  I spent a good portion of my senior year buried under edits, and the rest of that year trying to figure out what else I was going to do with my life. After graduating, I left my colonial bonnets behind and moved to New York City, where I attended the Columbia Publishing Course and worked in publishing for five years. I now write full time.
My Review: 
I went into this book knowing basically nothing about the book. All I knew was it was about time travel and the book had a really pretty cover. It is also really pretty naked because I have the hardback, since I have had it on my bookshelf since January 2016. Overall, it was a pretty good read. 
Etta Spencer lives in New York and loves the violin. Her whole life is surrounded by the violin. Etta's mom comes and goes, while Etta is basically raised by her violin teacher, Alice. Nicholas Carter is a time traveler. He has known nothing but traveling through his life. Nicholas lost his best friend through one of the passage ways and now he wants to go into the past to fix it. Now, Etta Spencer is finding out something about herself she never guessed. Like Nicholas, she is a time traveler. Little do Etta and Nicholas know that their lives are going to change, a lot. 
I really liked most of the characters. I was really never a fan of Sophia and there were times I didn't like Etta but Nicholas was pretty awesome. The characters all had their flaws but they made it even better. If some of these characters weren't in the book or they were a little different, the whole book would be totally different. There were moments I wanted to strangle some characters but isn't that something we all have to deal with in all books. 
Some of the parts of the book seemed to be a little stretched out a little too much or didn't have enough detail. Some of the book's flow was a little staggered and it made it a little hard to follow or understand. I enjoyed reading it but there were times that I was struggling to get through the book. It had a lot of interesting things going on and then it would get into a really boring part of the book. And I wish that I could have gotten more answers out of the book. 
The element of music was perfection. As you all know, I play in my school band so anything with music makes me really happy. Etta played the violin and the aspect really lived through the book, even when I thought it wasn't going to. The element of music brought in both my interest in reading more of the book and brought surprise into the book because I never knew when it was going to come into play. 
The writing of this book seemed to be a little different in style than the The Darkest Minds but I don't know really how I feel about it. The writing was intriguing and it made me smile at times but I wanted to throw it against the wall more than The Darkest Minds. I want to say that I liked the writing but I really don't because I didn't love it. I'm still a big Alexandra Bracken fan. 
Overall, I would have to give this book a 3.5 out of 5 stars. The book was okay but it wasn't anything exciting. I had really high expectations for this book but it really didn't live up to it. I did find myself a new boyfriend and their name is Nicholas Carter. I wish there was a little more time travel in it because time travel really didn't seem to stand out to me. I still want to go and read the next book because not only is it sitting on my bookshelf but because I really want to get some answers that I didn't get from this book. 
Have you read this book? What did you think about it? Did you prefer The Darkest Minds or Passenger? Who was your favorite character? Let me know your thoughts in the comments! 
Happy Reading,