So I did it. I laid in bed all weekend and read this whole entire book. I don't regret one moment of it. Well, I regret walking around the house crying but that's it. But I'm just going to jump into this review before I can't see past the tears coming out of my eyes. Beware of some of the MAJOR spoilers ahead because I need to let my steam out. Make sure you check out my reviews for A Court of Thorns and Roses and A Court of Mist and Fury before you read this one!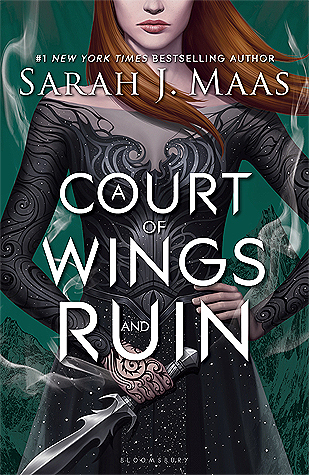 Title: A Court of Wings and Ruin
Author: Sarah J. Maas
Publisher: Bloomsbury USA Books
Released: May 2, 2017
Pages: 705 (Hardback)
A nightmare, I'd told Tamlin. I was the nightmare.
Feyre has returned to the Spring Court, determined to gather information on Tamlin's maneuverings and the invading king threatening to bring Prythian to its knees. But to do so she must play a deadly game of deceit—and one slip may spell doom not only for Feyre, but for her world as well. As war bears down upon them all, Feyre must decide who to trust amongst the dazzling and lethal High Lords—and hunt for allies in unexpected places.
About the Author: Sarah J. Maas is the #1 New York Times bestselling author of the Throne of Glass series and A Court of Thorns and Roses series, as well as a USA Today and international bestselling author. Sarah wrote the first incarnation of the Throne of Glass series when she was just sixteen, and it has now sold in thirty-five languages. A New York native, Sarah currently lives in Pennsylvania with her husband and dog. Empire of Storms, the fifth Throne of Glass novel, is available now. She graduated Magna Cum Laude from Hamilton College in 2008 with a degree in Creative Writing and a minor in Religious Studies. Sarah lives in Bucks County, PA, and over the years, she has developed an unhealthy appreciation for Disney movies and bad pop music. She adores fairy tales and ballet, drinks too much tea, and watches an ungodly amount of TV. When she's not busy writing, she can be found exploring the historic and beautiful Pennsylvania countryside with her husband and canine companion.
My Review:
OH MY GOD. OH MY GOD. OH MY GOD. I seriously don't know what to do with my life anymore. I thought that I died at the end of ACOMAF but after this book, this one takes that crown. Not only is the cover of the book beautiful, the inside of the book is as well. Let me grab a tissue before I start writing this review because I might need it.
Feyre is now the High Lady of the Night Court. She is back in Tamlin's control in the Spring Court. Who all knows that she is the High Lady? Two – Feyre and Rhysand, her mate. Feyre is now with Tamlin and he believes that she is back for good. He thinks that Rhysand tortured her and that everything the rumors said about his cruelness was true. Little did Tamlin and the Spring Court know that she is there for Rhysand and the Night Court. To receive answers for the war that will be coming.
The feels were real within this book. I can't tell you the last time I let out a good cry before I read this book. There were several moments that I felt like crying my eyes out but I made three big moments through this book. Firstly, the part where Feyre get's back to the Night Court and Lucien was asking about Feyre being the High Lady. There's Rhysand, standing in the background with Feyre falling to her knees when she sees him. Then we have the whole thing when Rhysand was giving the speeches to everyone in his family. What is it about Rhysand and Feyre that get me choked up? Finally, we have the whole scene when RHYSAND WAS DEAD. Keyword – WAS. I freaking lost it when Feyre saw Rhysand on the ground, not breathing. When I read the words, "Rhys was dead," I freaking lost it. When I thought that I was done crying, I decided to make an appearance out of hibernation but that didn't end well. My mom and sister were at the end of the hallway when I said, "my boyfriend died," and they thought I was crying. My sister looks at me and says, "I've never seen you cry before." I freaking lost it in the hallway in the house and the following two pages or so. The fact that Tamlin was willing to help save Rhysand, I lost it even more. The feels were real during this whole entire book.
The writing of this book was impeccable. It had me on the edge of my bed because let's be honest, that's where I read this book the most. I wanted to know where Lucien was for half of the book when he went to look for Vessa. I needed to know more about Feyre and Rhysand's sex life. I'm not insane. I loved their sex scenes. But yet I can't read Fifty Shades of Grey. Feyre and Rhysand love each other so much and they have sex in some interesting places. If they didn't have sex, the book would not be the same. The writing had an element that I have been missing. I was already a big fan of Sarah J. Maas. I have read every single one of her books, and this book reminded me why I loved her so much. Even if I didn't want to read about something going on with a certain character or something, Sarah's writing made up for it.
I fell back in love with the characters. The moment I opened up the book to the moment I closed it. I felt like I was there like I was one of Feyre's sisters. Though I had some moments where I hated certain characters, hint Amern and Nesta. I forgot about how powerful and sweet Rhysand was. How spectacular Mor was through war and keeping herself kept up. I never even suspected that she liked females the whole entire time until she said it. It didn't fall into place until she said that. I forgot about how determined Feyre could get. Tamlin and his evil self. I forgot about all of that until I opened up to the first page.
I do think that the book could have been a little shorter and printed on thicker paper. I don't like the Bible-thin pages. I felt like I was going to rip them out of the book every time I turned the page. There was a lot of written in stuff that I felt like didn't have to be there but I think that if it was removed, the introduction into the other three books would be a little harder. Part of is hoping that Rhysand gets his own because of how the book laid out so many things that I am wondering about now. I would also love it if Mor got her own because Mor has grown on me so much. I think the book could have gone without some of this standing around and planning for war like every 50 pages in the beginning of the book. We also didn't need the twin Prince and Princess that came at the beginning of the book because they really didn't even have a place in the book.
The plot and the idea were perfect for an ending of a perfect series. The fact that I only have to grieve over the death of Cassian instead of Rhysand (or anyone else) is an okay thought. It heart my heart when Cassian died* but I know a place will always be in my heart for him after he kissed Nesta right before he died. The whole revenge thing was perfect and don't need to feel bad for spending all weekend in bed. The idea of this book was so amazing that there were times I had to remind myself to get up and eat because I probably wouldn't have eaten for two days if I didn't. Plus, every time I did that, I would have to look at the pretty pictures within the Books-A-Million edition because they were amazing. That is one of the reasons I ordered the coloring book as soon as I found out my Books-A-Million did not carry the coloring book. I bought my Throne of Glass one from there. Why didn't they have ACOTAR?
Overall, I would have to give this book a 5 out of 5 stars. Minus some of the parts where I thought they were unnecessary and the betrayal of Amern, this book was perfect. I think I found one of my favorite books of the year. I already knew it was going to happen, but I know it officially now. This book does have strong language and several sex scenes, and violence but the book literally has WAR in its name, but overall, the book was great for any YA reader. Younger ones should probably stay away from this book unless they have read the other books in the seri..s I love this book way too much and you will probably hear me talking about this book for about the rest of my blogging life. Sarah J. Maas is such an amazing author and has made me fall in love with characters that aren't with me. Trust me, my Rhysand is somewhere out there, waiting for me. I'm excited to see who the other books will be based on and I can't wait to get my hands on them.
Have you read this book? What were your thoughts about it? Are you a fan of Sarah J. Maas? How much did you cry during this book? Who was your favorite character? Let me know your thoughts in the comments!
*I was reminded that Cassain didn't die in the book. As soon as she said that, I remembered that. I'm sorry for that wrong information. I was caught up in the moment with Rhysand to think about Cassain.
Happy Reading,