My oh my but May has came! May is going to be one exciting month because of all the stuff that could possibly take place and I am excited to share with you all when they happen! But, since it is the first day of May, I thought I would share with you all the possible book buys of mine for the month. Trust me when I say that I have preordered about 3/4 of them… I'm not going to tell you which ones though; I'll let you all guys that one. May I take this time away from you and introduce to you the four books I want this month?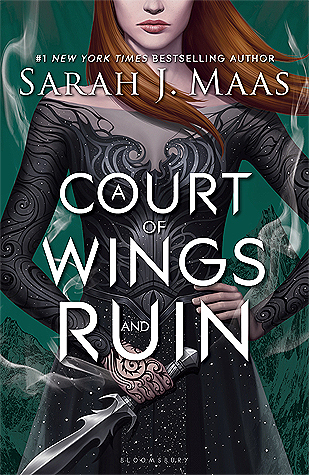 Title: A Court of Wings and Ruin
Author: Sarah J. Maas
Publisher: Bloomsbury USA Children
Release: May 2, 2017
Pages: 720 (Hardback)
Looming war threatens all Feyre holds dear in the third volume of the #1 New York Times bestselling A Court of Thorns and Roses series.
Feyre has returned to the Spring Court, determined to gather information on Tamlin's maneuverings and the invading king threatening to bring Prythian to its knees. But to do so she must play a deadly game of deceit-and one slip may spell doom not only for Feyre, but for her world as well.
As war bears down upon them all, Feyre must decide who to trust amongst the dazzling and lethal High Lords-and hunt for allies in unexpected places.
In this thrilling third book in the #1 New York Times bestselling series from Sarah J. Maas, the earth will be painted red as mighty armies grapple for power over the one thing that could destroy them all.
About the Author: Sarah J. Maas is the #1 New York Times bestselling author of the Throne of Glass series and A Court of Thorns and Roses series, as well as a USA Today and international bestselling author. Sarah wrote the first incarnation of the Throne of Glass series when she was just sixteen, and it has now sold in thirty-five languages. A New York native, Sarah currently lives in Pennsylvania with her husband and dog. Empire of Storms, the fifth Throne of Glass novel, is available now. She graduated Magna Cum Laude from Hamilton College in 2008 with a degree in Creative Writing and a minor in Religious Studies. Sarah lives in Bucks County, PA, and over the years, she has developed an unhealthy appreciation for Disney movies and bad pop music. She adores fairy tales and ballet, drinks too much tea, and watches an ungodly amount of TV. When she's not busy writing, she can be found exploring the historic and beautiful Pennsylvania countryside with her husband and canine companion.
Why I Want to Read This Book: Does this one really shock you? After that ending of ACOMAF, I needed this book. Waiting for this book has felt like years and I need it in my hands. Trust me on this, I debated about preordering or going to the store and buying the day it comes out for a really long time! And can we talk about this cover? This cover is absolutely gorgeous and its friends are already needing it by their side (after I read it!) I don't think I can wait til tomorrow for this book!
Title: Lord of Shadows

Author: Cassandra Clare

Publisher: Margaret K. McElderry Books

Release: May 23, 2017

Pages: 704 (Hardback)
Sunny Los Angeles can be a dark place indeed in Cassandra Clare's Lord of Shadows, the sequel to the #1 New York Times and USA TODAY bestselling Lady Midnight.
Emma Carstairs has finally avenged her parents. She thought she'd be at peace. But she is anything but calm. Torn between her desire for her parabatai Julian and her desire to protect him from the brutal consequences of parabatai relationships, she has begun dating his brother, Mark. But Mark has spent the past five years trapped in Faerie; can he ever truly be a Shadowhunter again?
And the faerie courts are not silent. The Unseelie King is tired of the Cold Peace, and will no longer concede to the Shadowhunters' demands. Caught between the demands of faerie and the laws of the Clave, Emma, Julian, and Mark must find a way to come together to defend everything they hold dear—before it's too late.
About the Author: Cassandra Clare was born overseas and spent her early years traveling around the world with her family and several trunks of fantasy books. Cassandra worked for several years as an entertainment journalist for the Hollywood Reporter before turning her attention to fiction. She is the author of City of Bones, the first book in the Mortal Instruments trilogy and a New York Times bestseller. Cassandra lives with her fiance and their two cats in Massachusetts.
Why I Want to Read This Book: I needed this book back about two months when it was originally supposed to come out but I'm not complaining. We are finally getting the second book to Lady Midnight. One of the things that I need to know that I hope that I get in this book is Clary's answer to Jace but who knows. The book really isn't about them. There is that relationship between a certain pair of characters that I need to know about and I need to get my dose of Cassandra Clare about now!
Title: Odd Birds

Author: Ian Harding

Publisher: St. Martin's Press

Release: May 2, 2017

Pages: 320 (Hardback)
A funny and insightful window into the life of a TV star.
Ian Harding is an actor and 7-time Teen Choice Award Winner on Freeform's (formerly known as ABC Family) most-watched series of all time, Pretty Little Liars. An avid birdwatcher, Ian explores his life in Hollywood through the lens of his favorite pastime in this collection of personal stories. Featuring humorous and adventurous stories about his career, family, and love life, in addition to never-before-published photographs, Odd Birds is a must-read for fans of his hit show, nature enthusiasts, and lovers of celebrity memoir alike.
About the Author: Born in Heidelberg, Germany, to a US military family, Ian Harding discovered acting at a young age. He attended Carnegie Mellon University's School of Drama and moved to LA shortly after graduating to pursue acting and writing. He is best known for his role as Ezra Fitz on Freeform's (formerly known as ABC Family) Pretty Little Liars, for which he has won seven Teen Choice awards. Ian is passionate about birdwatching and nature, and he tries to spend as much time outdoors as humanly possible.
Why I Want to Read This Book: Let me set the stage for you. Imagine me, sitting in my bedroom (well, laying on the floor because my bed still had my school stuff on it). I'm doing what I always do, googling book releases. I was on Barnes and Noble, looking at their Signed Copies of books. Little did I expect to see Ian Harding's face appear. I would have never have guessed he had a book! But I had an internal battle for about a week before I did something with this book. I need this book because I love getting to read what actors/actresses think about all the work they did and also, I LOVE PRETTY LITTLE LIARS. I bet you all didn't know that…
Title: Always and Forever, Laura Jean

Author: Jenny Han

Publisher: Simon & Schuster Books for Young Readers

Release: May 2, 2017
Pages: 336 (Hardback)
Lara Jean's letter-writing days aren't over in this surprise follow-up to the New York Times bestselling To All the Boys I've Loved Before and P.S. I Still Love You.
Lara Jean is having the best senior year a girl could ever hope for. She is head over heels in love with her boyfriend, Peter; her dad's finally getting remarried to their next door neighbor, Ms. Rothschild; and Margot's coming home for the summer just in time for the wedding.
But change is looming on the horizon. And while Lara Jean is having fun and keeping busy helping plan her father's wedding, she can't ignore the big life decisions she has to make. Most pressingly, where she wants to go to college and what that means for her relationship with Peter. She watched her sister Margot go through these growing pains. Now Lara Jean's the one who'll be graduating high school and leaving for college and leaving her family—and possibly the boy she loves—behind.
When your heart and your head are saying two different things, which one should you listen to?
About the Author: Jenny Han was born and raised in Richmond, Virginia and has one younger sister. After high school, Han went to college at the University of North Carolina at Chapel Hill, and later earned her MFA in creative writing at the New School, where she met fellow Young Adult novelists, Morgan Matson and Siobhan Vivian, the latter of which she would go on to cowrite the Burn for Burn Series with. Han currently lives in Brooklyn, New York.
Why I Want to Read This Book: I didn't think that there was going to be a third book in this series but I sort of was hoping there would be. After the way the last book ended, I was so excited to see this book. I want to get back into the world of Laura Jean because Laura Jean is awesome. I still remember the time that I was updating my laptop to Windows 10 and I was laying on the floor reading this book. I need this book, especially since Books-A-Million has signed copies online…

So you still have no idea which three I preordered so I guess that it is going to remain so mystery until the end of the month… (HINT: it may or may not be the first three books that are included) But what books are you looking forward to reading this month? What makes you so excited to read them? What is one thing you can't wait to do in May? Let me know your thoughts in the comments!
Happy Reading,