April was a lot of fun for me. I got to finally have Spring Break, my library hosted a book sale, Starbucks released a Unicorn Drink that is disgusting and Easter came around. Though I didn't do much, I did get to watching some movies and reading some books. May is coming up, if we like it or not, and we might as well spend the day reflecting on April. Today is that day and I'm going to be wrapping up the month for you.
Books Read: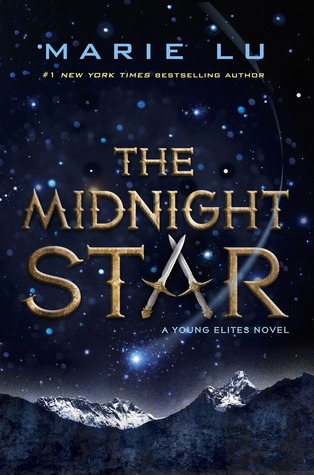 The Midnight Star by: Marie Lu
Adelina has finally taken the crown and has her friends by the side. Everyone but her sister. Adelina has just received information that all the malfettos' powers are going to one day destroy their bodies and end up killing them. The only way to stop it, give it up. Adelina must give up all the power that she has to go and get the help she needs by the people who turned their backs on her – The Young Elites. Adelina never thought that it would come to this but it has. Will Adelina get the help she needs from The Young Elites? Will Adelina be able to handle the stress of being the Queen and finding answers? Will Adelina be able to get her sister back?
The Maddie Diaries by: Maddie Ziegler
Maddie Ziegler might only be 14, she does have a lot to say to the world. After starring on the show Dance Moms to becoming BFF's with Sia, Maddie has risen to fame. Maddie takes you on a journey on how she went from being a little girl in Pennsylvania to a teenager in California.  Not only does Maddie bring all the good things about being a big time star, but she also shares some of the downsides. Maddie shares with us some of the best tips that she has been shared with and some of her advice for teenagers of all ages and genders. Maddie Ziegler can add author along to her list of many talents.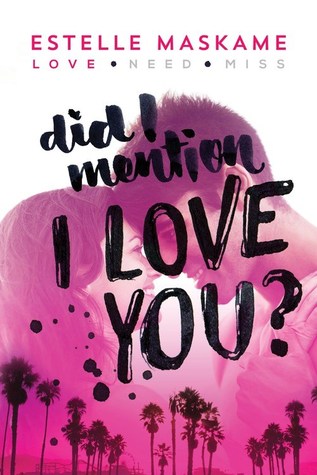 Did I Mention I Love You? by: Estelle Maskame
Eden Munro hasn't seen her father, or even talked to him, since he walked out on her mom. Now he wants Eden to spend the whole summer with him and his new family. As soon as Eden gets there, she regrets it. Eden now has this fancy lawyer stepmom with three new stepbrothers. Along comes Tyler Bruce, the oldest of these stepbrothers who is rude, drunk, and addicted to drugs. But Eden begins falling for him, even though she isn't supposed to. Will Eden be able to keep her feelings to herself or will she let him have her? Will Tyler be able to keep Eden away from him? Or does he have feelings for her as well?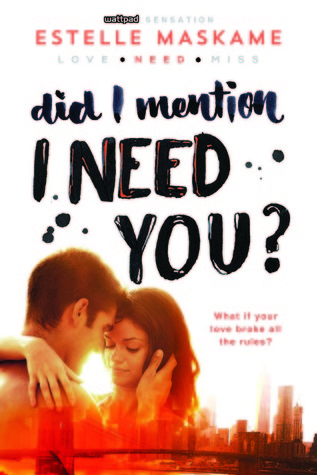 Did I Mention I Need You? by: Estelle Maskame
Eden Munro thought that her summer couldn't be any better. She lived in California, had a great boyfriend and was having the time of her life. Then Tyler Bruce asks her to come to New York for six weeks. Since he has been sobering up and letting the drugs alone, Eden agrees to come. Tyler reveals that he still has feelings for Eden and there is nothing that will get her out of his head. Will Eden's feelings for Tyler come back to her even though she has a boyfriend? Will New York be like Eden expected? Will Eden and Tyler be able to fix all their problems before others arise?
Did I Mention I Miss You? by: Estelle Maskame
It's been one year since Eden Munro last saw Tyler Bruce. It's been a crazy year since everyone in town knows that Eden dated her stepbrother. After one full year, Eden finds out that Tyler is back in town. After meeting with Tyler and revealing everything that has happened to her, Tyler tells her that he has been in Portland this whole entire time. Portland happens to be Eden's hometown as well. As Eden's stepmom comes up with aa family vacation to bring the family back together, Tyler and Eden sort of become closer. Will Eden and Tyler be able to work through their problems? Will they care what people has to say about them?
life.love.beauty by: Keegan Allen
Keegan Allen is best known for playing Toby Cavanaugh on Freeform's Pretty Little Liars. Along with acting and singing, Keegan Allen other passion is photography. In this creative version of a memoir, Keegan takes you through his life with photos. Photos that he has taken throughout his life. Find out what it was like to go and shoot a hit tv series and what it is like to become a major celebrity in a blink of an eye. Read the poems and other works written by Keegan paired with beautiful images that bring the words out to life. Read about the downsides and the upsides of doing what you love.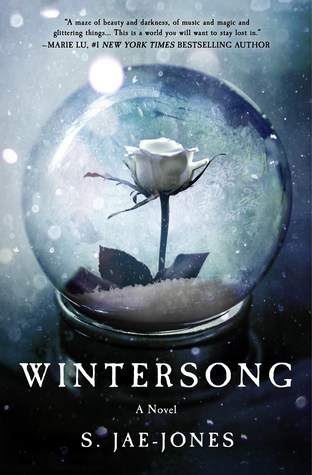 Wintersong by: S. Jae Jones
As a kid, Liesl grew up to the stories of the Goblin King as she played with this young boy. Making a promise to marry this young boy, Liesl always thought that he was joking. What if he wasn't? Liesl was almost alway overlooked and had problems with finding what she really wanted to do with her life. Now, Liesl's sister Kathe is gone and it is up to Liesl to find her. The problem is, no one else remembers about Kathe. Liesl makes it up to the Goblin King, who might be closer to Liesl than she wants to accept. Now Liesl has to make a choice: save her sister and marry this Goblin King or leave Kathe with the Goblin King.
Movies Watched:
The BFG – Directed By: Steven Spielberg
Sophie once was an average orphan. She wasn't loved and she was alone. One night after cleaning up after the owner of the orphanage, she meets a Giant. Since Sophie sees this giant, he has to take her back to his place. Sophie learns that this was the only nice giant around and he goes by BFG, the Big Friendly Giant. After meeting some of the other giants that live around the BFG, Sophie learns that all giants are not as nice as the one that found her. Because of this, Sophie wants to make a change. Will Sophie be able to turn the giant's lives around? Who will she have on her side? Will some little orphan be able to change a whole population?
Smurfs: The Lost Village – Directed By: Kelly Asbury
Smurfette is used to being the only women Smurf in town. What if she wasn't? After going out with Hefty, Clumsy, and Brainy, Smurfette learns that there is another world of Smurfs out there. Smurfette gets captured by Gargamel and learns about his plans on finding this other colony. The four Smurfs gather the supplies they need and they venture off onto another colony. What all do they need to worry about other than Gargamel? Papa Smurf finding out. Will these four Smurfs be able to get to these other Smurfs before Gargamel? Will the other Smurfs be nice? Will we learn what a Smurfette is?
21 Jump Street – Directed By: Phil Lord and Christopher Miller
Morton and Greg used to despise each other in high school. Morton used to be the geek who would never get a girl. Greg was a jock who was barely graduating high school. After surviving the police academy, Morton and Greg are good friends but terrible cops. The two are sent to do an undercover mission on 21 Jump Street. The mission? Go back to high school and find out the source of this new drug. Along the way, the two have to deal with what the other had to during high school. Will the two grow closer together or farther away? Will they be the ones who track down the dealer of this new drug? Will they make it through the mission and not kill anyone?
22 Jump Street – Directed By: Phil Lord and Christopher Miller
Morton and Greg are back at it again. They are back at a secret mission with the same person in charge. Instead of high school, they have to go to college. The mission? The same as last time, find out who is behind this new drug.  After meeting new people and finding new friends, these two find it difficult to keep up with each other. As Greg gets close to the football team, while Morton gets close to Maya, who happens to be the wrong person for him to be with. Will they be able to get this drug before it goes worldwide? Will they be able to keep their relationship in tact before everything comes tumbling down?
Books Bought:
A Walk to Remember by: Nicholas Sparks

Message in a Bottle by: Nicholas Sparks

Nights in Rodanthe by: Nicholas Sparks

True Believer by: Nicholas Sparks

At First Sight by: Nicholas Sparks

Did I Mention I Love You? by: Estelle Maskame

Did I Mention I Need You? by: Estelle Maskame

Did I Mention I Miss You? by: Estelle Maskame

Julie and Julia by: Julia Powell

Is Everyone Hanging Out Without Me (And Other Concerns) by: Mindy Kaling

The Girls by: Emma Cline

Silver Bay by: Jojo Moyes
Current Obsessions:
Pretty Little Liars – Season 7b
The final ten episodes have started and I can't stop obsessing over how awesome this show is! I have been waiting for this show since about January so I am so happy that I am watching it. I need to know who A.D. is because I saw somewhere that a certain character was A.D. and it sort of made sense but I don't know. Then we have the whole Spencer and Toby situation. We have the board game and I just need to know who was behind the whole thing. I really need to. I just can't believe that this show is going to be ending soon!
Quantico – Season 2
I can't believe that I am talking about this show, again. It's like the third month in a row but who really cares. Quantico has all my feels burning while I was watching the past few episodes. But yet, why can't Ryan and Alex still have their special moment? I seriously need to get these two in the same room and making some magic. Plus, I miss watching them together. But Caleb is now officially back and who knows what is currently going on with what's her face name. That tells you how much I like her (the one that currently has Ryan wrapped around her finger that has some secrets).
Imaginary Mary – Season 1
Yet again, another TV Show but it isn't one I have talked about! I kept seeing this ad for this show Imaginary Mary and I needed to know if it was any good. Oh. My. God. It was amazing. It follows this very professional women named Alice who is dating a man with three kids. Alice's imaginary friend from her childhood Mary is back and is helping Alice with these kids. I find this show hilarious and there is always something new to learn about all the characters. It is so relatable and it is something that I never thought about it. Plus, watching this adult talk to basically nothing in the middle of public is hilarious. I would die of laughter if I saw someone in their car, dancing like a mad woman, while she is looking in her passenger seat. Plus, Mary is adorable.
Overall, I would say I had a good month. I read 7 books and watched 4 movies. I'm ahead on my Goodreads challenge by like 7 books and it makes me really happy because May might be a really busy month!
How was your guys' month? What was your favorite book you read this month? What books did you read this month? One of your favorite memories from this month? Have you read any of these books before? Let me know your thoughts in the comments!
 Happy Reading,