Back when I went to the Marie Lu book signing in October, Marie Lu brought along fellow author S. Jae Jones. While I was standing there talking to Marie Lu and some others YA fans, Marie Lu goes and tells us about S. Jae Jones and how she has this awesome book in 2017. When Marie Lu tells you to check out a book, you have to go and check it out. I finally checked it out and let me tell you that I was a little disappointed in the. It was good but it wasn't awesome/amazing. If you haven't read the book, just be a little aware of the spoilers that may appear in this book review!
*And yes, I did go and change the layout of the blog. I'm sorry. I felt bored and I wasn't happy with it. Don't be shocked if I change it again in a year. I seem to do it once a year*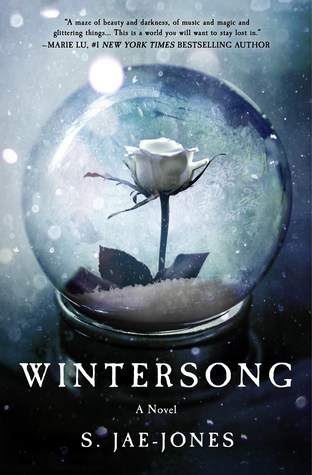 Title: Wintersong
Author: S. Jae Jones
Publisher: Thomas Dunne Books
Release: February 7, 2017
Pages: 436 (Hardback)
Beware the goblin men and the wares they sell.
All her life, nineteen-year-old Liesl has heard tales of the beautiful, mysterious Goblin King. He is the Lord of Mischief, the Ruler Underground, and the muse around which her music is composed. Yet, as Liesl helps shoulder the burden of running her family's inn, her dreams of composition and childish fancies about the Goblin King must be set aside in favor of more practical concerns.
But when her sister Käthe is taken by the goblins, Liesl journeys to their realm to rescue her sister and return her to the world above. The Goblin King agrees to let Käthe go—for a price. The life of a maiden must be given to the land, in accordance with the old laws. A life for a life, he says. Without sacrifice, nothing good can grow. Without death, there can be no rebirth. In exchange for her sister's freedom, Liesl offers her hand in marriage to the Goblin King. He accepts.
Down in the Underground, Liesl discovers that the Goblin King still inspires her—musically, physically, emotionally. Yet even as her talent blossoms, Liesl's life is slowly fading away, the price she paid for becoming the Goblin King's bride. As the two of them grow closer, they must learn just what it is they are each willing to sacrifice: her life, her music, or the end of the world.
About the Author: S. Jae-Jones, called JJ, is an artist, an adrenaline junkie, and the author of Wintersong, forthcoming from Thomas Dunne in February 2017.
Born and raised in sunny Los Angeles, she lived in New York City for ten years before relocating down to Dixie, where she is comfortably growing fat on grits and barbecue. When not writing, she can be found rock climbing, skydiving, taking photographs, drawing pictures, and dragging her dog on ridiculously long hikes.
My Review:
I went into this book expecting a lot of amazing things. It might be because I was expecting a lot but I was very disappointed in this book. It was still a good, fun book but I just wasn't feeling this book for some reason. That's why I have to give this book a 3.5 out of 5 stars. 
What if all the fairy tales were real? What if you actually knew a King but didn't even know it? Liesl has really never done what her heart wants. She does what her sister and brother need in their life. She hasn't felt special since she was younger when she played with a young boy. Now, Liesl is learning that maybe she is more important than she thought. After her brother made it with this impressive music teacher in the town, Kathe is taken. The Goblin King has her and the only person that can do anything is Liesl because everyone else doesn't know who Kathe is. Liesl is faced with one of the biggest choices in her life: save her sister but marry the Goblin King or let the Goblin King have her sister.
I loved the element and the strong use of music throughout the whole book. I play the clarinet and the piano, along with learning the guitar on and off. When I started reading about the music being played or Liesl playing scales and arpeggios, I heard scales running through my mind. Liesl being a composer was such an amazing touch and it should how much dedication and love S. Jae Jones put into the book but…
This book disappointed me so much. The storyline was like nothing else I have read before. Goblins and music? Who knew they had so much in common? The beginning of the book had such a strong start and it really got me excited to read more. After Liesl gets bitten by the baby goblin, or the time we find out that the Goblin Queen can go back into the real world, I was getting bored. I felt like I was reading the same thing over and over again. Then, it seemed like Liesl and the Goblin King were always having sex (I was sitting in Physical Science when I read the first scene and started laughing. I got some weird looks). It got so boring and I just never felt the desire to finish reading the book, even though I did.
The description within this book was amazing and I couldn't help but visualize this whole entire book. This was one of the reasons that I loved the book. The characters would also fall under this because they were constructed so amazingly. There is still a part of me that wants to go and read the second book in the series because of the mystery and the questions I still have from this book. I could see so much through this book from Liesl, to her wedding, to the steamy scenes, and even the whole ending of the book. If S. Jae Jones was in charge of writing the description in all the books in the world, I would love all of them so much more.
The characters were developed so nicely in this book and like I said, the characters left me wanting to know more. The Goblin King had to be my favorite though because he had so much mystery within him. I want to know what his true name is and if Liesl and him get back together because that was sort of sweet as well. I did find Liesl a little annoying because all it seemed she ever thought about was her brother Josef. If I didn't know that they were related, I would have thought that they were going out. I mean, I understand that you think about your family when you might not ever see them again but it seemed like Liesl was always thinking about Kathe and Josef. It was almost always I think of Josef when I heard the violin, or I hope that Kath understands why I did this. I got so mad whenever I had to go and read this because it was annoying. It made the book so much harder to like this book.
The book was writing okay. It wasn't like anything new. It felt like a book that I have read a million times ago. The concept, like said, was so original and I thought that it would blow me out of the waters but it honestly didn't. There could have been so much more in this book but it wasn't there. I think I am going to be giving the second book a second chance when it comes out next year but I can't make any promises. If you are looking for a very descriptive book, this is the book for you. If you don't know much about music, expect to learn a few things along the way.
Have you read this book? What did you think about it? Did you think that the book was amazing or just average? What was your favorite part of the book? Will you be checking out the second book in 2018? Let me know in the comments!
Happy Reading,