I really haven't been in the mood to really watch TV recently. There are two shows that I have to watch every week but that's really it. I've been watching a lot of Book Hauls or reading a lot at night. What can I say? I'm a book nerd. But while I was watching, I found Jill @ Midnight Reads and saw the Never Will I Ever Book Tag. I watched the video, fell in love with Jill, and grew a strong desire to do this tag! So make sure you check the video out and I hope you enjoy the tag!
Never Will I Ever Ship This:
Pick A Book/Series OTP That You Will Never Ship
Simon and Clary from The Mortal Instruments by Cassandra Clare. I mean seriously? What makes these two perfect for each other? I understand that they are best friends and they get along together but I just could not stand them. Simon honestly was a little annoying to me through the whole series in the first place and who wouldn't want to be with Jace?
Never Will I Ever Forget This Ending:
Choose A Book/Series Ending That You Will Never Forget (In a Good or Bad Way)
I have to pick just one? I can think of so many of them. Here's a few of them: A Court of Mist and Fury by Sarah J. Maas, Empire of Storms by Sarah J. Maas, The Midnight Star by Marie Lu, and so many more.
Never Will I Ever Get Over This Character's Death:
Pick a Character Death From a Book/Series That You Will Never Stop Mourning (Give a Spoiler Warning)
If you haven't read The Young Elites, I suggest that you go ahead and skip down to the next question.
But freaking Enzo from this book, even though he sort of doesn't really die in the series. I was in love with Enzo since he was such a sweetheart and he gave up so much for the Young Elites. The fact that Adelina was the one that killed him slowly killed me as well. If you read my reviews for the other books in the series, you know how much I don't like him as much as I did in the first book. 
Never Will I Ever Stop Crying Over This Book:
Pick a Book/Series That You Will Always Cry Over (In a Good or Bad Way)
*Cough Cough Cough* You know you need to raise your hand Sarah J. Maas since you were the one to write A Court of Mist and Fury. Do I even need to elaborate on this one? I'm counting down the days until ACOWAR people.
Never Will I Ever Read This Book/Series:
Pick a Book/Series That You Will Never Read
This one is so easy! I feel like this is an answer for a lot of people but Fifty Shades of Grey by E.L. James. I'm still wondering how this is a book. If I really wanted to read it, all I need to do is get up and walk over to my mom's room. The sad thing is, I bought it for her for Mother's Day as a joke present. She read the whole series…
Never Will I Ever Stop Raving About This Book/Series:
Pick a Book/Series You Will Never Stop Raving About or Recommending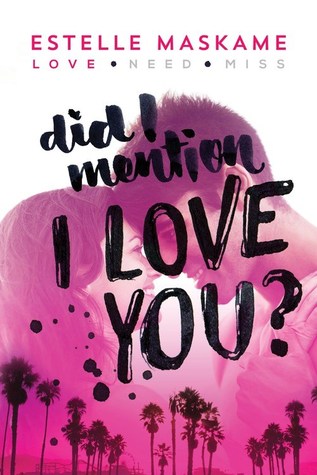 I just finished reading this series but I can't get over this series. Did I Mention I Love You? by Estelle Maskame has grown to be one of my favorite contemporary novels that you all should read. It deals with a forbidden romance and a summer in California. This book was just perfect.
Never Will I Ever Lend This Book/Series Out To a Friend:
Pick a Book/Series You Will Never Let Someone Borrow
Champion by Marie Lu because it is my favorite book from the Legend series and it is personalized to me. It was also the first book she signed at the book signing I went to in October. I will murder someone if they touch it. Unless they are my mom because she is currently reading the series but she has a due date to return it. She also has to put it on my bookshelf when she is done with it. Plus, she bought the book for me.
Never Will I Ever Not Tag You:
Tag 3 friends To Do This Tag That You Will Never Stop Tagging
I would love to tag the follow to do this tag!
Zoe @ mylifewithbooks
Zezee @ Zezee with Books
Kristy @ Kristy Reads
Have you read any of these books? What answers do you agree with? Which ones do you disagree with? What are you currently reading and how is it? Let me know your thoughts in the comments!
Happy Reading,