I think I found my new favorite author of 2017. Give it up to Estelle Maskame for giving me this awesome book to review and cry my eyes out with. I didn't get up for abut 5 hours while I was reading this book and now, I am telling you why this all happened. And also why there hasn't been as many reviews/post going up. Either way, here is a review for Did I Mention I Need You? with some spoilers included. Make sure you check out my review for the first book in the series, Did I Mention I Love You before you read this one!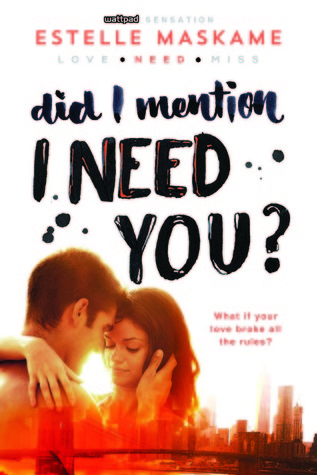 Title: Did I Mention I Need You?
Author: Estelle Maskame
Publisher: Sourcebooks Fire
Released: March 1, 2016
Pages: 384 (Paperback)
Love has no rules.
It's been a year since Eden Munro last saw Tyler Bruce: her stepbrother…and secret love. Although they swore to ignore their feelings and put their family first, Eden can't help but feel excited when Tyler invites her to join him in New York City for the summer.
But it's not like anything is going to happen. Eden is happy with her boyfriend Dean, and she knows gorgeous, green-eyed Tyler must have moved on as well. But as they spend the long, hot summer in the city that never sleeps, it becomes obvious that those old feelings are still there…simmering beneath the surface. Will Tyler and Eden be able to resist temptation?
Did I Mention I Need You? is book two in Wattpad sensation Estelle Maskame's DIMILY trilogy: three unforgettable summers of secrets, heartbreak and forbidden romance.
About the Author: Estelle Maskame is a novelist from Peterhead in Scotland. After gaining universal acclaim online during her teenage years, she signed a print contract with the Edinburgh-based publisher Black & White Publishing at the age of seventeen. She left school and now writes full-time. Did I Mention I Love You? is her first novel.
My Review:
I finally sort of understand the sport Baseball. I know basically nothing about that sport so luckily Estelle Maskame decided to go into detail on it. But other than that, this book was awesome. I was laughing, crying, wanting to throw it against the wall, all the feels. I loved this book, inside and outside.
Did I Mention I Need You is the sequel to DIMILY which follows the relationship between stepsiblings Eden Munro and Tyler Bruce. Tyler is finally sobering up and is currently finishing up his tour for addiction/abuse. Eden has finally finished High School, planning on attending University of Chicago, and in a happy relationship with Dean. When Tyler ask if Eden wants to come to New York for six weeks, Eden jumps on the offer. But when old feelings arise between them, will they be able to handle the pressure of not trying to be together? Will Dean ever find out?
Tyler was basically Tyler through the whole book, just minus the drugs and all the alcohol he had in the last book. He was hilarious and he wanted to be with Eden as much as he did before. Heck, he even got her name tattooed to his arm. Eden was basically the same as well just she was the one that was doing the cheating, and not Tyler. Even though the were the main characters, there were several old characters along with new ones. We were introduced to Snake, who was living with Tyler in New York, and Emily, who was on the tour with Tyler. I personally loved these two a lot. At the beginning, I didn't think that they would play such a big part of the book but they really did. Emily was a mystery to me at first and I sort of didn't like her. But when it came for when Dean, Rachel, and Tiffani to come to New York, Emily made her appearance known. (I also thought that she was dating Tyler but nope…) Snake was the relaxed but violent one out of the bunch and you get to see that from the beginning of the book at the baseball game. Tiffani I still didn't like, Rachel sort of grew distant from the book and Dean was just Dean. 
I loved the location of this book and how the book was paced. The book didn't feel like it was rushed since it took place in 6 weeks and it didn't feel stretched out too much either. The book takes place mainly in New York but you get some parts in California and in New Jersey. I've never been to New York before but it is somewhere I would really want to go to one of these days. This book reminded me about how much I wanted to just visit New York City and not live in New York City. Tyler fit right in with the New York life with his car and how he was behaving these days. Eden though, she had a lot to learn. It was really cute to see the roles get changed from one to another – Eden typically was helping Tyler but there were times Tyler helped Eden.
Are the drugs back in Tyler's life? I asked myself that question a lot at the beginning of the book. I grew very suspicious when Eden opened up the cabinet and saw all the lighters in there. It turns out that Eden is still like a drug to Tyler and it was the most adorable thing to watch. After Tiffani decided that she was going to get back together with Tyler, she makes Eden end everything with him. Reading about how Tyler wanted to know what was going on with her and how he would do anything for her, I wanted to slap Tiffani in the face. You are probably wondering why I decided to put this with the drugs but you'll see. After Eden left, Tyler got really drunk because she left him without no real answer. Tiffani's plan finally backfires and Eden finds the weed in the cabinet. I love the fact that Eden watched Tyler go and flush all the weed down the toilet as to say goodbye to the past. The only reason he ever needed the weed was because Eden wasn't there. It sounds a little crazy but it's true. And it is so sweet in a sense.
This book is light, fun and easy to read. The book takes place in the summer, in New York. The book deals with relationships and how much these two love each other. The book kept me laughing through the whole thing, either with something that Tyler said or something Eden did. The part where Tyler allowed Eden to drive his Audi R8 (which is one of my dream cars) was hilarious. The doughnuts, the J-turns, and Rachel calling in the middle of them making out. The fact that it turns up at the end of this book when Tyler's brother was saying that he thinks it needs new tires, I couldn't help but laugh. Like the last book in the series, I could not put this book down and I fell in love with it the minute I started.
One of the only things I hated about this book was when Tyler and Eden told her dad and his mom. I love the fact that Eden's mom and her boyfriend had already guessed it but the fact that Eden's dad said some of the stuff he did, I don't blame Tyler for punching him in the face. I understand that they were in shock that their kids were dating but to talk about his dad right after he was released from prison? Not cool. Not cool. Because of all this, Tyler decides that he needs to get out of the town because of everything. I cried like a baby. Thank goodness I bought the last book in the series when I bought this one!
Overall, this book has to get a 5 out of 5 stars. There was not one second that I hated about this book. The book was written perfectly and it all made sense. The characters were developed nicely and they followed right behind on where the past book stops. The setting and the plot were perfectly planned. This book was absolutely perfect. If you are looking for the perfect summer romance read, this is your book series.
Have you read this book? What were your thoughts about it? Did you like Eden with Dean or Tyler better? Did you enjoy this one or the first book in the series? Let me know your thoughts in the comments!
Happy Reading,