I buy a lot of books in my time. The last time I went to the bookstore near me and bought a book was the 1st of April. I know; you can clap for me. It just so happens that I read the book today that I bought about two weeks ago. This book didn't leave me bored for long. I was hanging on to the last page. I'm not one to read something that is real romantic but this book is different. I loved this book and I'm here with a review of it. Just beware of some spoilers because I am not holding back!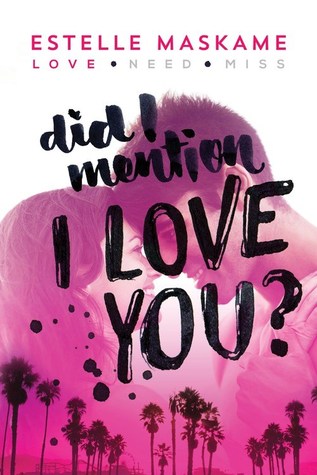 Title: Did I Mention I Love You?
Author: Estelle Maskame
Publisher: Sourcebooks Fire
Released: December 1, 2015
Pages: 393 (Paperback)
Love is everything but expected.
Eden Munro came to California for a summer of sun, sand, and celebrities—what better way to forget about the drama back home? Until she meets her new family of strangers: a dad she hasn't seen in three years, a stepmom, and three stepbrothers.
Eden gets her own room in her dad's fancy house in Santa Monica. A room right next door to her oldest stepbrother, Tyler Bruce. Whom she cannot stand. He has angry green eyes and an ego bigger than a Beverly Hills mansion. She's never felt such intense dislike for someone. But the two are constantly thrown together as his group of friends pulls her into their world of rule-breaking, partying, and pier-hanging.
And the more she tries to understand what makes Tyler burn hotter than the California sun, the more Eden finds herself falling for the one person she shouldn't love…
About the Author: Estelle Maskame is a novelist from Peterhead in Scotland. After gaining universal acclaim online during her teenage years, she signed a print contract with the Edinburgh-based publisher Black & White Publishing at the age of seventeen. She left school and now writes full-time. Did I Mention I Love You? is her first novel.
My Review:
I wasn't sure what I was going to think about this book when I started reading this book.  The first few pages were a little slow but it totally sped up and it left me wanting more. I read this book in less than 24 hours because I just could not put it down and also, I had a lot of free time today. I think I just found one of my favorite books of 2017.
Did I Mention I Love You? starts off with 16-year-old Eden flying to California to live with her dad for the summer. After her parent's divorce, he has since gotten remarried and brought her three stepbrothers. When she gets there, she thinks that her stepbrothers aren't so bad, but that is because she only met the two youngest. Then comes Tyler, her 17-year-old annoying stepbrother who she swears hates her. Eden thinks that her summer is going to be long and boring but things change after a while. 
When I bought the book, I was sort of in the mood to read something like this and I was so right about buying this book. The relationship between the two of them, Tyler and Eden was perfectly written. I saw this poke out from the time they went to the Hollywood sign but that was just me. Jake tries to ask Eden out so Tyler tries to act like alpha dog when it came to Eden. That was just me so you might see it before or after me when you read this book. When they got locked in the bathroom, and the speech he made both in the car and the school hallway on the Fourth of July, my heart melted because the two of them were so cute together. I actually remember crying when it came to the car speech because I did NOT want these two to break up. One of my favorite parts had to be when Eden gets really drunk, right before the beach party. Eden and Rachel get really drunk and it was hilarious. The fact that she thought that she was robbed was hilarious, along with the fact that Tyler had to carry her out because she was so drunk. It also lead to a certain scene in the bedroom and it was awesome.
This book was written in a way I haven't read in a while. You knew that the author did her research on these places before writing the book because she doesn't even live in the states! I love that the author is so young but she has gotten so many things in front of her life. There were things that we found out about the characters that were perfectly spaced out – Tyler's love/attraction to Eden, Eden's relationship between her two ex-friends, reasons Tyler is still with Tiffani, and why Tyler hates his dad so much. There is still so much more that I want to know about all the characters because there is still much more to learn. I want to know about Eden's strange relationship with Dean. I also sort of want to know how Eden's parents are getting since they are living so close to each other. There were some serious moments in the book, there were some humorous places. There were times I wanted to cry and there were times I wanted to throw it against the wall.
The location of this book made the book as amazing as it was. Firstly, it happens in California, which is supposed to be one of the greatest places to go outdoors in, other than the heat. Secondly, all these dates to the pier or to go see a band was just great. The author includes such great detail on all these locations, about the weather and the colors that it makes me want to melt into someone's arms. 
Every single reader will be able to connect with at least one of the characters within the plot. It could be because of something that has happened in your life or you have done something like the character has done. Young or old, you will find something. If you are older you might have some problems at first since the book is written for teens but you might find it entertaining.
Overall, I would have to give this book a 5 out of 5 stars. Even if you think the book is slow at the beginning, I promise that it will get better. The book is addictive, just like Eden was a drug to Tyler and how they were a drug to me. (If you have read the book, you understand that reference.) The book is warm, heartfelt, and it has a really good message written between the lines. If you search for it, you will find it. If you are looking for a cute, quick summer read, this is your book because it is just that. You might want to get your hands on the other books in the series before you read it because you might want the next one as soon as you finish this one. I should have listened to my own advice because I didn't do that at all and now I am waiting for the next book in the series. I think I need to take a trip to Books-A-Million! But I would "highly" recommend this book. I seriously need to stop this…
Have you read this book? What were your thoughts about it? Do you think it is right to stepsiblings to get down and dirty with each other? Let me know your thoughts in the comments!
Happy Reading,