It's time for another book review! I sort of fell into a reading slump while I was reading this book for some weird reason. It isn't because the book was boring or anything but I just did. It might have been because of everything that was going out but who really cares? Anyway, I finished the third and final book of The Young Elites series, The Midnight Star and I am here with another review. Make sure you read my reviews for The Young Elites and The Rose Society before you read this one! Also, beware of some of the spoilers that will spit out through the review. I can't protect you from the dangers of spoilers in the world today.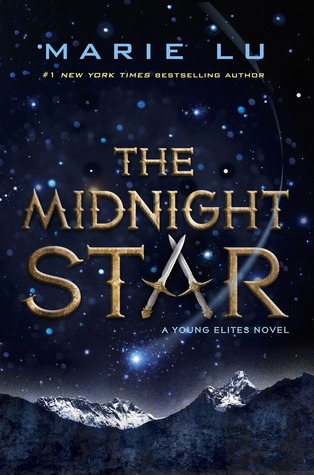 Title: The Midnight Star
Author: Marie Lu
Publisher: G.P. Putnam's Sons Books for Young Readers
Released: October 11, 2016
Pages: 316 (Hardback)
The thrilling finale to the New York Times bestselling Young Elites series from "hit factory" Marie Lu.
There was once a time when darkness shrouded the world, and the darkness had a queen.
Adelina Amouteru is done suffering. She's turned her back on those who have betrayed her and achieved the ultimate revenge: victory. Her reign as the White Wolf has been a triumphant one, but with each conquest her cruelty only grows. The darkness within her has begun to spiral out of control, threatening to destroy all that she's achieved.
Adelina's forced to revisit old wounds when a new danger appears, putting not only Adelina at risk, but every Elite and the very world they live in. In order to save herself and preserve her empire, Adelina and her Roses must join the Daggers on a perilous quest—though this uneasy alliance may prove to be the real danger.
Bestselling author Marie Lu concludes Adelina's story with this haunting and hypnotizing final installment to the Young Elites series.
About the Author: Marie Lu is the art director at Online Alchemy, a video game company, and also owns the children's brand Fuzz Academy. She was first inspired to write Legend while watching Les Miserables one afternoon and wondered how the relationship between a famous criminal vs. a prodigious detective might translate into a more modern story. She graduated from the University of Southern California in 2006 and lives in Los Angeles, California.
My Review:
I can't believe that I finished this series! I started this series for a school assignment, also because I wanted to reread the first book before I read the other books in the series, and now I am left speechless. I'm still trying to get over the ending of the book which made me cry in the middle of church. If any ask, I felt really close to the church.
The Midnight Star is the third and final book in The Young Elites series. Adelina is now queen and Violetta has left her. All Adelina wants is to get her life in order and that requires two things: Violetta and getting rid of this curse that is killing the malfettos. Adelina has her team but that is not it. She needs The Young Elites. Even though she hasn't been welcomed for a while, she wants their help and they have what she wants, Violetta. Will Adelina be able to figure out what is going on with the malfettos and be able to keep Kenetrra in tack?
I didn't feel like the book had as much excitement in it as the other books. I mean there was Adelina's crazy moments and the time that she almost got killed but I felt like I was reading the same thing over and over again. Adelina was always almost dying, causing someone else to come and save her. ALMOST THE WHOLE FOLLOWED THAT PATTERNED. I think that Teren saved her life more than she said his name the whole entire book.
So many people died in this book and it made me want to curl up in a corner, crying for the rest of my life. All these people somehow ended up coming back and biting Adelina in the butt. Out of all of these deaths, there was only one of them that I was sort of happy about. Enzo. I knew that it was a bad idea that he was coming back alive in the last book but he was like EVIL in this one. Maybe he and Adelina were perfect for each other. Teren's death actually shocked me the most because he was starting to grow on me after he saved Raffaele's life and Adelina's. Teren was doing so good and he was sort of Adelina's protector, so when he died, I might have died a little inside. I sort of had the feeling that Violetta was going to die in the book because she was getting worse and worse with her powers. I just never thought that Adelina would be able to battle her inner demons to sacrifice herself for Violetta's.
Magiano, Magiano, Magiano. My little boyfriend. Who doesn't want a Magiano for their self? Magiano has had to struggle so much through these books and I don't want to do anything but give him a hug. He has had to grow up so much in these books. He went from this guy who cared about himself and robbing people to this caring guy who fell in love with Adelina, which he will do anything for. Through all her illusions, he was the one that could get her out of it. When Violetta walked out of the 'Underworld' at the end of the book instead of Adelina, I cried like a baby. Once Adelina was a planet/star/constellation, Magiano was still going to follow her. He was going to follow Adelina around the world. He is just way too sweet.
Adelina was actually my least favorite character through the book. I just didn't feel as connected to her as I did in all the other books. She seemed to be on a loop through the book and I just didn't like it. Adelina was still this very dark character that had a lot of secrets but I didn't want her to die. At least she will always be part of the world as a piece of the sky. Adelina was one of the bravest characters through the book since she was Queen and she was trying to make the world the complete opposite as it was before. I do find it a little weird that Violetta automatically became Queen once Adelina died but that was just me.
The writing of this book was still as amazing as the others. Marie Lu knows how to play with your emotions and make you want to continue reading for the rest of your life. This book was written to a 'T' and it will be one that I will love. I loved the fact that Magiano got his own chapter, which got me so excited! Even though it was one chapter, I was still happy. Violetta got two chapters (I know it was at least one) and I gave so much insight into what was going on with her and Adelina once she was gone. I did wish that I got to read what was Magiano thinking when he got the news that Adelina had sacrificed herself instead of Raffaele but we can't get everything that we wish for. 
Overall, this was one of the best books I have read in a while. It felt good to be able to dive back into the world of Marie Lu and I really can't wait to read more of her stuff. I would have to give this book a 4 out of 5 stars but that was because of how disconnected I felt with this book and how it really didn't feel like anything new was going on through the whole book. Bonus points do have to be given out to the Magiano and Adelina bedroom scene (!!!!!!!!)  and the connection of the book and the title. Overall, I do recommend you all giving this series a try because you will not regret it. Make sure you are ready to receive the feels.
Have you read this book? What did you think about it? Who was your favorite character through the series? What was your favorite book through the series? Did you like Magiano and Adelina more than Adelina and Enzo? Let me know your thoughts in the comments!
Happy Reading,