Spring is hopefully coming soon for me and you! April has arrived brought some friends with them! April is not only bringing the fact that the school is year is almost done with but a lot of book friends. April has always been one of my favorite months just because of how beautiful it is outside since the flowers are blooming and the birds are chirping. So, grab your self a glass of ice cold iced tea and let's get one with the book releases!
Title: Firework
Author: Katie Cotugno
Publisher: Balzer + Bray
Release: April 11, 2017
Pages: 336 (Hardback)
From the New York Times bestselling author of 99 Days and How to Love comes a stunning new contemporary novel—all about boy bands, girl bands, best friends, and first love—perfect for fans of Sarah Dessen and Morgan Matson.
It was always meant to be Olivia. She's the talented one, the one who's been training to be a star her whole life. Her best friend, Dana, is the levelheaded one, always on the sidelines, cheering Olivia on.
But everything changes when Dana tags along with Olivia to Orlando for the weekend, where superproducer Guy Monroe is holding auditions for a new singing group, and Dana is discovered too. Dana, who's never sung more than Olivia's backup. Dana, who wasn't even looking for fame. Next thing she knows, she and Olivia are training to be pop stars, and Dana is falling for Alex, the earnest, endlessly talented boy who's destined to be the next big thing.
It should be a dream come true, but as the days of grueling practice and constant competition take their toll, things between Olivia and Dana start to shift . . . and there's only room at the top for one girl. For Olivia, it's her chance at her dream. For Dana, it's a chance to escape a future that seems to be closing in on her. And for these lifelong best friends, it's the adventure of a lifetime—if they can make it through.
Set in evocative 1990s Orlando, Fireworks brings to life the complexity of friendship, the excitement of first love, and the feeling of being on the verge of greatness.
About the Author: Katie Cotugno went to Catholic school for thirteen years which makes her, as an adult, both extremely superstitious and prone to crushes on boys wearing blazers. She routinely finds herself talking about the romantic endeavors of characters on TV shows as if they actually exist in the world.
Katie is a Pushcart Prize nominee whose work has appeared in The Broadkill Review, The Apalachee Review, and Argestes, as well as on Nerve.com. Her first novel, HOW TO LOVE, is due out from Balzer + Bray on October 1st, 2013.
The great loves of Katie's life include child's pose, her little sister, and mozzarella and honey sandwiches. She lives in Boston (and in sin) with her boyfriend, Tom.
Why I Want to Read This Book: I read Katie Cotugno's 99 Days last year and I really enjoyed reading it. The book was fun to read and had such a great storyline to it. I have been wanting to read something else by her and I think this is that book. I love the idea of this book and I want to see what happens in this book. I know that this book might be a little predictable with the ending but I sort of like books like that at times. This book seems like the perfect/ideal read for the spring and summer!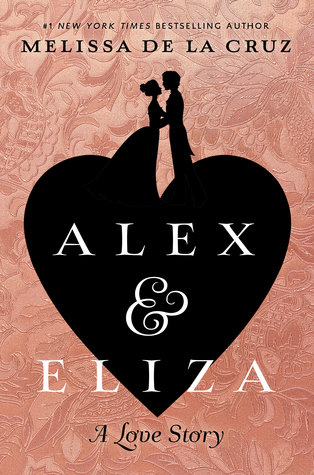 Title: Alex and Eliza: A Love Story
Author: Melissa de la Cruz
Publisher: G.P. Putnam's Sons Books for Young Readers
Release: April 11, 2017
Pages: 336 (Hardback)
From the #1 New York Times bestselling author of The Witches of East End and The Descendants comes the love story of young Alexander Hamilton and Eliza Schuyler.
1777. Albany, New York.
As battle cries of the American Revolution echo in the distance, servants flutter about preparing for one of New York society's biggest events: the Schuylers' grand ball. Descended from two of the oldest and most distinguished bloodlines in New York, the Schuylers are proud to be one of their fledgling country's founding families, and even prouder still of their three daughters—Angelica, with her razor-sharp wit; Peggy, with her dazzling looks; and Eliza, whose beauty and charm rival that of both her sisters, though she'd rather be aiding the colonists' cause than dressing up for some silly ball.
Still, she can barely contain her excitement when she hears of the arrival of one Alexander Hamilton, a mysterious, rakish young colonel and General George Washington's right-hand man. Though Alex has arrived as the bearer of bad news for the Schuylers, he can't believe his luck—as an orphan, and a bastard one at that—to be in such esteemed company. And when Alex and Eliza meet that fateful night, so begins an epic love story that would forever change the course of American history.
In the pages of Alex and Eliza, #1 New York Times bestselling author Melissa de la Cruz brings to life the romance of young Alexander Hamilton and Elizabeth Schuyler.
About the Author: Melissa de la Cruz is the New York Times and USA Today best-selling author of many critically acclaimed and award-winning novels for teens including The Au Pairs series, the Blue Bloods series, the Ashleys series, the Angels on Sunset Boulevard series and the semi-autobiographical novel Fresh off the Boat.
Her books for adults include the novel Cat's Meow, the anthology Girls Who Like Boys Who Like Boys and the tongue-in-chic handbooks How to Become Famous in Two Weeks or Less and The Fashionista Files: Adventures in Four-inch heels and Faux-Pas.
She has worked as a fashion and beauty editor and has written for many publications including The New York Times, Marie Claire, Harper's Bazaar, Glamour, Cosmopolitan, Allure, The San Francisco Chronicle, McSweeney's, Teen Vogue, CosmoGirl! and Seventeen. She has also appeared as an expert on fashion, trends and fame for CNN, E! and FoxNews.
Melissa grew up in Manila and moved to San Francisco with her family, where she graduated high school salutatorian from The Convent of the Sacred Heart. She majored in art history and English at Columbia University (and minored in nightclubs and shopping!).
She now divides her time between New York and Los Angeles, where she lives in the Hollywood Hills with her husband and daughter.
Why I Want to Read This Book: I LOVE HAMILTON. Alexander Hamilton is my bae and anything that includes him and his wife Eliza, I need. When I found out that Melissa de la Cruz was releasing this book, I got so excited because I would love to get back into the world of these two. I know that the book will probably follow very little of their true life but it would be really cool to see how she goes and writes it all down. I bet I would love it anyway because of my bae. I know for sure that I am gonna be listening to the Hamilton Soundtrack while I am reading this book! 
Title: Alone in Paris
Author: Ashley Earley
Publisher: CreateSpace
Release: April 1, 2017
Pages: 310 (Paperback)
Breathe, Taylor.
Taylor Clay's family isn't exactly perfect. They may look the part with the nice, big house and her dad's fancy job, but that's what's tearing them apart. That, and her dad's sudden recurring drinking problem.
Though her family is close to falling apart, she never wished for something like this to happen. She never wished for her father to drive off a bridge. Especially not while they were on vacation; especially not when her and her mom were in the car with him at the time.
Breathe.
She's devastated after the fact. And it isn't helping that the papers are gossiping about how the pristine lawyer could have driven off the bridge on purpose. And just when she thinks nothing could possibly make things worse, she realizes she's left alone with no relatives to care for her.
So she's alone. Her parents are dead. And she's stuck in the country her family was visiting for their vacation. She's alone in Paris.
Just breathe.
Then Nathan walks into the picture. Funny, snarky, persistent, and sometimes, just flat out rude, he annoys Taylor to no end. He won't leave her alone, but Taylor doesn't know whether or not she should push him away.
About the Author: I do a lot of things, most of them boring, but the one thing I really enjoy is writing. I've lost count of how many books I've written, but The Darkest Light was the first book I decided to publish. When I'm not writing I'm usually blogging, reading, spending time with my friends, or obsessing over a book character (I ♥ Jem Carstairs!). I also love listening to music. I almost never leave the house without headphones and a pen (it's a writer-thing). 
Her Thriller/Suspense short story, Chasing Hair of Gold, won first place in the 2016 Writer's Digest Popular Fiction Awards.
I have many favorite books, but if you really want to see me geek-out, ask me a question about Harry Potter. You can check out my favorite books on my Goodreads page.
Why I Want to Read This Book: I love the idea of this book. I also really like the cover of this book as well. Paris has been a place where I would love to visit once in my life so reading this book will hopefully feel like I am there and all. The story sounds like it is right up my ally so i am excited to read this one! Plus, Nathan sounds like he might become one of my new book boyfriends so…. Also, since Ashley Earley is obsessed with Jem Carstairs, who wouldn't give her a try!
Title: Alex, Approximately
Author: Jenn Bennett
Publisher: Simon Pulse
Release: April 4, 2017
Pages: 400 (Hardback)
In this delightfully charming teen spin on You've Got Mail, the one guy Bailey Rydell can't stand is actually the boy of her dreams—she just doesn't know it yet.
Classic movie buff Bailey "Mink" Rydell has spent months crushing on a witty film geek she only knows online by "Alex." Two coasts separate the teens until Bailey moves in with her dad, who lives in the same California surfing town as her online crush.
Faced with doubts (what if he's a creep in real life—or worse?), Bailey doesn't tell Alex she's moved to his hometown. Or that she's landed a job at the local tourist-trap museum. Or that she's being heckled daily by the irritatingly hot museum security guard, Porter Roth—a.k.a. her new arch-nemesis. But life is whole lot messier than the movies, especially when Bailey discovers that tricky fine line between hate, love, and whatever-it-is she's starting to feel for Porter.
And as the summer months go by, Bailey must choose whether to cling to a dreamy online fantasy in Alex or take a risk on an imperfect reality with Porter. The choice is both simpler and more complicated than she realizes, because Porter Roth is hiding a secret of his own: Porter is Alex…Approximately.
About the Author: Jenn Bennett is an award-winning author of the Arcadia Bell urban fantasy series (KINDLING THE MOON), the Roaring Twenties romance series (BITTER SPIRITS), and the young adult contemporary romances THE ANATOMICAL SHAPE OF A HEART (aka NIGHT OWLS in the U.K.) and ALEX, APPROXIMATELY. Her books have earned multiple starred reviews from major trade publications, won the Romance Writers of America's prestigious RITA® Award, received two Reviewers' Choice awards and a Seal of Excellence from RT Book Reviews, and been included on Publishers Weekly Best Books annual list. She lives near Atlanta with one husband and two pugs.
Why I Want to Read This Book: I feel like this book will be close to a Morgan Matson book and I love Morgan Matson. She is one of my favorite authors! I've never read anything by Jenn Bennett but I hope that this book changes that! This book sounds so interesting because of the unknown and the fact that the guy that she hates is the same guy that she loves? What could be better than that! I totally am going to be picking this book up sometime this year!
Title: The Official Mortal Instruments Coloring Book
Author: Cassandra Clare; Cassandra Jean
Publisher: Margaret K. McElderry Books
Release: April 25, 2017
Pages: 96 (Coloring Book)
Experience Cassandra Clare's internationally bestselling world of the Shadowhunters like never before with this intricate adult coloring book featuring forty-five all-new illustrations! From the hallowed halls of the New York Institute to the glimmering glass buildings of Alicante, from the depths of the city of bones to the forests of faerie, the world of Cassandra Clare's Mortal Instruments series comes to life like never before in this stunning coloring book. The forty-five illustrations face text excerpts, highlighting never-before-illustrated scenes from The Mortal Instruments. With gorgeous original black-and-white drawings by Cassandra Jean, illustrator of The Bane Chronicles and Tales from the Shadowhunter Academy, The Mortal Instruments Coloring Book is a must-have gift book for every Cassandra Clare fan in your life.
About the Author: Cassandra Clare was born overseas and spent her early years traveling around the world with her family and several trunks of fantasy books. Cassandra worked for several years as an entertainment journalist for the Hollywood Reporter before turning her attention to fiction. She is the author of City of Bones, the first book in the Mortal Instruments trilogy and a New York Times bestseller. Cassandra lives with her fiance and their two cats in Massachusetts.
Why I Want to Read This Book: I am a big fan of Cassandra Clare. I love her writing so getting a chance to go and color these amazing scenes from the series is so exciting for me. I know that this isn't really a real book but it still falls under that category… right? I have been dying to get my hands on this and I know that the images in this book is going to be beautiful! Hopefully I have as much fun coloring this one as I do coloring my Throne of Glass one! 
What books are you looking forward to this month? Do you like to color? What is your favorite month in the year? Your favorite season? Let me know your thoughts in the comments!
Happy Reading,