Happy Saint Patrick's Day everyone! I have a really random question but I have been wondering this for a while. In the US, we celebrate St. Patrick's Day by wearing green and pinching anyone who is not wearing green (at least I did when I was about elementary school age). Do all countries celebrate it or is it certain places that do it? Anyway, because it is like National Green Day in my mind, I thought that I would share with you 5 of my favorite books with a green cover! Please don't go around and pinch a lot of people because who knows how they will react to that!
But if you don't know what Saint Patrick's Day is…
Saint Patrick's Day, or the Feast of Saint Patrick is a cultural and religious celebration held on 17 March, the traditional death date of Saint Patrick (c. AD 385–461), the foremost patron saint of Ireland.
– Source: Wikipedia
---
Title: City of Bones
Author: Cassandra Clare
Publisher: Margaret K. McElderry Books
Released: March 27, 2007
Pages: 485 (Hardback)
When fifteen-year-old Clary Fray heads out to the Pandemonium Club in New York City, she hardly expects to witness a murder― much less a murder committed by three teenagers covered with strange tattoos and brandishing bizarre weapons. Then the body disappears into thin air. It's hard to call the police when the murderers are invisible to everyone else and when there is nothing―not even a smear of blood―to show that a boy has died. Or was he a boy?
This is Clary's first meeting with the Shadowhunters, warriors dedicated to ridding the earth of demons. It's also her first encounter with Jace, a Shadowhunter who looks a little like an angel and acts a lot like a jerk. Within twenty-four hours Clary is pulled into Jace's world with a vengeance, when her mother disappears and Clary herself is attacked by a demon. But why would demons be interested in ordinary mundanes like Clary and her mother? And how did Clary suddenly get the Sight? The Shadowhunters would like to know…
Exotic and gritty, exhilarating and utterly gripping, Cassandra Clare's ferociously entertaining fantasy takes readers on a wild ride that they will never want to end.
I love this book so much. This was one of the books that got me reading books with the supernatural and it opened my mind to so many other books. I'm not saying that this book is perfect because it isn't but I love this book. I don't really love Clary Fray that much anymore but my love for Jace is still there. I love the element of discovering your true self and this will be one of the books that I am always recommending people to read at least once in their life.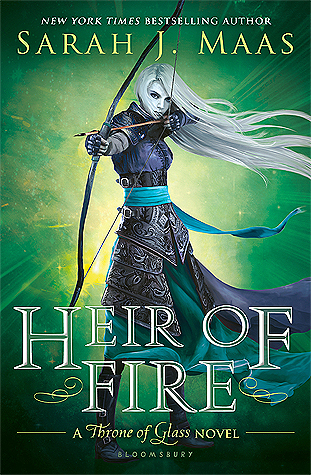 Title: Heir of Fire
Author: Sarah J. Maas
Publisher: Bloomsbury USA Childrens
Released: September 2, 2014
Pages: 565 (Hardback)
Celaena has survived deadly contests and shattering heartbreak―but at an unspeakable cost. Now, she must travel to a new land to confront her darkest truth . . . a truth about her heritage that could change her life―and her future―forever. Meanwhile, brutal and monstrous forces are gathering on the horizon, intent on enslaving her world. Will Celaena find the strength to not only fight her inner demons, but to take on the evil that is about to be unleashed?
The bestselling series that has captured readers all over the world reaches new heights in this sequel to the New York Times best-selling Crown of Midnight. Packed with heart-pounding action, fierce new characters, and swoon-worthy romance, this third book will enthrall readers from start to finish.
This is the third book in the Throne of Glass series so I'm not going to really spoil you on everything that happens in this book. But one of the reasons I really enjoy this book so much is because of a certain character that is introduced in this book named ROWAN and do I need to go into detail on why I love him so much?
Title: Insurgent
Author: Veronica Roth
Publisher: HarperCollins Children's Books
Published: May 1, 2012
Pages: 525 (Hardback, First Edition)
One choice can transform you—or it can destroy you. But every choice has consequences, and as unrest surges in the factions all around her, Tris Prior must continue trying to save those she loves—and herself—while grappling with haunting questions of grief and forgiveness, identity and loyalty, politics and love.
Tris's initiation day should have been marked by celebration and victory with her chosen faction; instead, the day ended with unspeakable horrors. War now looms as conflict between the factions and their ideologies grows. And in times of war, sides must be chosen, secrets will emerge, and choices will become even more irrevocable—and even more powerful. Transformed by her own decisions but also by haunting grief and guilt, radical new discoveries, and shifting relationships, Tris must fully embrace her Divergence, even if she does not know what she may lose by doing so.
New York Times bestselling author Veronica Roth's much-anticipated second book of the dystopian DIVERGENT series is another intoxicating thrill ride of a story, rich with hallmark twists, heartbreaks, romance, and powerful insights about human nature.
Like Heir of Fire, this book happens to be in the middle of the series so I'm not going to spoil you if you haven't read it but this was my favorite book in the series. There is this certain scene that happens after the truth serum with Tris that I can't help but laugh about every time that I think about it. I also really enjoy how this book seemed to be the best developed book in the whole series because I didn't want to throw it against the wall when I was reading it or when I was done.
Title: The Retribution of Mara Dyer
Author: Michelle Hodkin
Publisher: Simon & Schuster Books for Young Readers
Released: November 4, 2014
Pages: 470 (Hardback)
Mara Dyer wants to believe there's more to the lies she's been told.
There is.
She doesn't stop to think about where her quest for the truth might lead.
She should.
She never had to imagine how far she would go for vengeance.
She will now.
Loyalties are betrayed, guilt and innocence tangle, and fate and chance collide in this shocking conclusion to Mara Dyer's story.
Retribution has arrived.
Like the past to books, this is part of the series (this one being the last book) so I'm not going to really spoil you but I'm gonna leave you with two thoughts: Noah Shaw and Chapter 73-74. Yep. I'm gonna leave you with that… And I realize that this book really isn't green but it looks pretty close to green when it is held up in certain lights so I'm counting this book in this list. Shhh, don't tell anyone though!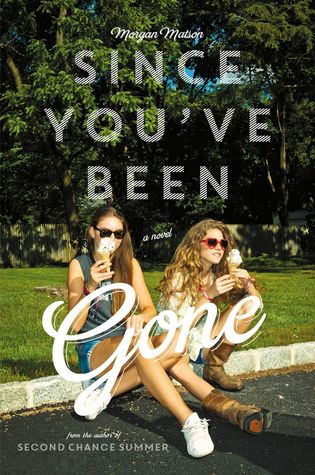 Title: Since You've Been Gone
Author: Morgan Matson
Publisher: Simon & Schuster
Released: May 6, 2014
Pages: 449 (Hardback)
It was Sloane who yanked Emily out of her shell and made life 100% interesting. But right before what should have been the most epic summer, Sloane just…disappears. All she leaves behind is a to-do list.
On it, thirteen Sloane-inspired tasks that Emily would normally never try. But what if they could bring her best friend back?
Apple picking at night? Okay, easy enough.
Dance until dawn? Sure. Why not?
Kiss a stranger? Um…
Emily now has this unexpected summer, and the help of Frank Porter (totally unexpected), to check things off Sloane's list. Who knows what she'll find?
Go skinny-dipping? Wait…what?
I am a big fan of Morgan Matson's. I have never read a book of hers that I don't like. I think one of the reasons that I really enjoyed this book so much was the fact that I was able to connect with Emily so easily because we both don't like trying things out of our comfort zones. The whole premise of the book was something that I had never read before and I was so excited to read this book – which was a really great time. And I think that this is the book that I read were Morgan Matson goes and includes some Taylor Swift songs in Emily's playlist. I'm a Taylor Swift fan so I was really excited to see them up there!
What is your favorite green cover book? What is something you do for Saint Patrick's Day? Do you do anything special for today? How's the book that you are currently reading? Let me know your thoughts in the comments!
Happy Reading,