I bought this book close after the day of it's release back in September. It's now March 2017 and I just now finished the book. Whoops. I was expecting to be wowed with the whole book but I really didn't care for it as much. Any way, I'm here with another book review and I hope that it is helpful! Don't worry, there aren't any spoilers so you don't need to feel bad about not reading the book yet.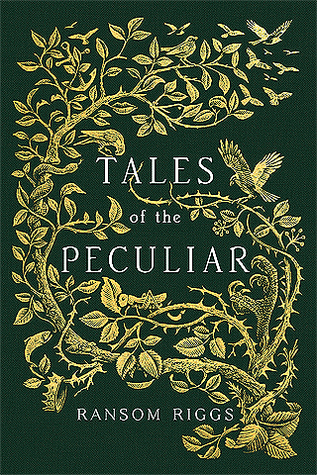 Title: Tales of the Peculiar
Author: Ransom Riggs
Publisher: Dutton Books for Young Readers
Released: September 3, 2016
Pages: 160 (Hardback)
Before Miss Peregrine gave them a home, the story of peculiars was written in the Tales.
Wealthy cannibals who dine on the discarded limbs of peculiars. A fork-tongued princess. The origins of the first ymbryne. These are but a few of the truly brilliant stories in Tales of the Peculiar—known to hide information about the peculiar world—first introduced by Ransom Riggs in his Miss Peregrine's Peculiar Children series.
Riggs now invites you to share his secrets of peculiar history, with a collection of original stories, as collected and annotated by Millard Nullings, ward of Miss Peregrine and scholar of all things peculiar.
About the Author: Ransom Riggs is an American writer and filmmaker best known for the book Miss Peregrine's Home for Peculiar Children. Riggs was born in Maryland in 1979 on a 200-year-old farm, and grew up in Florida, where he attended Pine View School for the Gifted. He studied English literature at Kenyon College, and studied film at the University of Southern California.
My Review:
I loved the Miss Peregrine's Peculiar Children series so I was really excited to get back into the story. I just didn't see this book as amazing as the other ones. That's why I have to give this book a 3 out of 5 stars. It did get me back into the world and want to watch the movie again but I would have rather reread Miss Peregrine's Home for Peculiar Children.
Before you go and read this book, you should be told that this book has really no relation to the peculiar children that are with Miss Peregrine's other than Millard. Millard is the one that is invisible and I loved him a lot so I was fine with the whole thing. But Millard isn't a character in the book. He's like the editor of the book and I really enjoyed that. Reading this book made me feel like I was reading something similar to The Shadowhunter's Codex with the small notes by Millard so I enjoyed that.
Getting to read some of the stories that 'made' the Peculiar World what it is now was amazing. I loved the one story entitled The Fork-Tongued Princess the most just because of how funny it was and how sweet it truly. Even though I loved one of them and liked some of the other ones, I didn't like all of them. Some of them were really boring and I just didn't enjoy reading some of them like the one entitled The Women Who Befriended Ghost. That one just really seemed boring to me.
I almost feel like these stories where fables because they taught some amazing lessons through their stories. Some of them were more, 'come and get me' while others came after several pages of the next story. I love reading a book and getting such a strong story out of it, especially when it comes from a fictional story.
There were these images inside of this book at the beginning of each of the stories and these were some of the best images I have ever seen within a book. These images took in the main idea from the whole story and brought it to life. I loved turning the page to a new story and getting to look at these images. I would stare at them for several minutes and I was in total awe. I probably had my mouth hanging open while I was looking at them but that's okay. I feel like I am not the only one who does that when they see something that they really enjoy.
The book was well thought out and very well developed. The stories were written to a 'T' and they had such great story line to it. The stories had a great flow to it, even if I didn't care for the story. The characters were one of my favorite things about the whole story because they made the whole story great. I love Ransom Riggs' writing but this had to be one of my least favorite books written by him. You could still tell that he wrote the book if you have read his other work but writing this style of genre – fables/short stories – isn't his strong suit. I wish that there was short stories on the other Peculiar Children from Miss Peregrine's Home for Peculiar Children because I would have enjoyed reading that so much more. 
Overall, I thought the book was okay. The book will definitely send you back into the Peculiar Children world but it just didn't give me the vibes that the series did. Any fan of the series should give the book a try because it is a really amazing prequel and it gives a lot more details on how the world gave it a try. If you aren't really a fan of the series, don't even bother. You might not understand some of the stuff. That's why I recommend you read this book after you read the first book in the series so you full understand everything that the book is talking about. 
Have you read this book? What were your thoughts on the books? Did you like the movie or the book better of Miss Peregrine's Home for Peculiar Children? What are your thoughts on Ransom Riggs' writing? Let me know your thoughts in the comments!
Happy Reading,