Back in October, I got the chance to go and meet Marie Lu and that was a really good experience. The signing was for her latest book The Midnight Star, which is the third book in The Young Elites series. I had read the first book in the series but I just could not remember everything that happened in the book. Well, I finally finished reading The Young Elites again and I am here to review it! Just, there might be a few spoilers that are included in the review.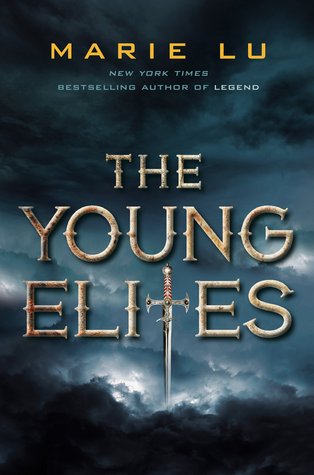 Title: The Young Elites
Author: Marie Lu
Publisher: G.P. Putnam's Sons Books for Young Readers
Released: October 7, 2014
Pages: 355 (Hardback)
I am tired of being used, hurt, and cast aside.
Adelina Amouteru is a survivor of the blood fever. A decade ago, the deadly illness swept through her nation. Most of the infected perished, while many of the children who survived were left with strange markings. Adelina's black hair turned silver, her lashes went pale, and now she has only a jagged scar where her left eye once was. Her cruel father believes she is a malfetto, an abomination, ruining their family's good name and standing in the way of their fortune. But some of the fever's survivors are rumored to possess more than just scars—they are believed to have mysterious and powerful gifts, and though their identities remain secret, they have come to be called the Young Elites.
Teren Santoro works for the king. As Leader of the Inquisition Axis, it is his job to seek out the Young Elites, to destroy them before they destroy the nation. He believes the Young Elites to be dangerous and vengeful, but it's Teren who may possess the darkest secret of all.
Enzo Valenciano is a member of the Dagger Society. This secret sect of Young Elites seeks out others like them before the Inquisition Axis can. But when the Daggers find Adelina, they discover someone with powers like they've never seen.
Adelina wants to believe Enzo is on her side, and that Teren is the true enemy. But the lives of these three will collide in unexpected ways, as each fights a very different and personal battle. But of one thing they are all certain: Adelina has abilities that shouldn't belong in this world. A vengeful blackness in her heart. And a desire to destroy all who dare to cross her.
It is my turn to use. My turn to hurt.
About the Author: I write young adult novels, and have a special love for dystopian books. Ironically, I was born in 1984. Before becoming a full-time writer, I was an Art Director at a video game company. Now I shuffle around at home and talk to myself a lot.
I graduated from the University of Southern California in '06 and currently live in LA, where I spend my time stuck on the freeways.
My Review:
I read this book for the first time in 8th grade, so that was like three years ago. I had just finished reading the Legend series and I could not get enough of Marie Lu. I found out about this book series and I had to give the book a try. I remember loving this book and wanting the second book in the series. My friend and I read them at the same time and we fell in love with it so we decided to read the second book at the same time. When it never got read last year, I decided to finally read the book no matter what. Since all three of the books are out now, why not binge read the whole series?
Adelina was a pretty strong person for when you think about everything that she has been through in her life. For once, I didn't see any flaws in her character. Most of the books that I read, there is always something that I hate in the personality of the character. Maybe it is the power of Marie Lu or something but Adelina was perfect. Adelina had to go through so much in her life when she lost not only her mom but her left eye. Her dad was hard on her and basically wanted her dead. After murdering her father with her powers, Adelina finds out about the magic that is surrounding her by the Young Elites. 
The title of the book fits the whole entire book. Sometimes you find a book and the title just turns you away even though the book is really good. The Young Elites is not like that at all. Most of the kids that are Young Elites are survivors of the Blood Fever – which wiped most of the people the Young Elites loved. The Young Elites have these powers that other people don't have. They are able to heal people, sense people, hurt people, create things, transform, etc. The Young Elites have came together and created the Dagger Society, where they all are trying to get back Enzo's powers as King from his sister and Teren.
While I was reading the book, all I could remember was dual that ended up with the wrong person dying. I could not remember who it was until the middle of the book and I freaking lost it. Of course, my favorite character Enzo was the one that was killed. There is that one Young Elite member who can turn the dead back alive isn't there? What if Adelina was able to find her and get Enzo back alive? That would be a miracle because Enzo was awesome. Enzo was powerful and strong while he had a spot in his heart from his past girlfriend who was killed. As soon as Enzo began training Adelina on his own, I knew that they were going to start going out or whatever they called it in the book. Enzo and Adelina were so adorable and you could see the love that came through them. If only Adelina didn't come up with the plan of turning Enzo into Teren with her powers, Enzo would still be alive.
After the death of Enzo, I sort of want to see Adelina and Teren get together. I know that Teren wants all the Dagger Society members to be kicked out but they are his people. He can be hurt but he is able to save himself. Teren lets the power that he has get to his head, which doesn't always do good because he has Enzo's sister wrapped around his finger. Even though Teren was evil, you sort of saw a sweet, innocent side of him. Adelina sort of brought it out of him and I can't help but love him. Both Teren and Adelina have this darkness within them and I think that with them spending more time together, they will be able to help each other balance out.
I was blown away through the development of these characters and how amazing they fit into the plot. The whole book wouldn't be the same if they weren't special or had the gifts that they had. All of Adelina's life has been a lie since Violetta was the one who took Adelina's powers away. You watched Adelina turn into a more powerful and strong character as she trained with both Enzo and Rafaele. Rafaele changed from this person who hated Adelina and wanted her dead, into someone who was more open to her and learned that Enzo wasn't just with her because she reminded him of his last girlfriend. The only character you really never changed was Teren but you see his energy shift when he watches his good friend get murdered. Teren was the one who killed the King and was sleeping with the Queen on her beckon call. The characters have a mystery within them that requires the reader to dissect them and find out who they truly are and I loved doing that through the book. As the reader dissects the events and everything that the Dagger Society was planning on doing, you had to dissect the characters to find out what their roles were through the events.
Overall, I would have to give this book a 4.5 out of 5 stars. Though I really enjoyed reading the book, I felt like it is sort of following the ideas of some of the other books that I have read in the past. The content of this book was created meticulously and I couldn't help but fall in love with this book. I'm so excited to pick up the second book in the series because I need to know how Adelina defeats the powers of Teren and the Queen along with the help of the Young Elites. I would totally recommend all of you going and picking this book up and giving it a try because it will blow you away!
Have you read this book? What did you think about it? Do you like The Young Elites or Legend better? What makes Marie Lu special to you? Let me know your thoughts in the comments!
Happy Reading,