The school is coming to an end soon and it means schools are starting to test students. The ACT test occurred the other day for Juniors which meant that all the other students could sit at school for 5 hours or stay at home. I was actually smart and went to school and sat because I knew that I could get some reading done. I never expected myself to go and finish a book while I was sitting here! The book? The Distance Between Us by: Kasie West which was actually a cute contemporary read that I have been wanting to read for a while. So, I brought you a review and some spoilers along for this ride!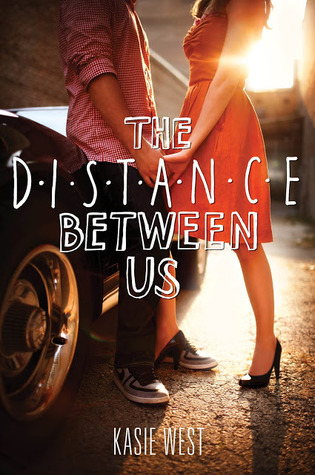 Title: The Distance Between Us
Author: Kasie West
Publisher: HarperTeen
Released: July 2, 2013
Pages: 312 (Paperback)
Seventeen-year-old Caymen Meyers studies the rich like her own personal science experiment, and after years of observation she's pretty sure they're only good for one thing—spending money on useless stuff, like the porcelain dolls in her mother's shop.
So when Xander Spence walks into the store to pick up a doll for his grandmother, it only takes one glance for Caymen to figure out he's oozing rich. Despite his charming ways and that he's one of the first people who actually gets her, she's smart enough to know his interest won't last. Because if there's one thing she's learned from her mother's warnings, it's that the rich have a short attention span. But Xander keeps coming around, despite her best efforts to scare him off. And much to her dismay, she's beginning to enjoy his company.
She knows her mom can't find out—she wouldn't approve. She'd much rather Caymen hang out with the local rocker who hasn't been raised by money. But just when Xander's attention and loyalty are about to convince Caymen that being rich isn't a character flaw, she finds out that money is a much bigger part of their relationship than she'd ever realized. And that Xander's not the only one she should've been worried about.
About the Author: I write YA. I eat Junior Mints. Sometimes I go crazy and do both at the same time. My novels are: Pivot Point and its sequel Split Second. And my contemporary novels: The Distance Between Us, On the Fence, The Fill-In Boyfriend, PS I Like You, and By Your Side. My agent is the talented and funny Michelle Wolfson.
My Review:
This was my first time reading a Kasie West book. I have always been interested in reading one of her books because all of them sound amazing and sort of fall into the genre of books I enjoy. I was right about that! I started reading the book and I did not want to put it down because it was so good. 
I love the fact that I was able to connect with almost all of the characters. The characters were close to my age and they were all going through stuff that I have to deal with. All the talk of college and trying to figure out what Caymen and Xander wanted to do was so relatable for me. I personally don't have to worry about everything that Caymen had to and I didn't have that much money like Xander but I felt like I had parts of them in my life. Exceptionally when Xander was at the Salvation Army with Caymen and she tells him that he had to buy shows from there too. I can't stand to wear other people's shoes, even my own family's. You don't know where their feet have been!
Xander had to be one of my favorite characters in the whole book. I know it sounds crazy that my favorite character is Xander but he was my favorite. I actually got the sense that Xander was Alex when we didn't know about them being the same person. I also always got the sense that Xander's grandmother was the person he was on the phone with the first time he came to the store but I don't think that they answer that mystery through the book. Xander was so caring and hilarious that I wanted to bottle him up. The little things that Xander does with Caymen is the sweetest thing, even when it is terrible. When Caymen finds out that are Grandparents are rich and that Xander knew more about her family than she did, my heart broke for Xander. He had no clue that she didn't know all of this. She goes on to blame him for only going out with her because he thought she was rich broke my heart. Xander did everything for Caymen and it really showed throughout the book.
I liked the little mystery aspect through the book that dealt with Caymen and her mom. Her mom was getting tired and was changing in front of her eyes. Caymen had no idea what was going on and her mom didn't know either. Then we meet Matthew, who looked like he could be dating Caymen's mom. Caymen finds out about her mom's ultrasound and I have to agree with Skye and Caymen – I did believe that her mom could be pregnant. They met that guy named Matthew and she has been a little more lazy so I seriously thought that she was pregnant. It was still a little scary to know that she had an ulcer but at least she didn't have cancer or something. I liked trying to figure out what was going on with it.
The only thing I really didn't care about through the book was the relationship that might have been happening with Xander and the other women. I seriously thought that Xander might have been going out with some other women and it was the only reason that he hadn't made a move on her. The little jealousy that ran over Caymen when the magazine cover came out was actually a little cute. i really liked that aspect of the book. I mean you see jealousy in other books but the way that it was brought out in this book was remarkable. Then the fact that Caymen was jealous for no reason was really interesting and fun to read. It really shows that not everything is true from what you read on magazine covers or on the news. Sometimes it comes out of content sometimes.
One of the other small details that I really liked about the book was the fact that Xander would take the first sip of all of Caymen's drinks. I thought that Caymen might have been a little grossed out because of that but she wasn't. You know have couples have their own cute thing they do together? Well, there's is just drinking from one's cup. And I am with you Caymen, I would totally go for a hot chocolate over a regular coffee. And blueberry muffins are so addicting!
The little peck of Stephen King's The Shining was a little cute. The fact that Xander was in the hotel business and never watched the movie was a little funny. Caymen made the comment about REDRUM and I started freaking out because I really enjoyed that movie and book. I liked that Xander hadn't seen the movie so Caymen would get on him was cute. Plus, when Caymen and Skye came to toilet paper Xander's house but they got caught, Xander goes and tells Caymen that they should go and watch The Shining because he bought the movie was really sweet. You could see how much the time spent between them really was making an impact in both of their lives.
This book was written so cute and with such a great sense. You could tell that Kasie West took the time to make sure all the details were in the book, including the names for all of the dolls in the shop. The relationships in the book were so perfectly made and the emotions were brought up a hundred times more than other books. You could feel everything that the characters were going through and you could relate to each of them somehow or another. Such a great, short read that everyone would enjoy! If you are into contemporary reads and want a quick summer read! Overall, a 5 out of 5 stars from me.
Have you read this book? Have you read any of Kasie West's work? What are your thoughts on this book or her other work? What is your favorite contemporary read? What is one aspect that every book needs to have to make it a good book? Let me know your thoughts in the comments!
Happy Reading,