One of my favorite children's books happens to be Lemony Snicket's A Series of Unfortunate Events. I didn't read them until my 8th grade year of school though… When I found out that Netflix was going to be adapting it, I wasn't sure how I felt about it. After watching the show and comparing them to the book, I'm still not 100% sure how I feel. Here, you can read all the feelings I had while I was watching the show – just beware of the spoilers!
Title: A Series of Unfortunate Events
Created By: Mark Hudis and Barry Sonnenfeld
Network: Netflix
Aired: January 13, 2017
Run Time: 42-64 Minutes
After the loss of their parents in a mysterious fire, the three Baudelaire children face trials and tribulations attempting to uncover dark family secrets.
The Book Behind the Madness: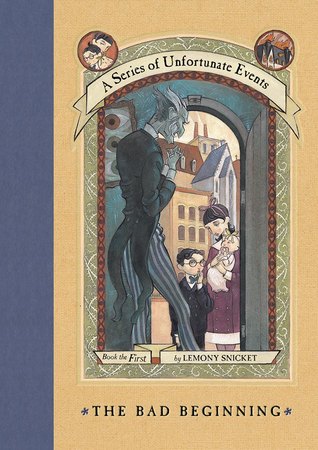 Title: The Bad Beginning
Author: Lemony Snicket
Publisher: Scholastic, Inc.
Released: September 30, 1999
Pages: 179 (Paperback)
Dear Reader,
I'm sorry to say that the book you are holding in your hands is extremely unpleasant. It tells an unhappy tale about three very unlucky children. Even though they are charming and clever, the Baudelaire siblings lead lives filled with misery and woe. From the very first page of this book when the children are at the beach and receive terrible news, continuing on through the entire story, disaster lurks at their heels. One might say they are magnets for misfortune.
In this short book alone, the three youngsters encounter a greedy and repulsive villain, itchy clothing, a disastrous fire, a plot to steal their fortune, and cold porridge for breakfast.
It is my sad duty to write down these unpleasant tales, but there is nothing stopping you from putting this book down at once and reading something happy, if you prefer that sort of thing.
With all due respect,
Lemony Snicket
The Cast:
Neil Patrick Harris as Count Olaf

Patrick Warburton as Lemony Snicket

Malina Weissman as Violet Baudelaire

Louis Hynes as Klaus Baudelaire

Todd Freeman as Arthur Poe

Presley Smith as Sunny Baudelaire

Will Arnett as Father/Mr. Quagmire

Cobie Smulders as Mother/Mrs. Quagmire

Usman Ally as the Hook-Handed Man

Matty Cardarople as the Henchperson of Indeterminate Gender

Cleo King as Eleanora Poe

John DeSantis as the Bald Man

Jacqueline and Joyce Robbins as the White-Faced Women

Sara Canning as Jacquelyn

Joan Cusack as Justice Strauss

Aasif Mandvi as Montgomery "Uncle Monty" Montgomery

Alfre Woodard as Aunt Josephine

Don Johnson as Sir

Catherine O'Hara as Georgina Orwell

Rhys Darby as Charles

Dylan Kingwell as Duncan and Quigley Quagmire

Avi Lake as Isadora Quagmire

Chris Gauthier as Phil
My Review:
I've got to admit it. This is one of the closest adaptions that I have ever seen on the screen. I really enjoyed the books as a series. Yes, I was like 13 and reading a series written for 8 years old, and read like 5 in a day, but I really liked the books. I had my favorites and I had my least favorites. The show actually brought it out to live and I like the premise. I still would have the give the whole season a 3.5 out of 5 for many reasons. Sit down and relax while I explain.
To me, the backgrounds looked so fake. I hope I am not the only one that noticed it. There were several times were I told myself, that has to be a green screen. When they were at the beach, and they were riding that train, that was the worst. It looked way too fake and unrealistic to me. It would have costed a lot to get everything in person, I understand that, but at least make it look realistic. I laughed a few times because of it. Especially the house. The burned down house was the worst. I know they wouldn't have been able to get a house that was burned down but they could have at least made it more realistic. It never happened though 😦
The cast I really enjoyed. I felt like everyone was one big happy family and they worked perfectly together. I LOVE Neil Patrick Harris in the first place. He is awesome and I would love to get one big huge from him. With him being part of the masterminds of the show, I felt like it was better than most. I feel like the producers and the masterminds really thought it out well and they really wanted to make it perfect. 
EACH BOOK GOT TWO EPISODES AND THEY WERE AMAZING! If they made each book into one episode, they would have missed some of the best parts, or the episodes would be really long. The book is way too short to made into a season so I feel like two episodes were great. I really loved the fact they included even some of the little parts of the book. I feel like it was repetitive at times but that was also with the book. I also really enjoyed the fact that they added parts that we didn't get to read in the books. Watching the parents try to get back to their children, and all their journeys was great.
My favorite character from the book was still my favorite in the show. Uncle Morty – I love him. Uncle Morty was so loving, and he cared about these kids like his own. He had been with his rare animals for so long, and his assistant who was killed by Count Olaf, these kids brought another side out of him. I was so excited to see the part where Violet and her siblings get to meet the snake and Sunny plays with the snake. Surprisingly, the snake seemed so real while other things were so fake. Uncle Morty was a great actor, with getting Count Olaf to believe his little act. Uncle Morty screamed guardian out to me and he was the best pick out of the whole thing. Sadly, Count Olaf had to go and kill him so. 
Even though I read the books, I was still sitting on the edge of my seat, wanting to know what happens next. My sister keeps trying to get the truth about this other family out of me but I keep telling her that she needs to go and read the books.
I really liked that they used Neil Patrick Harris' singing to their advantages and the crews ability to edit to their advantage. Neil's little performance in one of the first episodes where he 'marries' Violet was some song. That is my new jam. The editing in the show knew what they were doing. They could have done a little better than what they originally did but it seemed to get better as the episodes progressed. The last two episodes, book 4, is the when Klaus has been brain washed and is hypnotize and he smashed a wood label into Phil's leg. The editing they had to do to make that leg look the way they did was awesome! It was one of my favorite things from the whole entire thing. Klaus' eyes was also pretty cool because of all the pretty colors they used to have spiraling in his eyes. 
During each episode, there was a lot of laughs on either the stupidness of people or something that actually happened. The act that Mr. Poe never suspected all these people trying to kill Violet, Klaus and Sunny was actually Count Olaf – hilarious. One of Count Olaf's actors dresses up as a Nurse when Uncle Morty dies – hilarious. Aunt Josephine's fears – mind blowing. I just really wish I knew more about Justice Strauss. She was only in like two episodes and I rally enjoyed her. I was she was there more, or if the producers added her a little part in the show.
Overall, this was a pretty family friendly show, that everyone will enjoy. I still have to give the show a 3.5 because of a few things (mainly the backgrounds) but most people can over look it. Everyone will find someone to fall in love with and want to know more about. Count Olaf will always keep you guessing. Mr. Poe will keep you coughing – so if you are one of those people who cough when someone else coughs, this is not the show for you. If you just need to find a great show to watch on Netflix, this is the show for you.
Have you watched Season 1 of this show? What did you think about? How close did you think it was to the books? Do you prefer the books or the show? What were your thoughts about the books? Let me know your thoughts in the comments!
Happy Reading,