February is filled with the power of of love. And love is like a drug. My drug just happens to be books! February is filled with so many events for me and I am excited to see how this month goes. Along with everything I have planned this month, there happens to be some books that I also want to put my hands on. Here are 4 books I want to get this month!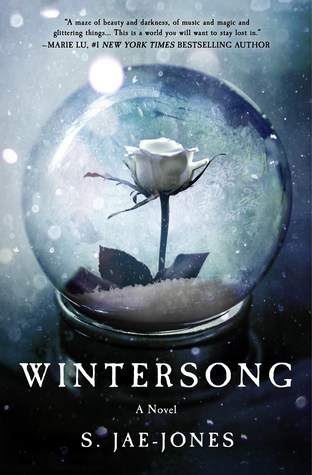 Title: Wintersong
Author: S. Jae Jones
Publisher: Thomas Dunne
Release: February 7, 2017
Pages: 448 (Hardback)
Beware the goblin men and the wares they sell.
All her life, nineteen-year-old Liesl has heard tales of the beautiful, mysterious Goblin King. He is the Lord of Mischief, the Ruler Underground, and the muse around which her music is composed. Yet, as Liesl helps shoulder the burden of running her family's inn, her dreams of composition and childish fancies about the Goblin King must be set aside in favor of more practical concerns.
But when her sister Käthe is taken by the goblins, Liesl journeys to their realm to rescue her sister and return her to the world above. The Goblin King agrees to let Käthe go—for a price. The life of a maiden must be given to the land, in accordance with the old laws. A life for a life, he says. Without sacrifice, nothing good can grow. Without death, there can be no rebirth. In exchange for her sister's freedom, Liesl offers her hand in marriage to the Goblin King. He accepts.
Down in the Underground, Liesl discovers that the Goblin King still inspires her—musically, physically, emotionally. Yet even as her talent blossoms, Liesl's life is slowly fading away, the price she paid for becoming the Goblin King's bride. As the two of them grow closer, they must learn just what it is they are each willing to sacrifice: her life, her music, or the end of the world.
About the Author: S. Jae-Jones, called JJ, is an artist, an adrenaline junkie, and the author of Wintersong, forthcoming from Thomas Dunne in February 2017.
Born and raised in sunny Los Angeles, she lived in New York City for ten years before relocating down to Dixie, where she is comfortably growing fat on grits and barbecue. When not writing, she can be found rock-climbing, skydiving, taking photographs, drawing pictures, and dragging her dog on ridiculously long hikes.
Why I Want to Read This Book: I actually got the chance to meet S. Jae Jones back in October when I went to a Marie Lu book signing. I was hanging out with a few other fans and Marie Lu introduces us to her and tells us about how her book was amazing. Of course I had to go and read about her book and it sounds amazing! I have been looking for a really good fantasy novel and this sounds like the book. Plus, there is goblins in this book. I love me some goblins. I wouldn't mind having one in my backyard, or my closet. The fact that the main character has to go and save her sister from the goblins sounds amazing. It sounds like my cup of tea!
Title: Romeo & What's Her Name

Author: Shani Petroff

Publisher: Swoon Reads

Release: February 7, 2017
Pages: 224 (Paperback)

Understudies never get to perform
. . . which is why being Juliet's understudy in the school's yearly "Evening with Shakespeare" is the perfect role for Emily. She can earn some much-needed extra credit while pursuing her main goal of spending time with Wes, aka Romeo, aka the hottest, nicest guy in school (in her completely unbiased opinion). And she meant to learn her lines, really, it's just:
a) Shakespeare is HARD,
b) Amanda, aka the "real" Juliet, makes her run errands instead of lines, and
c) there's no point because Amanda would never miss the chance to be the star of the show.
Then, Amanda ends up in the hospital and Emily, as the (completely unprepared!) understudy, has to star opposite the guy of her dreams. Oops?
About the Author: Shani Petroff is the author of the YA novels Romeo and What's Her Name (Macmillan/Feb. 2017) and My New Crush Gave to Me (Macmillan/Oct. 2017) and the tween series, Bedeviled (Penguin). She is also the co-author of Ash.
Why I Want to Read This Book: I hate Shakespeare's Romeo and Juliet. The whole thing is just strange and makes absolutely no sense. I am always looking for a chessy read and this looks like the book of the month! Of course the star has to get hurt in some sort of way, causing the main character to take over. I can probably go ahead and tell you the ending of the book even before I read it, but I sometimes enjoy reading stuff like that. Maybe that is why I enjoy watching so many Lifetime Movies…
Title: Lessons in Falling

Author: Diana Gallagher

Publisher: Spencer Hill Press

Release: February 7, 2017
Pages: 250 (Paperback)
When Savannah Gregory blows out her knee – and her shot at a gymnastics scholarship – she decides she's done with the sport forever. Without gymnastics, she has more time for her best friend, Cassie. She's content to let her fun, impulsive best friend plan a memorable senior year.
That is, until Cassie tries to kill herself.
Savannah wants to understand what happened, but Cassie refuses to talk about it and for the first time, Savannah has to find her own way. The only person she can turn to is Marcos, the boy who saved Cassie's life. Being with him makes her see who she could be and what she really wants: gymnastics.
But Cassie doesn't approve of Marcos or of Savannah going back to gymnastics, and the tighter she tries to hold onto Savannah, the farther it pulls them apart. Without Cassie to call the shots, Savannah discovers how capable she is on her own—and that maybe her best friend's been holding her back all along.
About the Author: Though Diana Gallagher be but little, she is fierce. She's also a gymnastics coach, writing professor, and country music aficionado. She holds an MFA from Stony Brook University and writes about flipping-related activity for The Couch Gymnast. Her work has also appeared in The Southampton Review and on a candy cigarette box for SmokeLong Quarterly. She's represented by Tina Wexler of ICM Partners.
Why I Want to Read This Book: I was originally pulled into this book because of the cover. This cover is just beautiful! Of course, you can't always buy a book because of the cover. I read the synopsis of the book and I don't know if it is because I watched so much Pretty Little Liars recently but it reminds me of the time that Emily was on the drugs and she stops herself from swimming. I also have this little thing for reading books with the name Cassie in them for some reason. I have no reason behind it because I have never met a Cassie before but I love the name. It's the strangest thing, I know.
Title: Beautiful Broken Girls

Author: Kim Savage

Publisher: Farrar, Straus and Giroux (BYR)

Release: February 21, 2017

Pages: 336 (Hardback)

Mira and Francesca Cillo—beautiful, overprotected, odd—seemed untouchable. But Ben touched seven parts of Mira: her palm, hair, chest, cheek, lips, throat, and heart. After the sisters drown themselves in the quarry lake, a post-mortem letter from Mira sends Ben on a quest to find notes in the seven places where they touched. Note by note, Ben discovers the mystical secret at the heart of Mira and Francesca's world, and that some things are better left untouched.
About the Author: Kim Savage is the author of the critically acclaimed After the Woods. A former reporter who received her Master's degree with honors in Journalism from Northeastern University, Kim lives north of Boston near the real Middlesex Fells Reservation of After the Woods, and she grew up near a quarry town a lot like the Bismuth of Beautiful Broken Girls, in stores Feb. 21. Kim's third novel with FSG, In Her Skin (2018), is based in Boston's Back Bay, where she has never lived.
Kim and her husband have three children, each of whom beg to appear in her books. They shouldn't.
You can follow Kim on Instagram, Tumblr, Pinterest, and Twitter, and visit her at kimsavage.me. 
Why I Want to Read This Book: Quite honestly, I really don't know why I want to read this book. It sounds really good and it will be on my TBR but I can't point out a single thing that makes me want to read this book it might be the fact that it almost reminds me of Morgan Matson's Since You've Been Gone with the notes and the hunts but that isn't really the real reason of it. I wish I knew. All I know is that I want to read the book!
What books are you looking forward to this month? Is there one on this list that you are excited for? Let me know your thoughts in the comments!
Happy Reading,