I have been posting so many Show Reviews that I feel like I have not done a cute, fun tag recently! I have been also really busy with exams and studying, so well all know how well that goes. I saw this tag on Cristina @ My Tiny Obsessions and I really liked the idea of it. Anyway, make sure that you check out Cristina because she is truly amazing! But, let's get started with this tag! 
What do you like about buying new books?
What isn't there to like about buying new books? Buying new books makes me feel like I am on top of the world. Getting to have the books in my hands, smelling the book (yes, I smell my books because I love the smell of new books) and seeing them nice and pretty on my shelf. I love laying in bed, looking at all my books, knowing that they are mine forever!
How often do you buy new books?
I think I buy new books at least once a week. I am always buying new books, either on e-book or in physical form. For example, I have plans to buy three or four more books today even though I bought three books on Tuesday. Typically I buy them all discount price so I am always getting a good deal. 🙂
Bookstore or online book shopping – Which do you prefer?
I love going to the actual bookstore and buying the book in person. The fact that I can go and examine the book for any flaws makes me really happy, and I can always look for a signed copy in the book. I know there are some really cheap bookstores online and that is were I typically order books. I just don't like waiting for the books to arrive to the house.
Do you have a favorite bookshop?
Nope! I will buy a book either it is a grocery store or a high end books store. A book is a book isn't it?
Do you preorder books?
I have for a few reasons like exclusive copies, signed copies, if I'm going to a signing, or it is a really good deal. The last time I preordered a book was for Lady Midnight by: Cassandra Clare and it did not end well. One of my friends had finished the book by the time that I received the book. 
Do you have a monthly book buying limit?
No. My parents basically buy all my books and they really don't mind because I typically don't ask for much at the store. They don't seem to mind it because the books are usually cheaper books – and my mom typically wants to read them after me. I pitch in occasionally with the book buying so… My theory is, if you have money to spare, why not spend it on a good book. 
Book buying bans – Are they something for you?
Nope. I have tried and failed. It was about March of last year and I wanted to save some money for books so I told myself that I was not going to buy anything for a month or so. I think that I went about a week or two before I bought my first book. I don't know what told me to buy the book. I just needed to have it so I bought it.
How big is your wishlist?
My wishlist is HUGE. I think that every book that comes to your mind in the next minute or two is on mine. Every time I am reading other blogs or looking on Goodreads, I always find a new book I want to buy. I am waiting for someone at my local book store to tell me that I was the 100 customer so I can get all the books that I want. The store might be a little empty. And I would need a few more bookshelves, like 100 more. Maybe a house would be cheaper.
Which three books from your wishlist do you wish to own NOW?
It's so hard to pick just three of them! I think I would have to go with Keegan Allen's life.love.beauty firstly because I have been wanting this book for a while. I love Toby from Pretty Little Liars and I became interesting in the actor that played him. I started to learn more about him and I suddenly had an interest on seeing if he has a book, since most people have a book or they are starting their book. He had a book so I got really interested. I also am really interested in the format of this book and looking at his amazing photography skills because he knows how to use a camera!
Secondly, I would have to buy Rick Yancey's The Last Star. I have been planning on buying this book since the release but I just haven't bought the book yet! This is one of these books that I have been trying to get but stay away from because it is the final book in The 5th Wave series and I am not ready to give that series up! I'm planning on buying it soon though. Who knows how much longer I will be saying that for this time!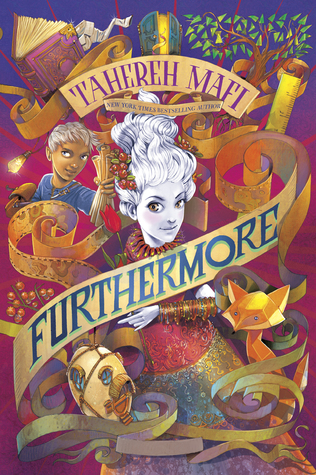 Thirdly, I would love to go and get my hands on Futhermore by: Tahereh Mafi. I love her first book series and I have been dying to read something else of hers. Yes, this is written for middle school kids and younger but when has that stopped me from reading those types of books? This book has me interested in the whole plot and the cover is just so beautiful! I almost bought it on Tuesday but I couldn't beat buying a hardback copy of a book that is typically $21.99 for only $4.99.
I Tag:
I tag anyone who wants to do this tag because it seems like a lot of people have done this tag before! I want to spread the love of books with you all so I am tagging you!
What books are you looking forward on buying soon? What is your favorite thing about buying new books? What would your answers be for this tag? Let me know your thoughts in the comments!
Happy Reading,