I know, I know, I know. I have been watching way too much Pretty Little Liars recently. How can you blame me? When you get addicted to something, you don't want to stop. As soon as I finished season 5, I had no clue what to do. I sort of wanted to go ahead and start season 6 but I didn't want to forget all this emotion that is built up inside of me. Thanks A. Thanks for making me do this and spoil everyone here!
Title: Pretty Little Liars
Created By: I. Marlene King
Network: ABC Family
Aired: June 10, 2014 – March 24, 2015
Run Time: 43 Minutes
Four friends band together against an anonymous foe who threatens to reveal their darkest secrets, while unraveling the mystery of the murder of their best friend.
The Cast:
Troian Bellisario as Spencer Hastings

Ashley Benson as Hanna Marin

Tyler Blackburn as Caleb Rivers

Lucy Hale as Aria Montgomery

Ian Harding as Ezra Fitz

Laura Leighton as Ashley Marin

Shay Mitchell as Emily Fields

Janel Parrish as Mona Vanderwaal

Sasha Pieterse as Alison DiLaurentis

Holly Marie Combs as Ella Montgomery

Keegan Allen as Toby Cavanaugh

Lesley Fera as Veronica Hastings

Lindsey Shaw as Paige McCullers

Roma Maffia as Lieutenant Linda Tanner

Cody Allen Christian as Mike Montgomery

Drew Van Acker as Jason DiLaurentis

Brandon W. Jones as Andrew Campbell

Chloe Bridges as Sydney Driscoll

Miranda Rae Mayo as Talia Mendoza

Torrey DeVitto as Melissa Hastings

Nolan North as Peter Hastings

Brendan Robinson as Lucas Gottesman

Sean Faris as Detective Gabriel Holbrook
My Review:
Hands down the best season premier I had seen the whole entire series. I literally lost it during the first episode. Then I had the same emotions during the season finale. We have the whole thing with Mona hating the guts of the Liars in the first episode, planning on taking down Alison. During the finale, we have the Liars thinking that Mona was dead but in reality "A" took her to this location and now the Liars need to trust Mona on getting out. Who knew this much would change in just one season?
Toby becoming a cop sort of broke my heart in several directions. The whole reasoning behind it – to protect the one thing that he loves the most – was amazing. Who wouldn't want a guy like that? But, with Lt. Tanner, it made it impossible for Spencer and Toby to be together. Have I mentioned to you before that I really love Spencer and Toby together? They literally give me a reason to watch this show. There were several times that I thought that Spencer and Toby were going to be over, especially when Spencer had a moment with Colin and Johnny (who I didn't like). The fact that Toby was willing to risk his job to be with Spencer was just amazing. If there is anyone more caring than Toby, I have no clue.
I still really don't know how I feel about Ezra and Aria. I loved them together in the first season. After everything that has happened with the book, and the huge age gap, I don't know how I feel about that. The fact that Ezra decided that he would jump in front of the Liars in New York and he almost died to save them, I do love that. I also thought that the little accident that he had when Aria and Shana went into his room was a warning but Aria didn't catch on.
Was Shana part of the "A" Team or not? I mean she did show up to the location that Alison was currently hiding at in New York. She came in wearing all black, just like "A" but she never really had any motive. Did Aria kill her just for self defense or was there something else that hasn't been shown.
Alison and I are not getting along like we were last season. I was actually starting to enjoy her but this season, no. Something changed in her and I am not talking about after she was placed in prison for the murder of Mona. Everyone has proof that Alison is not the one that murdered Mona, because she is not dead, but until I found that out, I still thought Alison did it. So who was the one that attacked her? My thoughts have to be CeCe Drake because she is back in town – you see her at Alison's Winter Ball. She must have flown in before hand and attacked Mona that way. Anyway, Alison is just what all the Liars thought she was before the trial and all. Alison is manipulative, aggressive, spoiled, snobby, and everything I hate in a person. I am sort of happy that Alison was placed in prison but what she was doing to Mike killed me.
I think this was the most that Mike has been in a season in the series and I was in love with that. Mike was in love with Mona and you could see how much he loved her. Mike probably would have gotten attacked for her if he had the chance. I actually started to think that Mike could have been "A" because of everything he was doing. His personality changed, his body changed (of course I noticed that, who wouldn't), he was meeting strange people, and he took the blood of Spencer, Aria, and Hannah from the blood drive. Somehow that blood got to "A". How did it get there is my question? Was it Mike that delivered it or was it Cyrus, the person that Alison pretended to be her kidnapper even though she was never kidnapped.
Melissa basically killed a women. Melissa was the one that buried Bethany Young in Alison's back yard. Yes, she was the one that was keeping Spencer safe because she saw her with the shovel and all. Melissa even told her dad this theory and the truth even before Spencer found out and it does not sound right. I really don't understand why Toby's home blew up right after Bethany Young was identified as the dead body instead of Alison. Why was is Toby's house? All of the girls – and Toby, Ezra and Caleb were there – so why not blow that house up if "A" really wanted to kill them? I really want to know the logic behind that.
I talked about this in my last review for Season 4 but I love the themed episodes. I love them way too much. This one had so much passion and love since it was Christmas themed. I sort of got my Christmas gift during the episode and that was watching Alison's arrest. Jason being the one that put her there was even better. I think that Jason was placed in the wrong home. Jason should be with his real father, and NOT Alison's dad. Spencer got out of jail for something that she had no part of. Knowing that Toby and her friends were watching her through the whole thing was something that would have broke me. If I were to get arrested, I would want to do it were no one saw me. I would want no one to see me get arrested. I would be way too embarrassed. The Christmas themed might have also featured Ezra, Caleb and Toby shirtless, and Paige in an undershirt. Literally, what could have been better than this: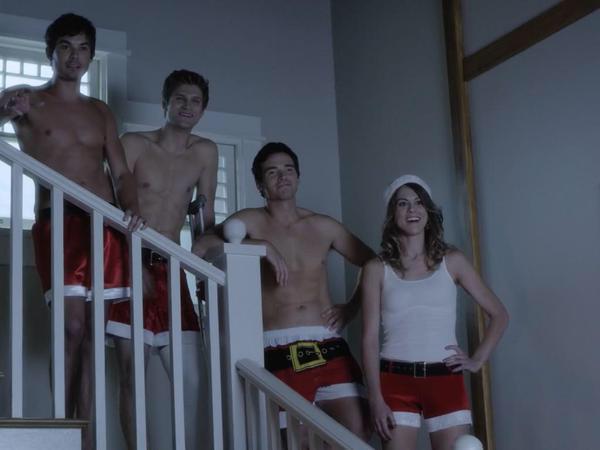 Every season, there are parts of series that makes me like a character more than others. This season was Hanna. With everything that she had to go through. Caleb came back from Ravenswood and he was not the same. Caleb and her turned to drinking and "A" took it to their advantage so they set her up with Zac, who was currently engaged with Ella. Hanna actually was becoming the smart one in the group, which concludes one of the thoughts I had last season. Hanna was getting into so many amazing colleges and it was mind blowing. Spencer wasn't getting into half the schools that Hanna was getting into, which shocked me the most. Hanna then had to deal with the Mona situation, which was a lot worst than what I thought it would be. Hanna then was arrested for being Alison's helper in the murder of Mona. Hanna was not getting out and was really not talking to anyone but her family and Caleb. Well, she talked to Alison in prison but who else was she supposed to talk to then. Now, Hanna along with the others have been taken by "A" and no one can find them. Ashley Benson wins the awards for favorite female actress from me.
Lt. Tanner is hiding something and I know it. Why else would she be making these claims against the Liars and only them. Her little partner should be the one she should be making the claims against but she isn't. She might actually be doing her job but I really don't believe that. Why would she be keeping Toby out of the whole case? Why else would she be telling Toby that he should not be seeing Spencer during the whole thing? Why else is she doing half the things that she is doing now? I am determined to figure out what she is hiding but that might be a while.
The directing, the planning, the plot, everything through the season was really amazing. It still doesn't live up to season 2 and 3 but it is close to it. I would have to give this season a 4.5 out of 5 because of everything through the season. I love how this season was directed and the way it was written, god. It was amazing. It almost feels like they got a new team of writers and directors because there are so many good ideas that are coming out of the whole thing and I love it. I really do want to know what is going on between Spencer and Caleb right now because they should not be getting together yet. They can not yet. You hear me. Don't get me wrong, I really love Caleb too but I don't want to give up on my fantasy of Spencer and Toby yet.
Have you seen this season? How do you feel about knowing that Alison and the new "A", Charles, have connection somehow? Do you have a favorite Liar? Do you even watch Pretty Little Liars? Let me know your thoughts in the comments!
Happy Reading,