Calm down everyone! I know that it is the second day on January but who really cares! I was planning on having a January Anticipated Book Release post but there really wasn't that many books that excited me to write a post about. But I was tagged by the amazing Eve @ Eve Messenger to participate in the Best of 2016 – YA Standalones, Series, Authors, and More so why not do it now! Make sure you go and check out Eve because she is amazing! You will never get bored over there!
Favorite New Author

Catherine Clark. I actually read two of her books back to back and they were amazing. Her writing is so light and easy to read. I would highly recommend this book to any Sarah Dessen or Morgan Matson fan.
Favorite Series
This has to go to Sarah J. Maas A Court of Thorns and Roses. I read the first book in the series a while ago and I really didn't know what I thought about it. I read it just to say I read it. But the second time through, I loved it. This has to be my favorite series ever!
Books So Fun They Felt Like Reading Parties
Everything Everything by: Nicola Yoon
Empire of Storms by: Sarah J. Maas
A Court of Mist and Fury by: Sarah J. Maas
Lady Midnight by: Cassandra Clare
Best World-Building
Every Last Word by: Tamera Ireland Stone
The Murder Complex by: Lindsay Cummings
Throne of Glass by: Sarah J. Maas
Favorite Indie Series
I don't think I read any Indie series. If I did, I don't know it!
Best Female Protagonist
Louisa Clark from Me Before You by: Jojo Moyes
Best Male Protagonist
Simon Lewis from Tales From the Shadowhunter Academy by: Cassandra Clare
Favorite Plot Twist
The Kite Runner by: Khaled Hosseini
Best Cover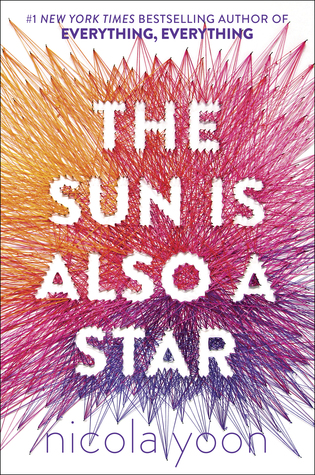 The Sun Is Also A Star by: Nicola Yoon has one of my favorite covers of all time!
Most Devastating Read
Night by: Elie Wiesel
Favorite Audiobook
Didn't listen to any audiobooks this year!
Best Small Press Standalone
Picture Perfect by: Catherine Clark
The #1 Book No One Else Seems to Like But Me
Lady Renegades by: Rachel Hawkins
I know that this was a quick, short tag but I really enjoyed doing this tag! And since 2016 has said its goodbyes, anyone who really wants to do can feel free to do it.
What are you excited to do in 2017? Do you think 2017 will be better than 2016? What book release are you looking forward to this month? Let me know your thoughts in the comments!
Happy Reading,