The final days of 2016 are approaching and it's finally hitting me. 2017 is coming, even if we don't like it. As I begin to think back on everything that I have done this year, why not see all these books I have read this year! I've seen many people do this survey and I really enjoyed reading their answers so make sure you go and check out Deanne and Ari because they are amazing! The tag was created by Jamie @ The Perpetual Page Turner so make sure you go and check her blog out!
---
Number Of Books You Read: 53 Books
Number of Re-Reads: 7
Genre You Read The Most From: Dystopian
Best Book You Read In 2016?
Of course, this has to go to A Court of Mist and Fury by: Sarah J. Maas. Everything that happened in this book made my emotions fly and my boyfriend Rhysand was in it. But this book made me go through an emotional roller coaster and never allowed me to but the book down.
Book You Were Excited About & Thought You Were Going To Love More But Didn't?
Illuminae by: Amie Kaufman and Jack Kristoff. I was really excited to dive into this book because everyone talks about how amazing this book was. I really didn't see what was so great with the book.
Most surprising (in a good way or bad way) book you read?  
Anne and Henry by: Dawn Ius. Why would someone want to publish this book? Why, just why?
Book You "Pushed" The Most People To Read (And They Did)?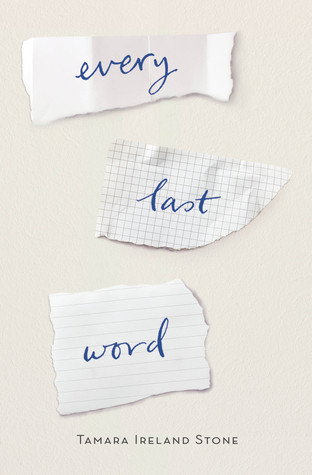 At least to my friends, I told them about my love of the book Every Last Word by: Tamera Ireland Stone. This book was way to amazing not to tell my friends about. I think most of my friends who really like to read got their hands on the book and they all loved it!
Best series you started in 2016? Best Sequel of 2016? Best Series Ender of 2016?
Best Series Started in 2016
I started the series Boy's Don't Knit series by: T.S. Easton and I really enjoyed reading the book. I'm pretty sure that there is a second book in the series and I am really interested in knowing what happens next.
Best Sequel of 2016
Here we go again with A Court of Mist and Fury by: Sarah J. Maas. This book was better than A Court Of Thorns and Roses and had such amazingness inside of it. Nothing will top this book this year.
Best Series Ender of 2016
Lady Renegades by: Rachel Hawkins. Such a beautiful way to end the story of Harper Price and rip everything I had inside of me. One of my favorite series I have ever read.
Favorite new author you discovered in 2016?
Catherine Clark. I actually read two of her books back to back and they were amazing. Her writing is so light and easy to read. I would highly recommend this book to any Sarah Dessen or Morgan Matson fan.
Best book from a genre you don't typically read/was out of your comfort zone?
You're probably getting tired of me talking about this book as well but Night by: Elie Wiesel. I'm not a fan of memoirs at all but something about this book was beautiful. Everything I ever thought was true, I had to second guess it. This book moved me to tears. 
Most action-packed/thrilling/unputdownable book of the year?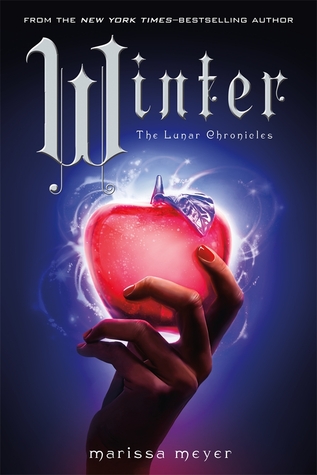 Winter by: Marissa Meyer. That one scene that erupted near the end of the book made me cling onto the edge of my seat and I didn't want to put the book down. 
Book You Read In 2016 That You Are Most Likely To Re-Read Next Year?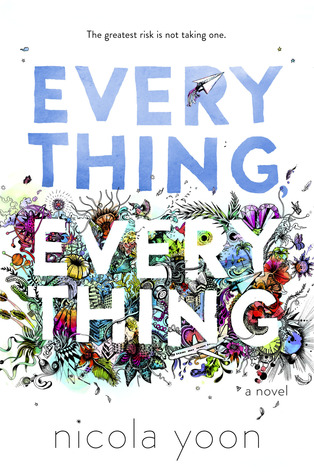 Everything Everything by: Nicola Yoon. This book was beautiful. Written to perfection with such a great story line to it. Hands down, one of my favorites of all time. 
Favorite cover of a book you read in 2016?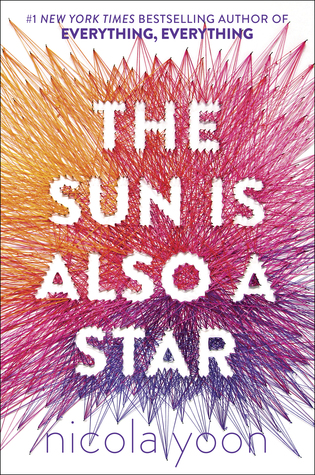 Even though I didn't care for the book, The Sun Is Also A Star by: Nicola Yoon has to be one of my favorite covers of 2016. The colors, the design, everything about the cover is my favorite.
Most memorable character of 2016?
Simon Lewis from Tales From The Shadowhunter Academy by: Cassandra Clare. Simon's journey through the Academy was very adventurers and life threatening. He had to go through the roughest things just to get the girl of his dreams – Isabelle Lightwood. 
Most beautifully written book read in 2016?
Room by: Emma Donoghue. Never in a million years did I think that I would enjoy a book like this. This book had everything that I need in a book – a great plot, great characters, emotional rollercoaster, and had a small case of humor throughout the book.
Most Thought-Provoking/Life-Changing Book of 2016?
I have to go back to this book because this book made me think about everything. Night by: Elie Wiesel gets this award as well. Such a great book.
Book you can't believe you waited UNTIL 2016 to finally read?
Of Mice and Men by: John Steinbeck. I had to read this book my 9th grade year for English and I did not think I was going to like the book at all. After everything that happened with Lennie and how George and the others treated him, I wanted to sit there and cry. I can't believe it took me this long to pick up this book!
Favorite Passage/Quote From A Book You Read In 2016?
"For you, a thousand times over" – The Kite Runner by: Khaled Hosseini
Shortest & Longest Book You Read In 2016?
Book That Shocked You The Most
The Boy In The Striped Pajamas by: John Boyne. I was shocked that I didn't like the book even more than what I thought I would. Everything that I heard about this book and I was left very disappointed in the book.
OTP OF THE YEAR (you will go down with this ship!)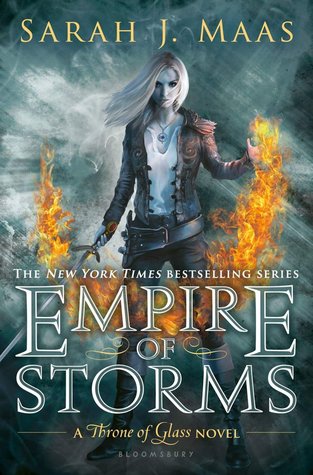 Rowan and Aelin from Empire of Storms by: Sarah J. Maas. After everything that these two have gone through, nothing could beat them. Especially at the ending of EOS, which totally broke my heart!
Favorite Non-Romantic Relationship Of The Year
Dorian and Chaol from the Throne of Glass series by: Sarah J. Maas. Dorian would do anything for Chaol and Chaol would do anything for Dorian.
Favorite Book You Read in 2016 From An Author You've Read Previously
Lady Midnight by: Cassandra Clare. I loved this book way too much. I have loved every single installment from The Shadowhunter Chronicles and this book lived up to the other books in the series. I just really need the second book in the series in my hands right now!
Best Book You Read In 2016 That You Read Based SOLELY On A Recommendation From Somebody Else/Peer Pressure
Panic by: Lauren Oliver. This was the book that we had to read this year for my school's book club. I haven't always been a big fan of Lauren Oliver's so I really wasn't looking forward to reading the book. I actually enjoyed reading this one of her books compared to her other books.
Newest fictional crush from a book you read in 2016?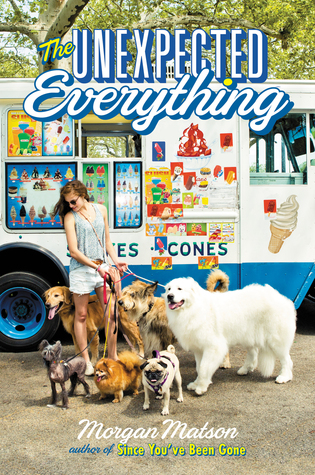 Clark from The Unexpected Everything by: Morgan Matson. Clark was such a great guy and an amazing author. Clark was one of the sweetest guys I have read all year.
Best 2016 debut you read?
I can't just break this down into one book. I have several of them and Surviving High School by: Lele Pons and Melissa de la Cruz has to be one of them. Something about this book made me laugh the whole entire time, which who doesn't love a book like that!?
Best Worldbuilding/Most Vivid Setting You Read This Year?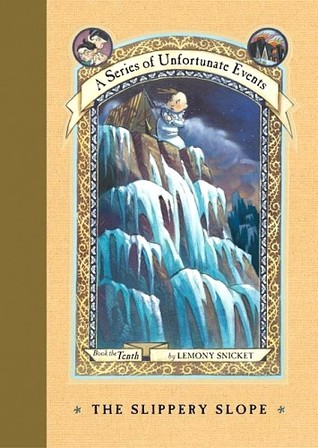 There was one part in Lemony Snicket's The Slippery Slope that just came to me. When the Baudelaire kids are sliding down the slope to get away from Count Olaf was so vivid. Had to be one of my favorite parts in the whole series.
Book That Put A Smile On Your Face/Was The Most FUN To Read?
This Is Where I Leave You by: Jonathan Tropper left a smile on my face the whole entire time. There were a few moments were I wanted to throw the book against the wall, but what book don't I want to do that with. This book was hilarious and one of my favorites of the year.
Book That Made You Cry Or Nearly Cry in 2016?
Dear John by: Nicholas Sparks actually made me cry. Any Nicholas Sparks book makes me cry. Something about the whole medical illness and everything that John does to help is amazing.
Hidden Gem Of The Year?
Catherine Clark's Wish You Were Here was a book I enjoyed that many people haven't read. This book was a light and quick read!
Book That Crushed Your Soul?
Silence by: Becca Fitzpatrick completely destroyed me. I have read every book in this series in less than a day, forcing me to stay up until 3 or 4 in the morning, which I am totally okay with. With everything that happened in this book, I died a little inside.
Most Unique Book You Read In 2016?
A History of Notable Shadowhunters & Denizens of Downworld by: Cassandra Clare had to be the most unique read of 2016. This book is a book but at the same time it isn't. The book is filled with illustrations of all the characters that Cassandra Clare has came up with and it is beautiful.

Book That Made You The Most Mad (doesn't necessarily mean you didn't like it)?
Shrimp by: Rachel Cohn made me the most mad. The book wasn't really my type and it was written really weird that I really didn't like.
New favorite book blog you discovered in 2016?
There are so many! I have found so many amazing book blogs this year but I think I have to go with TeacherofYA because she leaves the best comments and has the best reviews that always puts a smile on my face. Don't get me wrong though, there are so many other amazing book blogs out there that I love!
Favorite review that you wrote in 2016?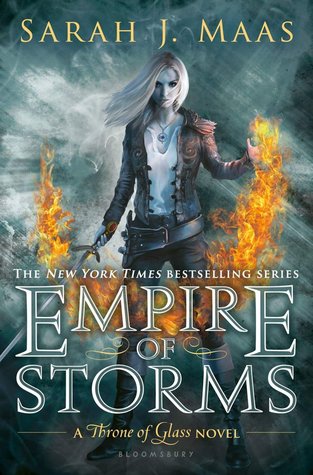 I probably have to go with Empire of Storms by: Sarah J. Maas. I had so much fun writing that post and I may or may not go and read it on occasion for fun…
Best discussion/non-review post you had on your blog?
Miss Peregrine's Home for Peculiar Children Movie Trailer Reaction. This had to be one of my favorites to write. 
Best event that you participated in (author signings, festivals, virtual events, memes, etc.)?
Back in October, I got the chance to go and meet Marie Lu during her The Midnight Star book tour. I had such a great time going there and getting to meet her.
Best moment of bookish/blogging life in 2016?
Getting the chance to get on every day and reading what other people are reading. Every day I go and find myself another book I really want to read. I love going and reading all the comments that people leave on my post.
Most challenging thing about blogging or your reading life this year?
I was in a reading slump for most of the year. When you are in a reading slump, it is a little hard to have a blog about books.
Most Popular Post This Year On Your Blog (whether it be by comments or views)?
I'm actually shocked to say that it was my review of Nicola Yoon's Everything Everything. I don't blame it though. I think it is a good review and all.
Post You Wished Got A Little More Love?
That post has to be my review of HBO's TV Show True Blood. I spent forever and I was hoping for a better reaction than what it got.

Best bookish discover (book related sites, book stores, etc.)?
I found this really amazing book store in Raleigh, North Carolina that's called Quail Ridge Books. It's a really cute, warm, independent book store that has to be my new favorite book store ever.
Did you complete any reading challenges or goals that you had set for yourself at the beginning of this year?
Nope. I didn't even finish my Goodreads goal and it was only for 60 books. That's saying something for me.
One Book You Didn't Get To In 2015 But Will Be Your Number 1 Priority in 2017?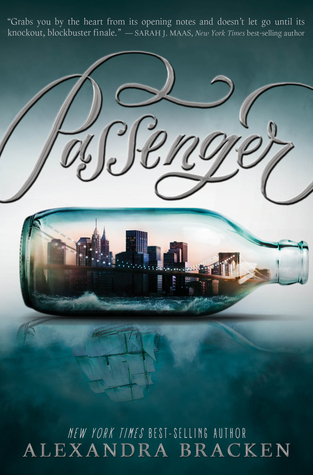 I never got the chance to read Passengers by: Alexandra Bracken and I really want to read this book before the other book comes out in early 2017.

 Book You Are Most Anticipating For 2017 (non-debut)?
 A Court of Wings and Ruin by: Sarah J. Maas is a book I want in my hands right now. After everything that happened in A Court of Mist and Fury, I just need to know what happens next.

2017 Debut You Are Most Anticipating?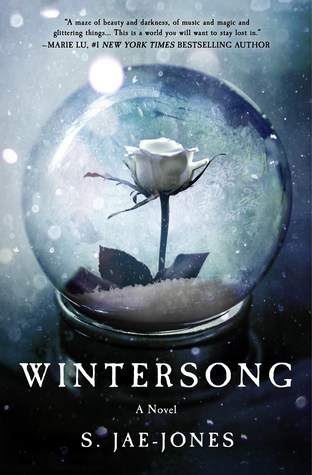 S. Jae Jones' Wintersong. This book sounds absolutely amazing and she is one of the nicest people I have meet. I'm really excited to read this book.

 Series Ending/A Sequel You Are Most Anticipating in 2017?
Here we are with another Sarah J. Maas book but I am so excited to read the final book in the Throne of Glass series. I need to know what happens because the ending of Empire of Storms killed me. It. Killed. Me. 

One Thing You Hope To Accomplish Or Do In Your Reading/Blogging Life In 2017?
I really hope that I can produce more book reviews for you all. I feel like I have done a million book tags and if I write another tag, I will loose my mind. I really enjoy writing book reviews so I hope that I get the chance to write more of them.

How was your 2016? What would your answers be for this tag? What are you currently reading right now? Let me know your thoughts in the comments!
Happy Reading,