The Christmas Countdown is ticking away. There are 8 days til Christmas. Only 8. That is insane! Since the school year is slowing down for 2016, I have been getting more and more time to read during the day. Last month, I bought Nicola Yoon's newest book, The Sun Is Also A Star, and I finally finished it. I really wasn't as a big of a fan of this one as I was Everything Everything but that might just be me. Beware of spoilers ahead because it might be under the Christmas tree for you if you haven't read it! (*Looks at the Christmas tree ahead of herself*)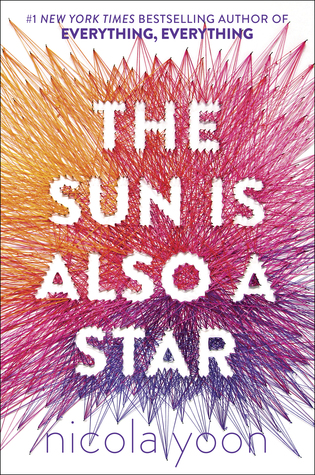 Title: The Sun Is Also A Star
Author: Nicola Yoon
Publisher: Delacorte Press
Release: November 1, 2016
Pages: 384 (Hardback)
Natasha: I'm a girl who believes in science and facts. Not fate. Not destiny. Or dreams that will never come true. I'm definitely not the kind of girl who meets a cute boy on a crowded New York City street and falls in love with him. Not when my family is twelve hours away from being deported to Jamaica. Falling in love with him won't be my story.
Daniel: I've always been the good son, the good student, living up to my parents' high expectations. Never the poet. Or the dreamer. But when I see her, I forget about all that. Something about Natasha makes me think that fate has something much more extraordinary in store—for both of us.
The Universe: Every moment in our lives has brought us to this single moment. A million futures lie before us. Which one will come true?
About the Author:
I believe in love. Really, truly.

I'm kind of a hopeless romantic.

I'm a proud member of the We Need Diverse Books team.

In a former life I made jewelry. You can see some of it here.

I love Karoake, but I cannot sing. I. Am. The. Worst. My song of choice is "Making Love out of Nothing at all" by Air Supply, because AIR SUPPLY.

My husband makes custom notebooks. They are pretty popular.

I hand write my first drafts.

I keep all the empty pens.

I was (am and always will be) a late bloomer.

In a former life I was French. I could live entirely on wine & cheese.

Or maybe Korean because I could live on Kimchi  & Galbi too.
Nicola Yoon grew up in Jamaica (the island) and Brooklyn (part of Long Island). She currently resides in Los Angeles, CA with her husband and daughter, both of whom she loves beyond all reason. Everything, Everything is her first novel.
My Review:
I can't help but compare this book to Everything Everything. That has to be one of my favorite books of all time and it is amazing. Hands down, one of the best books of 2016, but you know that already. The whole time I was reading this book, I was sort of hoping Nicola Yoon would pull a Sarah Dessen or Morgan Matson: Bring in characters from their other books and put them in this one. Not once did this happen and I really hoped that it would. I loved Maddy and Olly and I wished that somehow they would be seen on the streets or in the Korean Restaurant.
I really never cared for Natasha. I never really cared for Daniel. I never cared about any of the characters that much but the women that Natasha saved the life. Natasha was annoying and she was a little cocky for me. She was so determined to stay in America and was so determined that her dad hated her that it made me like her less. She obsessed about the littlest things that I really like. She was said to be a really smart, brilliant girl but I really never saw that in her. The only time I really saw that happen is when she went back to Jamaica and had to go back to school. Daniel was also really obsessive and annoying to me. For Daniel, we have to add that he is a little scared and stalkerish. The whole scene of him following Natasha and trying to get her to notice him was really annoying. Reading those scene sort of made me feel dirty and almost made me quit reading the book. It took Daniel almost the whole entire book to stand up for himself when it came to Charlie. Charlie was his older brother so I understand he was a little scared of him but don't let him go and insult Natasha like he did. Yes, Daniel's whole family was racist and all but don't insult her the way that he did. The woman at the airport check system was hands down my favorite character. Her story was beautifully developed and the fact that music changed her life, and stopped her from killing herself was something that spoke to me in bold letters. I wanted to jump into the book and give her a big hug. And the fact that after ten plus years, she still remembered Natasha was something that I loved.
I did not like how the book flowed. The book somehow managed to be in the time period, then it was go to the past, and then manage to go into the future in the same chapter. The whole book, everything but the last chapter happened in the same exact day and I really hate books like that. The only other book that I think is like that is Where She Went by: Gayle Forman and I really didn't like that. The chapters felt spread out and really filled with stupid stuff. I wished the book would have had a little more structure than what it had.
Even though I really didn't care for the book, I did have a favorite part of the book, like any book. There was one part in the book that Daniel and Natasha go on a little date to a Korean Restaurant and went to go sing Karaoke next door. The waitress goes and tells Daniel that he should go and teach his girlfriend how to use chopsticks when she asked for a fork. I'm not really a big fan of reading about people eating so that is one thing I hated about this part in the book. The karaoke place was the best part in the whole entire book. Daniel receiving the 98% and Natasha getting the 89%. The fact that Daniel and Natasha started to make out in the chapter and sort of got together in this part of the book was the best part. But the fact that sex was running through their minds and the chapters only included about 20 words killed it for me. Of course a waitress had to walk in while they were doing it as well. I really liked that part of the book.
Throughout the whole entire book, I had a feeling that the man that almost killed Natasha was going to have a bigger part in the book than what Nicola Yoon put out. I don't quite remember if the book goes out and says that it is the same person that hit Attorney Fitzpatrick as Natasha but I take it as the same person. Of course I was right because the Attorney ended up 'helping' Natasha with the the deportation and Daniel with the Yale interview. I also didn't like him as well basically because he was stuck up, cared about himself a little more than anyone else, he was cheating on his wife, and he hooked up with his paralegal and broke her heart at the same time. The attorney was a heart breaker, not someone who should be making their heart better.
Overall, I would have to give this book a 3 out of 5. There were parts of the book that I really liked and it cured my wanting of a chessy romance YA book. I have the feeling that if I didn't love Everything Everything so much and I wasn't comparing this book to the other book I would have liked it. The whole plot and the background was a great idea but I feel like it wasn't developed enough.
Have you read this book? What did you think about it? Do you prefer Everything Everything over The Sun Is Also A Star? What are your thoughts on Nicola Yoon? Let me know your thoughts in the comments!
Happy Reading,