Since it is Christmas time, I decided that I would take the opportunity to do a Christmas book tag! Hopefully this will get you in the Christmas mood if you aren't yet! But anyway, I saw this tag over on Aoife at Pretty Purple Polka Dots so make sure you go and check her blog out. It is amazing! Let's get on with the tag.
You're a Mean One, Mr. Grinch
Name a villainous character you can't help but love to hate
Draco Malfoy from The Harry Potter Series. Draco was the villain throughout the series and he treated Harry terribly as well. Draco's actions through it all were quite amazingly hilarious and it made me love him even more. It didn't help when they had someone like Tom Felton play him!
All I Want For Christmas Is You
What book do you most want to find under your Christmas tree this year?
I don't think that you would consider this a book but it sort of is. But I really want to find the Throne of Glass Coloring Book! I actually already know that it is under the tree because I know it is under the tree already since I was there when my parents bought it. Is that cheating? I'm just so excited to get my color pencils out and color it!
Rudolph the Red-Nosed Reindeer
Name a favorite character that had to overcome a major obstacle.  Why are they your favorite?
Maddy from Everything Everything by: Nicola Yoon. Beware of Spoilers!
Maddy grew up inside of a bubble, literally. She was never able to leave her house and if she did, she would die because she always thought she had SCID. Well, it turns out that she never had SCID at all. Her mom has been keeping her locked up because of an accident her dad and brother were in. Maddy had to overcome what she thought was reality but what was reality. Maddy overcame thing I knew thought she could do.
Santa Claus Is Coming To Town
Which characters do you think are at the top of Santa's "nice" and "naughty" list?
Nice: Louisa Clark from Me Before You by: Jojo Moyes. Louisa put everyone else before herself in the book. She always made sure that Will was well taken care of before she cared about herself. All the money she made went to her parents since they were unable to keep up with the payments. Louisa never really never took a second to make sure she was well cared for. Louisa did things to make other people happy. She always put herself second and that was something that I really loved about her. With everything that Louisa did for others, she is totally on the nice list this year. 
Naughty: Arobynn Hamel from The Throne of Glass Series by: Sarah J. Maas. Arobynn was evil! Arobynn had his favorites and didn't care about anyone else. Arobynn was twisted and he had a way to get under everyone's skin and it actually quite scared me. Arobynn wanted things done his way and wouldn't take it any other way. He would beat them and torture them when it wasn't his way. He never liked to be wrong and he loved to be greedy. I swear he had millions of dollars (gold coins) coming from some magic money tree because he spent millions on Celaena I swear. He treated Sam terribly and I wanted him dead! Does that make me go on the naughty list? Santa, I can explain…
Frosty the Snowman
What book just melts your heart?
Second Chance Summer by: Morgan Matson melts my heart. This book follows a topic that most books won't even bother discussing. The book follows Taylor Edwards, who dad can die any day now because of cancer. Taylor and her family is back at their beach house for the very last time and she wants to make it the best. When a few things comes in her way, Taylor has a solution. The book is written beautifully and has such a powerful message!
Feliz Navidad
Your favorite book that takes place in a country other than you own
Night by: Elie Wiesel actually takes place in Germany during WW2. Elie describes everything that happened to him and his family during the Holocaust and it totally opened my eyes to a totally different light.
It's the Most Wonderful Time of the Year
What book do you read to get in the Christmas spirit?
If I am going to be totally honest with you, there really insist a book that put me in the Christmas Spirit. There are books that get me in the Christmas Feeling but that really doesn't last that long. But, I'm going to sound like a big band nerd but whenever our band teacher hands us out our Christmas music, I get in the Christmas Spirit. Yes, she hands it out at the end of October but something about playing the songs is magical. It is almost like Christmas is talking to me and telling me that I can do it.
Sleigh Ride
What character would you most want to spend the holiday with?
Probably Isabelle and Alec Lightwood from The Mortal Instruments by: Cassandra Clare. Izzy and Alec's family is so tight (it would have to be with Max) and they would invite Jace and so many more people. It would feel like a big party and more than likely have amazing food, as long at Izzy doesn't do the cooking!
Baby It's Cold Outside
What book do you hate so much you'd sacrifice it to the fire to stay warm?
Of course, An Ember In The Ashes by: Sabaa Tahir is the book I would sacrifice. I really never got into the plot and really never understood anything that happened. The character were great and all but I really never like it. I never like anything that happened in the book and it was really hard to keep up with everything in the book.
Do You Hear What I Hear?
What book would you recommend to everyone?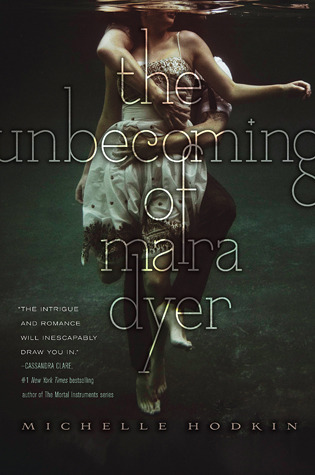 The Unbecoming Mara Dyer by: Michelle Hodkin. This book is amazing! I read all three books in the trilogy in three days because I never wanted to put it down. The writing is beautiful, the characters are developed amazingly and such a great plot. If you haven't read these books before, you have to pick them up soon!
That's the tag! Since it is Christmas Time and I want to spread the Christmas Joy and Love, I tag all of you to do this tag! It is a lot of fun to do!
What would your answers be? What books on this tag have you read? How did you feel about it? Let me know your thoughts in the comments!
Happy Reading,