Just a random thought I had when I was starting off typing this post: Is anyone else counting down til Christmas? I know I am because I LOVE Christmas. Also, how do you determine your countdown? Because if you ask me, there is only 23 days til Christmas but in reality, there is still 24. Does that make sense or am I just going insane? Anyway, moving away from Christmas, I finally finished reading all of Sarah J. Maas' books and now I have no idea what to do with myself. But I should warn you know: Beware of spoilers for the whole entire series. If you would like to check out my other reviews for the series, you can do so, as long as you are fine with spoiling yourself! Well, what am I waiting for? Let's get on with the review!
Throne of Glass
Crown of Midnight
Heir of Fire
Queen of Shadows
Empire of Storms
---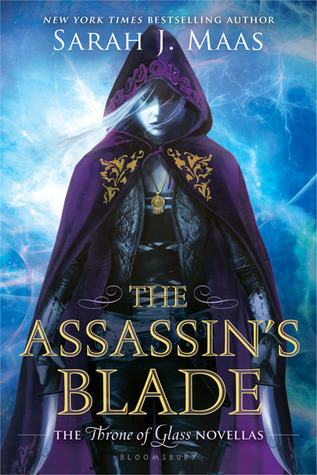 Title: The Assassin's Blade
Author: Sarah J. Maas
Publisher: Bloomsbury
Released: March 4, 2014
Pages: 435 (Paperback)
Celaena Sardothien is Adarlan's most feared assassin. As part of the Assassin's Guild, her allegiance is to her master, Arobynn Hamel, yet Celaena listens to no one and trusts only her fellow killer-for-hire, Sam. In these action-packed novellas – together in one edition for the first time – Celaena embarks on five daring missions. They take her from remote islands to hostile deserts, where she fights to liberate slaves and seeks to avenge the tyrannous. But she is acting against Arobynn's orders and could suffer an unimaginable punishment for such treachery. Will Celaena ever be truly free? Explore the dark underworld of this kick-ass heroine to find out.
About the Author: Sarah J. Maas is the #1 New York Times bestselling author of the Throne of Glass series and A Court of Thorns and Roses series, as well as a USA Today and international bestselling author. Sarah wrote the first incarnation of the Throne of Glass series when she was just sixteen, and it has now sold in thirty-five languages. A New York native, Sarah currently lives in Pennsylvania with her husband and dog. Empire of Storms, the fifth Throne of Glass novel, is available now. She graduated Magna Cum Laude from Hamilton College in 2008 with a degree in Creative Writing and a minor in Religious Studies. Sarah lives in Bucks County, PA, and over the years, she has developed an unhealthy appreciation for Disney movies and bad pop music. She adores fairy tales and ballet, drinks too much tea, and watches an ungodly amount of TV. When she's not busy writing, she can be found exploring the historic and beautiful Pennsylvania countryside with her husband and canine companion.
My Review:
The Assassin's Blade contains the five novellas that are currently out for The Throne of Glass series, which is amazing! Instead of sitting here and talking about the whole entire book in a whole the whole time, I thought I would review each novella. I'll still give my overall thoughts on the whole book once I am done, don't worry!
The Assassin and the Pirate Lord: 4.5 out of 5 Stars



While I was reading Empire of Storms, I briefly remembered the first time that Aelin (who is Celaena in this book) meet with the Pirate Lord. I couldn't tell you why or anything but I remembered they left on bad terms.
One of my favorite things in the whole entire novella is the whole situation with Rolfe and Celaena sitting in his chair. I was laughing the whole entire time. Celaena was over there, having a full on conversation and the only thing that Rolfe was saying was, "Get out of my seat." I was reading that whole thing in class and it was so hard to stop myself from bursting out laughing.
This is one of the first times that Sam is really in the plot as a main character. Yes, in the series Sam is talked about a lot. Celaena refers to him a lot and calls him her first true love. While I was reading the series, I always envisioned Sam being a character that I would hate but grow to love, like Manon Blackbeak. Nope. Sam was one of my favorite characters in the whole entire book. He was always like Celaena's big brother: always looking out for her and making sure that she is never getting hurt. During the whole situation with the slaves, Sam wanted to know everything Celaena was doing, at all times and that was something I really enjoyed about Sam.
Arobynn Hamel. What to say about him other than he is obsessed with Celaena. If it was up to him, I swear he would go out with her and probably marry her if he could. Arobynn was one of those characters that I wanted to die, but I knew that wasn't going to happen since he dies in Queen of Shadows. The way he treated Sam is just so heartbreaking and made me want to kill him myself!
The Assassin and the Healer: 3.8 out of 5 Stars



Quite honestly, I felt like this novella was put into the plot to add a little more story after Sam and Celaena returns back from Skulls Bay and Celaena is on her way to the Red Desert. The story was good and all but I really don't see the need for it.
Firstly, you never see the one character, the Healer. The Healer works at this one bar that Celaena decides to stop at. That night, the bar seems to get attacked and Celaena saves the Healer. The Healer pleads to Celaena that she wants to make her better since she is a healer and all. Celaena, being too stuck up keeps saying no but after talking to the Healer for some time, she agrees.
The story wasn't bad, I actually liked it some, but I wish it came into play with the whole novella a little better. I wish that the Healer came back into the novella a little more. This might sound a little weird but I was actually starting to like the Healer when her story ended.
The Assassin and the Desert: 5 out of 5 Stars



One of my two favorites out of the whole entire collection. In Empire of Storms, a character named Ansel comes into the plot and her and Aelin have this thing about it was 21 seconds and not 20 seconds. I was so confused about that whole entire situation because I don't even remember reading about Ansel before the second time reading this book. But somehow I found this one being one of my favorites.
The only way Celaena can go back to Arobynn is if she gets a letter of approval, in such a matter, from the Mute Master or whatever you want to call him. I never even liked the Mute Master, even if he is supposed to be the 'King' of the land. Celaena finds this girl named Ansel when she first arrives and I noticed something different in Ansel from the rest.
Ansel was one of those characters who I liked but at the same time didn't like – almost like Elide in Queen of Shadows for me. Ansel pushed Celaena incredibly hard during workouts and Ansel always had an answer for everything. One Celaena got the chance to work with the Mute Master, Ansel sort of changed and I like to think that she was forced to make that change.
Ansel and Celaena get into this huge fight near the end of the book, which actually ends up with Ansel poisoning Celaena. Ansel wanted to get Celaena out of the Red Desert, tricking her into thinking the Mute Master wrote her approval and was sending her back to Arobynn. Celaena realizes the whole thing and goes back to find Ansel along with the rebels, killing everyone. She finds the Mute Master hurt along with his kid. Celaena and Ansel get into a whole fight and that's when I understood the whole thing with 20 and 21. Instead of trying to shoot Ansel at 20 minutes, Celaena gives her 21 minutes and she lives.
The Assassin and the Underworld: 5 out of 5 Stars



This was one of my other favorites in the whole entire novella collection. Sam was there and I'm bawling my eyes out the whole entire time, even though I wanted to throw the book against the wall.
Celaena is back home and we get to meet Lysandra as a young adult. Sam is sort of with Lysandra but the whole time he wants to be with Celaena. Lysandra is stuck up and actually pretty annoying, quite opposite from what she is in Queen of Shadows and Empire of Storms.
I was so excited whenever I read that Sam and Celaena were together. Sam saved her life a few times because Celaena was pretty stubborn the whole entire book in reality. Sam finally confessed his love of Celaena in the book, telling her that he has been in love with her for a while now. Celaena reveals to him that she is in love with him as well and they become a couple.
If you know me, you know that I am full on TEAM ROWAN. But comparing Sam to Dorian and Chaol, I pick Sam. Sam has all the qualities a good boyfriend needs. But comparing Sam and Rowan, I would still have to go with Rowan. Enough with Rowan…
Celaena had to be sent to kill this guy who actually relates to the first novella in the book: slaves. This guy has been working with the King to get slaves to be spread through the continent and his wife wants him killed. Celaena is hired to kill him, and Sam tries to talk her out of the whole thing. Celaena ends up doing it and I almost cried in it.
Celaena is back to being her own self – being a free person and playing the piano, or as the book says, pianoforte. Celaena is back in the apartment they live in during Queen of Shadows and she has paid her way out of Arobynn's control. Even though Celaena is gone, Arobynn tries to get her back. He bribes her with gifts, including piano sheet music to the show they saw the other day. I love the fact that she is back at the piano because it is one of my favorite instruments, to play and listen too.
This novella also included my favorite quote in the whole entire book. Celaena was dancing and this guy comes up to her. Sam tries to stop him but it really doesn't work. He ask about Celaena's name and she says the following:
The Assassin and the Empire: 4.5 out of 5 Stars
The only thing I didn't like about this book is Sam's death. I hated how Sam died. I knew it was happening, but I didn't know where. But I loved this novella. I loved it. It was such a great way to introduce how Celaena actually ended up in the mines and how the King found out about her. It was a great chance to know Celaena before she ended up in the Throne of Glass.
Arobynn was different in this book, at least to me. I like to think that it was because of Lysandra but I don't know how that would work out. Lysandra was a lot younger than he was, but I guess he wanted Celaena and now he has his replacement.
The whole book is based off the idea that Sam and Celaena want to leave the Guild and the lives they have now. Neither of them can get a job because of Arobynn and the only thing Sam is doing is fighting in the Vaults, which can be pretty scary.
Sam finds work to kill two of the most dangerous people there. Of course Celaena wants to help him but she tells her she can not help with them, at least the first death. She could kill the 'top master'.
Waiting for Sam to come home was the worst thing I had read in a while. I felt like I was pacing back and forth with Celaena. It was terrible. Then having to find Arobynn breaking into your house twice, but then the next day trying to protect you is hard. And the fact that Sam is now dead and all Celaena was thinking about was the lavender soap was terrible. I wanted to sit there and cry, but I wasn't going to look like a fool during my Adobe class.
Celaena, of course, wants revenge and tries to kill both of the men herself but she is only able to get one of them. Ferran catches her and takes her. Because someone betrayed her. Someone told him about her. The King of Adarlan decides to not kill her, but to put her in the mines. That only gets me to think that the reason he didn't kill her is because he knew what he wanted to do with her during Throne of Glass. He knew about her but didn't want to say something.
All Five Novella: 4.5 out of 5
Overall, I would have to say the book was amazing. I had all these thoughts while I was reading the series, the first time and the second time, that this book was able to clarify. I was able to fit the pieces in and it all made sense. The novella basically followed each other and had such a great fit with each other. All of them had great writing and I wanted to never stop reading, even though I had to. Stupid school.
I would recommend you reading this book between Heir of Fire and Queen of Shadows. Reading it after will probably make you confused about a few things, like I was. You could read this book before you read Throne of Glass but you might be a little confused as well.
(Now I have the Hamilton lyric stuck in my head: Raise a glass for the four of us)
Have you read the Throne of Glass series? Have you read anything by Sarah J. Maas before? What is your favorite novella if you have read these? What is your favorite novella of all time? Let me know your thoughts in the comments!
Happy Reading,