Happy December 1st! It's the last month of the year, which means 2017 is right around the corner with Christmas holding it's hand. As Christmas comes, new books just happen to be released as well! Here are some books I want that come out this month.
Title: A Step Toward Falling
Author: Cammie McGovern
Released: December 20, 2016
Publisher: HarperCollins Publisher
Pages: 384 (Reprint)
Cammie McGovern follows up her breakout young adult debut, Say What You Will, with this powerful and unforgettable novel about learning from your mistakes and learning to forgive. The New York Times Book Review raved: "This is a beautiful, big-hearted book with important lessons embedded in compelling stories of two irresistible girls. Expertly executed and movingly realized."
Emily has always been the kind of girl who tries to do the right thing—until one night when she does the worst thing possible. She sees Belinda, a classmate with developmental disabilities, being attacked. Inexplicably, she does nothing at all.
Belinda, however, manages to save herself. When their high school finds out what happened, Emily and Lucas, a football player who was also there that night, are required to perform community service at a center for disabled people. Soon, Lucas and Emily begin to feel like maybe they're starting to make a real difference. Like they would be able to do the right thing, if they could do that night all over again. But can they do anything that will actually help the one person they hurt the most?
Told in alternating points of view, A Step Toward Falling is a poignant, hopeful, and altogether stunning work that will appeal to fans of books by Jennifer Niven, Robyn Schneider, and Jandy Nelson.
About the Author: Cammie McGovern is the author of the much-acclaimed YA novel Say What You Will, published in 2014. A Step Toward Falling, another YA novel featuring characters with disabilities, is coming out in October, 2015. Just My Luck, for middle-grade readers, is coming out in February 2016. She has also written three adult novels, The Art of Seeing, Eye Contact, and Neighborhood Watch and is one of the proud founder of Whole Children/Milestones, a resource center for children and young adults with disabilities and their families. She lives in Amherst, MA, with her husband and three sons, the oldest of whom is autistic. As the parent of a 19-year-old son with autism and one of the founders of a center which serves over 600 children and young adults with disabilities, I have gotten to know a lot of young people with a wide variety of disabilities and have felt a little dismayed at how rarely we see their stories in books, movies, and TV shows. This is the largest minority group in the country and also—seemingly—the least represented in popular culture. My hope in telling a few of their stories is that readers might see how much they have in common with other young adults who might look and act quite differently because of a disability. The cornerstones of our personalities are essentially the same: we all desire friendships, love, family, connection, a feeling of success. I have also written three novels that are technically for adults but, after hearing from quite a few kids reading Eye Contact for school, that maybe those old labels don't always fit. Eye Contact is about a boy with autism who witnesses a murder that takes place during school hours. I'm thrilled that it's being used by teachers and librarians in discussions about bullying and tolerance of kids with special needs. My other novel that might be of interest to YA fans is The Art of Seeing about two sisters and how their relationship grows and changes when the older one becomes a movie actress, based (a tiny bit) on life with my own dear sister, Elizabeth McGovern (currently starring in Downton Abbey.) For more info on these books, check out the My Books link. Last but not least, if you would like more information about Whole Children/Milestones, now moving into its 12th year of serving children and young adults with disabilities, please check out their website: Whole Children. This place is magical and was one of my primary inspirations for A Step Toward Falling.
Why I Want To Read This Book: I have been wanting to read Cammie's book, Say What You Will for a while now and when I saw she had another book, I knew I had to get my hands on it. All of Cammie's books include people with special needs and it is something that I really enjoy. This book sounds unique and different and hopefully I get just this.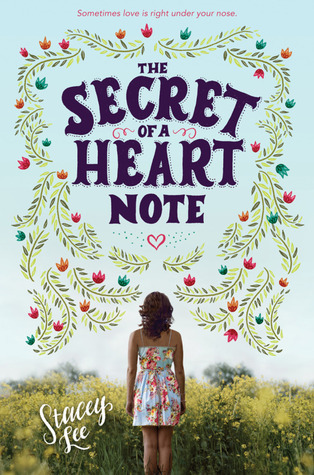 Title: The Secret of a Heart Note
Author: Stacey Lee
Released: December 27, 2016
Publisher: Katherine Tegen Books
Pages: 384 (Hardback)
An evocative novel about a teen aroma expert who uses her extrasensitive sense of smell to mix perfumes that help others fall in love while protecting her own heart at all costs
Sometimes love is right under your nose. As one of only two aromateurs left on the planet, sixteen-year-old Mimosa knows what her future holds: a lifetime of weeding, mixing love elixirs, and matchmaking—all while remaining incurably alone. For Mim, the rules are clear: falling in love would render her nose useless, taking away her one great talent. Still, Mimosa doesn't want to spend her life elbow-deep in soil and begonias. She dreams of a normal high school experience with friends, sports practices, debate club, and even a boyfriend. But when she accidentally gives an elixir to the wrong woman and has to rely on the lovesick woman's son, the school soccer star, to help fix the situation, Mim quickly begins to realize that falling in love isn't always a choice you can make.
At once hopeful, funny, and romantic, Stacey Lee's The Secret of a Heart Note is a richly evocative coming-of-age story that gives a fresh perspective on falling in love and finding one's place in the world.
About the Author: Stacey Lee is a fourth generation Chinese-American whose people came to California during the heydays of the cowboys. She believes she still has a bit of cowboy dust in her soul. A native of southern California, she graduated from UCLA then got her law degree at UC Davis King Hall. After practicing law in the Silicon Valley for several years, she finally took up the pen because she wanted the perks of being able to nap during the day, and it was easier than moving to Spain. She plays classical piano, raises children, and writes YA fiction.
Why I Want To Read This Book: I was drawn in with the cover first. This cover is beautiful. I clicked on the cover and I read the synopsis and fell in love with the book. The book seems like a fun, upbeat, romantic, and quick read!
Title: Spindle
Author: E.K. Johnston
Released: December 6, 2016
Publisher: Disney Press
Pages: 368 (Hardback)
It has been generations since the Storyteller Queen drove the demon out of her husband and saved her country from fire and blood. Her family has prospered beyond the borders of their village, and two new kingdoms have sprouted on either side of the mountains where the demons are kept prisoner by bright iron, and by the creatures the Storyteller Queen made to keep them contained.
But the prison is crumbling. Through years of careful manipulation, a demon has regained her power. She has made one kingdom strong and brought the other to its knees, waiting for the perfect moment to strike. When a princess is born, the demon is ready with the final blow: a curse that will cost the princess her very soul, or force her to destroy her own people to save her life.
The threads of magic are tightly spun, binding princess and exiled spinners into a desperate plot to break the curse before the demon can become a queen of men. But the web of power is dangerously tangled–and they may not see the true pattern until it is unspooled.
About the Author: E.K. Johnston had several jobs and one vocation before she became a published writer. If she's learned anything, it's that things turn out weird sometimes, and there's not a lot you can do about it. Well, that and how to muscle through awkward fanfic because it's about a pairing she likes. Her books range from contemporary fantasy (The Story of Owen, Prairie Fire), to fairy-tale reimaginings (A Thousand Nights, Spindle), and from small town Ontario (Exit, Pursued By A Bear), to a galaxy far, far away (Star Wars: Ahsoka). She has no plans to rein anything in. You can follow Kate on Twitter (@ek_johnston) to learn more about Alderaanian political theory than you really need to know, or on Tumblr (ekjohnston) and Instagram (ek_johnston) if you're just here for pretty pictures. E.K. Johnston is represented by Adams Literary
Why I Want To Read This Book: Anything that includes the words queen, magic, death and demon in the synopsis is a must read for me. This book sounds different from others, like it was have a darkness to it that other books don't have. This book sounds like a real page turner!
What books are you looking forward to this month? What are you excited to get your hands on this month? Are you ready for Christmas? Let me know your thoughts in the comments!
Happy Reading,