Hello Everyone!
I hope you all have had a great couple of days since I haven't posted in a few days. I have been celebrating Thanksgiving and I really didn't want to really do anything that day (blame it on the Turkey I ate). I went Black Friday Shopping for about 12 hours the next day, along with decorating for Christmas.
Enough of my boring life, but last night I finished Empire of Storms and let me tell you – I cried. Literally tears were flowing down my face because of how it ended and everything that happened in between. You guys have no idea how hard it has been not to go and read reviews of this book recently because so many people have read it. Now I can read all the reviews and warn you – DO NOT DO THE SAME THING I DID: SPOILER YOURSELF. Make sure you check out my reviews for the other books in the series before reading this one! And I am going to go ahead an apologize for my very long review because I am still not okay with this book.
Throne of Glass
Crown of Midnight
Heir of Fire
Queen of Shadows
---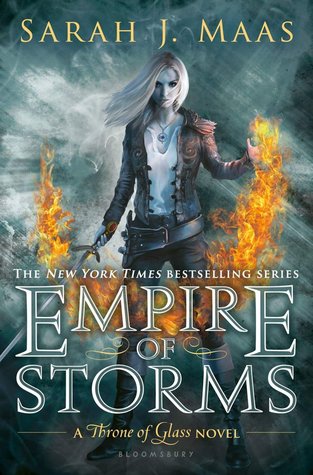 Title: Empire of Storms
Author: Sarah J. Maas
Publisher: Bloomsbury USA Childrens
Released: September 6, 2016
Pages: 693 (Hardback)
The long path to the throne has only just begun for Aelin Galathynius. Loyalties have been broken and bought, friends have been lost and gained, and those who possess magic find themselves at odds with those who don't.
As the kingdoms of Erilea fracture around her, enemies must become allies if Aelin is to keep those she loves from falling to the dark forces poised to claim her world. With war looming on all horizons, the only chance for salvation lies in a desperate quest that may mark the end of everything Aelin holds dear.
Aelin's journey from assassin to queen has entranced millions across the globe, and this fifth installment will leave fans breathless. Will Aelin succeed in keeping her world from splintering, or will it all come crashing down?
About the Author: Sarah J. Maas is the #1 New York Times bestselling author of the Throne of Glass series and A Court of Thorns and Roses series, as well as a USA Today and international bestselling author. Sarah wrote the first incarnation of the Throne of Glass series when she was just sixteen, and it has now sold in thirty-five languages. A New York native, Sarah currently lives in Pennsylvania with her husband and dog. Empire of Storms, the fifth Throne of Glass novel, is available now. She graduated Magna Cum Laude from Hamilton College in 2008 with a degree in Creative Writing and a minor in Religious Studies. Sarah lives in Bucks County, PA, and over the years, she has developed an unhealthy appreciation for Disney movies and bad pop music. She adores fairy tales and ballet, drinks too much tea, and watches an ungodly amount of TV. When she's not busy writing, she can be found exploring the historic and beautiful Pennsylvania countryside with her husband and canine companion.
My Review:
Let me just say it. Chaol was not in this book. He was not in the book and it killed me. Yes, he was badly injured in Queen of Shadows and Dorian says in Empire of Storms that he is going to get healed. I would have loved to be able to know what his mind was thinking when he found out about the attacks, found out about all this stuff going on with Dorian and Aelin but it never happened.
Yes, I can finally call Celaena her real name, Aelin. I struggled with that in the last few books because I really didn't feel like the name was hers. In this book, she did just that.
We have this whole thing with Rowan go and save Dorian from the attack of the witches (who are actually Manon's worst enemies). Aelin comes up this plan for Dorian and Rowan to meet her, Aedion and Lysandra at this location, Skull's Bay. Rowan begins to help Dorian with his magic, because let's be serious, he has no idea one thing about taming his magic. Rolfe, the Pirate King demands for Aelin to arrive at Skull's Bay quickly because they need to have a little chat together.
While waiting for Aelin to arrive at Skull's Bay, Rowan starts to wonder if what Maeve is really up to. She sent her two men Fenrys and Gavriel, who were under her blood oath still, to come and kill Lorcan. Fenrys and Gavriel kept asking Rowan if he knew where Lorcan was but he kept saying no.
No one knew where Lorcan was because he was pretending to be Elide's husband. In the last book, I really never liked Lorcan. He really never did anything on his own, he did things as he is commanded. Elide was asked by Kalitan to hand something to Celaena but Elide didn't realize that Celaena was actaully Aelin, like most people. Lorcan teams up with Elide to get her to Aelin, telling her that once she finds one of them, the other will be there as well.
One of my favorite parts happened at Skull's Bay, with Aelin's return. After defeating an army of men at her place and talking to Brannon, she makes it to Skull's Bay. Rolfe finds Aelin, who at this point of time was using the name Celaena, sitting in his chair. Rowan and Dorian are behind Rolfe, emotionless. Rolfe introduces 'Celaena' to Rowan and continually tells her to get out of his seat. Rolfe and Celaena begins to catch up and they get on the topic of Aelin. Aelin stands up and says to Rolfe,
"Allow me to introduce to you, Captain Rolfe, the incomparable, the beautiful, and the absolutely and all-around flawless Queen of Terrasen" – Page 243
Out walks Lysandra who has shifted into Aelin and it made the scene hilarious and very visual to see.
Slide over Magnus Bane and Alec Lightwood, Rowan and Aelin have taken your spot as my favorite OTP. Rowan has taken to her court back in Heir of Fire and they have been together kind of ever since. After the Rolfe situation, Rowan keeps his promise to Aelin of their first time not being on a tree, in front of everyone. The night she returned to Rowan, they go up against the chimney in the room that Rowan and Aelin were staying and the whole thing was just so cute and adorable. (I'm not weird, I promise)
Aedion finally got to meet his real father and he will not ever trust him enough. I quite like both Aedion and Gavriel. You see the similarities between them during war and caring for the ones they love. It might be a thing that the Fae have or something because Rowan seems to have it as well but Aedion and Gavriel are so alike.
Aedion never gave his father a chance when he first met him. Aedion tried to deny the fact that he was his true father and it broke my heart. Gavriel wanted to have a connection with his soon but Aedion wasn't giving him the chance. Without Lysandra and the others being there, I think it stopped Aedion from attacking his dad.
War begins for the first time and for the second or third time in this whole entire book series, I thought that Aelin was going to die. I thought that she had used too much power and had channeled death.
Aelin and Rowan had decided that they would connect their powers to become more powerful. By doing so, they were feeding off of each other. By this point of time, I knew something was going to happen to someone, but I was things more towards Rowan for some reason. But I keep forgetting that Aelin had the Eye of Elena with her. This Eye of Elena was almost the death of her.
During the combination of Aelin and Rowan's powers, Rowan was keeping Aelin calm and steady. Rowan gives her his powers and she looses control. My heart suddenly stopped and had to be replaces.
'"Aelin," Rowan warned. The pillar of flame began expanding, laced now with blue and turquoise. Flame that could melt bone, crack the earth.
Too much, he had given her too much, and she had delved too deep into her power-
Through the flames encasing them, Rowan glimpse the frantic enemy fleet, now hurling themselves into motion to flee, to get out of range.
Aelin's ongoing display was not for them.
Because there was no escape, not with the power she'd dragged up with her.
The display was for the others, for the city watching them.
For the world to know she was no mere princess playing with pretty embers.
"Aelin," Rowan said again, rying to tug on that bond between them.
But there was nothing.
Only the gaping maw of some immortal, ancient beast. A beast that had opened an eye, a beast that spoken in the tongue of a thousand worlds." – Page 319
Of course Aelin had to wake up some demon and allow it to control her body. At least she was not wearing a black ring and collar, signs of becoming Valg. Deanna allowed herself to come through and speak telling Aelin that she was the Queen Who Was Promised.
At this point of time, that never ran through my mind as being important, so it was one of those things that I never saw important. I still thought Lorcan believing that he had the real Eye of Elena was more important than the whole scene, even if Lysandra almost died and Aedion coming after here. Boats exploding and everything is going completely wrong. Rowan risked his life for hers.
That same night, on the beach, Rowan and Aelin get down and dirty and compared to A Court of Mist and Fury, I would say it was about the same level of sexual content. The writing is about the same as it typically is. It really wasn't any different from any of the others.
Manon Blackbeak is back into the plot and this is still shocking me – she is actually starting to grow on me. She tried to kill her Grandmother, which I would try to do the same thing, but her grandmother fought back. Her Grandmother beats her and strips her from any ties to her, or her title and the Thirteen. Manon had it rough even without Elide so her Grandmother wanted to make it worse for her.
Aelin, Rowan, Dorian, Aedion, and all the others bring Manon onto the boat and fix her up. Dorian was the only one who really knew her well before she got on the boat. She risked her life to save him at the beginning of this book. Now she kind of owes both Dorian and Aelin her life. Just great. I was just starting to like her and Aelin decides to make her a slave.
Dorian was one of the only people that Manon felt comfortable around on the whole ship. Dorian wanted the best for Manon, including the fact that more than likely, in the next book, they will somehow be together. Dorian wants to be with someone who isn't a human. A boring human. Manon is nothing close to that.
Dorian has actually done the most growing up in this book series than any other character in my opinion. In the first book, I could not stand him. He was the annoying boyfriend who would not give up what he had. Through the second and third book, he seemed to loosen up a bit. He found Sorscha and I like to think that she is part of the reason he has changed so much. After watching his own father kill the love of his life. In the fourth book the Valg controlled him.
By this point of time, Aelin and all of them know who Elide is, or at least heard the name a few times. Manon makes sure that Aelin finds outs that Elide is looking her and has something to give her. As Elide is on the hunt to find Aelin, she decides that she won't tell Lorcan everything that she knows because in Elide's mind, HE IS A STRANGER. In a way he is, and another, he isn't It depends on the circumstances. But Lorcan finally figured out that the Wrydkey is fake. And now he wants to get Aelin back.
With Manon's help, she reveals that Aelin has been traveling with one of Erawan's Bloodhounds – Fenrys. Fenrys was sent to come track them all down and report then to Erawan. Fenrys has told him that she has some of the keys. He has told him how powerful all of them are. How many there are. What their plans are. Erawan knew everything.
Another one of my favorite scenes came when Aelin was in the bathroom puking her guts out and Rowan was trying to get in. Now, the only reason it is one of my favorites is actually something that I wished would happened and it happened in the next chapter. Aelin is in the bathroom puking, asking Rowan to get Lysandra for help. Rowan tried to smell her to see if she was pregnant, which I think is awesome if someone could smell you and tell you if you were pregnant, but he couldn't smell anything. In the next chapter, Elide is telling Lorcan that she needs supplies, and he returns with "You still reek of blood." It turns out that when Lorcan and Elide goes into the town, Elide's uncle appears and some sort of bond between Elide and Lorcan breaks through. Lorcan goes and kills her uncle.
It's been already bad enough for Aelin because of Deanna controlling her body, Maeve possibly blaming her for burning a town down and now an army of 500 Ilkens are coming to attack. Without the help of Lorcan, Aelin and Rowan would have no idea how to prepare for the whole war. The one thing Aelin wanted through the whole thing was the first shot.
As Aelin approaches the 500 ilkens, Rowan stops her gives her one of my favorite lines in the whole entire book:
"But his pine-green eyes were bright – almost soft – as he said, "Remember who you are. Every step of the way down, and every step of the way back. Remember who you are. And that you're mine." – Rowan to Aelin on Page 521
I like to believe that Aelin had that running in her mind on repeat the whole time because she SUMMONED THE ILKEN and somehow used her fire to burn them all. Thank goodness Lorcan was with Elide or Elide would have been dead, for the first time in the chapter.
I love how courageous Elide became when Fenrys and Gavriel were trying to kill Lorcan. She literally jumped on top of Lorcan to save him. Aelin came and healed her and Elide sees the first time in forever, Manon. Manon pushes Lorcan away and I like to think that this was what caused Maeve to come.
Maeve's ships came and we finally learn the truth about Baba Yellowlegs. I was waiting for her to somehow get back into the plot. Manon and Aelin use both of their powers to go into this mirror that Baba Yellowlegs had left behind. Dorian is the one standing there when they jumped in and all the others came into the room as soon as they left.
This is where I should have seen it happen. I had already spoiled myself by the middle of Queen of Shadows about the fact that Rowan and Aelin were going to get married. I spoiled myself with the ending of the book when I still had 200 pages left. I wanted to throw the book against the wall.
During the whole scene, Rowan is sitting there with his head in his hands. Luckily, Rowan had a plan with his cousins to turn on Maeve. Little did he know that Maeve was going to take Aelin.
While Manon and Aelin was in the mirror, they find out about the whole story of the Eye. To realize the whole story about why Nehemia actually came to save her and that Mala blood runs through the blood of both Dorian and Aelin. To save the world, either one of them has to die. 
Manon and Aelin arrive to see Maeve having one of her soilders hold a knife to Elide's throat. Of course, Rowan isn't there yet. When Lorcan arrives, he would rather that Elide and let Aelin die. Let Maeve take Aelin and hold her prisoner. Maeve just wants the Wrydmarks, even though she doesn't have them. Manon does! Maeve reveals the truth behind Rowan and Aelin:
From an young age, she was already mated to Rowan. Maeve had to keep Rowan and Aelin away, to try to keep the mate away from being discovered. Maeve had Lyria set up with Rowan to hid Aelin away from him.
Aelin doesn't Maeve control her. Yes, Aelin takes her shirt of to let her men whip her but she doesn't count. Aelin refuses to count and I give her points. This is about the time the tears started to come. Aelin is saying her goodbyes and she tells them to tell Rowan,
'"And tell Rowan," Aelin said, fighting her own sob, "that I'm sorry I lied. But tell him it was all borrowed time anyway. Even before today, I knew it was all just borrowed time, but I still wish we'd had more of it." She fought past he trembling mouth. "Tell him he has to fight. He must save Terrasen, and remeber the vows he made to me. And tell him…tell him thank you – for walking that dark path with me back to the light."' – Page 660 – 661
Maeve has her men but an iron mask on her and place her in this coffin/box thing and I'm over here in tears. Maeve releases Lorcan's blood oath to her along with Gavriel and it makes the whole situation even worse. Then page 670 comes and I die.
Rowan tells them all that him and Aelin were married. The only people that where there were Aedion and Lysandra. The whole entire time, I'm sitting here, yelling at the book because there is no way that a book can end this way.
"Where is Aelin."
There was pure panic, too – pure panic as Whitethorn saw the blood, the scattered bladess, and the shirt.
"Where is Aelin."
What had he done, what had he done –
Panic sliced Lorcan's neck, warm blood dribble down his throat, his chest.
Rowan hissed, "Where is my wife?" – Page 670
*grabs the thing that restarts your heart at the hospital that I don't remember what it is called and places it on myself*
Now Rowan is searching for Aelin and the whole book series is going to end.
Sarah J. Maas has done it to me. It's not going to be like all the other times when I finished a book in this series, go and grab the next book off the series. I can't do it this time. I am going to pick up The Assassin's Blade next, even though I have read it before, but who cares.
Unlike most of the reviews I read for this book today, this book had to be my favorite book in the whole series. I love all the action that took place in the book and the emotion behind the whole thing. I really wished that Fleetfoot and Evangeline, along with Chaol, were included more in this book but this book is just great. 5 out of 5 stars for me.
The Sequel:
There will be the 6th and final book in the Throne of Glass series realized about September 2017. No other information is provided at this time.
Have you read this book? How do you feel about Sarah J. Maas' writing? Did I bore you to sleep with this review because I really hope I didn't! What are you currently reading and is it any good? Let me know in the comments!
Happy Reading,