I'm so sorry for being so inconsistent with posting this month! This is one thing I really hate about the end of the year. Every class is trying to add all this work on me and I barley have time to do anything at home these days! But I'm jumping into a new schedule and hopefully more post and reviews will be coming. I'm going to try at least.
But anyway, I finished the third book in the Throne of Glass series by: Sarah J. Maas, Heir of Fire and it's time for a little review! Make sure you check out my review for the first and second book in the series before this Spoiler Review!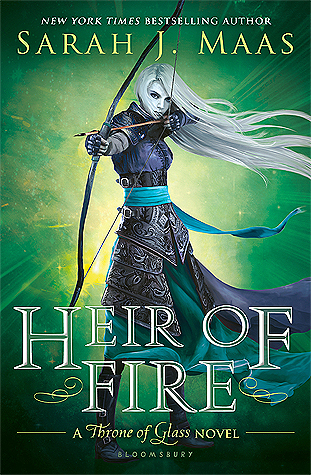 Title: Heir of Fire
Author: Sarah J. Maas
Publisher: Bloomsbury USA Childrens
Released: September 2, 2014
Pages: 565 (Hardback)
Celaena has survived deadly contests and shattering heartbreak―but at an unspeakable cost. Now, she must travel to a new land to confront her darkest truth . . . a truth about her heritage that could change her life―and her future―forever. Meanwhile, brutal and monstrous forces are gathering on the horizon, intent on enslaving her world. Will Celaena find the strength to not only fight her inner demons, but to take on the evil that is about to be unleashed?
The bestselling series that has captured readers all over the world reaches new heights in this sequel to the New York Times best-selling Crown of Midnight. Packed with heart-pounding action, fierce new characters, and swoon-worthy romance, this third book will enthrall readers from start to finish.
About the Author: Sarah J. Maas is the #1 New York Times bestselling author of the Throne of Glass series and A Court of Thorns and Roses series, as well as a USA Today and international bestselling author. Sarah wrote the first incarnation of the Throne of Glass series when she was just sixteen, and it has now sold in thirty-five languages. A New York native, Sarah currently lives in Pennsylvania with her husband and dog. Empire of Storms, the fifth Throne of Glass novel, is available now. She graduated Magna Cum Laude from Hamilton College in 2008 with a degree in Creative Writing and a minor in Religious Studies. Sarah lives in Bucks County, PA, and over the years, she has developed an unhealthy appreciation for Disney movies and bad pop music. She adores fairy tales and ballet, drinks too much tea, and watches an ungodly amount of TV. When she's not busy writing, she can be found exploring the historic and beautiful Pennsylvania countryside with her husband and canine companion.
My Review:
Firstly, I need to get this out before I explode. I don't like Manon. Manon was just not my kind of character. Manon seemed to be a little self centered and basically her whole life revolved around her 'people'. I understand that Baba Yellowlegs (from the second book) had to be put into the rest of the series but couldn't Sarah J. Maas put her in another way? I don't know but I get this feeling like Manon and Celaena are going to be related somehow because they have similar characteristics. That might just be me as well but whatever.
Rowan Whitethorn is in the house and you have no idea how excited I am. Rowan is basically everything and I want to buy one. I have been wanting to read about Rowan from the very first book because I knew that he was coming. Rowan begins in the story as being the mean, arrogant male character that wants nothing to do with anyone because he is under the control of Celaena's aunt Maeve.
There were several times in the books I questioned Rowan's job title. Yes, he is like Celaena but he wanted almost nothing to do with her. But on the other hand, if she would venture out, he would be the one to go and save her. ALWAYS. Once Celaena finds Rowan tattooing the man in his room, Rowan begins to change. He changes even more when Celaena is at the party and she was about to die. My heart was breaking for him because after all this time, he is such a caring person.
Dorian made me want to scream at the book several times and it wasn't because of Sorscha. Quite honestly, I like Sorscha. She was such a caring, kind, fun, and loving and that is what Dorian needed in his life. The thing I didn't like about Dorian in the whole entire book was the fact that not once did he ever bring up Celaena. I understand that he has his women and Celaena is gone, but he really never talked about her. Dorian only talked about Celaena to Chaol and Aedion, and that is when he found out the truth about her. Dorian learned that he had known her since they were younger and they were friends. Not once did it ever cross his mind that Celaena was Aelin.
Chaol broke my heart at the beginning of the book. Everything he thought about was Celaena and he missed her. Chaol wanted her back with him and he regrets sending her there as soon as he sees Aedion, Celaena's cousin. But as the book progresses, Chaol begins to change and soon forgets about the whole thing and is more focused on his job and leaving.
Celaena and the Valg's made me hope that Chaol would come and save her. But of course, he never did but Rowan did! (Rowan was already there in the first place but he wanted her.) Valg's are these monsters that have taken over the bodies of people. They have these black necklaces, that are similar to the black rings that the High Powered People in the Lands wore. Rowan was holding the shield but he was going to head inside to help. Celaena takes over holding the shield but she begins to die down. The Valg comes and takes Celaena. Rowan, of course, comes too late and watched the Valg take Celaena. Two guys have to hold Rowan down just to keep him stable and it made it so much sweeter! ❤ Celaena is somehow able to kill the two Valgs and get to Rowan.
Somehow, Celaena and Rowan become mates. During the middle of the book, Celaena and Rowan have a big conversation about the whole mate situation when Celaena tells Rowan about Chaol. At the end of the book, Rowan is almost killed by Maeve because Celaena will not reveal her information about Wyrdmarks. Celaena has something Maeve wants and Maeve has something Celaena wants so they do a simple trade. Celaena forces Maeve to break the connected between her and Rowan. Celaena then goes and ask Rowan if he wants to be part of her kingdom. Of course he says yes and they are mated.
I don't know why but it seemed like Celaena was almost always getting herself into trouble or close to death in this book. Yes, she was doing dangerous things in the other book but in this book, nothing compared to it. Celaena lit a fire in the woods at night and Rowan had to save her. Almost dying out during events that also lead Rowan to saving her. So many things just kept piling on and on to the list and somehow she is still alive, for now.
If you haven't read A Court of Mist and Fury, do not read this next part. I get the feeling that Dorian and Chaol are pretty much the same as Lucien and Tamilin. Celaena has put her trust in both Dorian and Chaol's hands and trust them with all of her heart. Celaena had a thing with both Dorian and Chaol and still never saw sides of them that hinted anything. Feyre from ACOTAR and ACOMAF can related to Celaena with Lucien and Tamilin. The only thing is, Feyre was only with Tamilin. She was blinded by all of his power and beauty that she never saw his evil side. Both Dorian and Tamilin is high powered while Chaol and Lucien followed their command. Both characters also fell in love with the bad guy – Rhysand for Feyre and Rowan for Celaena. Why do authors do that? Make me fall in love with the bad guy?
Overall, this has to be my least favorite in the series so far, giving it a 4.2 out of 5.There were a few things that could have been taken out because it was the same thing over and over again, but I still have one thought in the whole situation. When Chaol was talking to Dorian and Sorscha and he turned to face the King, what happened after that? Was it automatically Sorscha getting her head cut off and Dorian telling Chaol to run?
The Sequel:
Title: Queen of Shadows
Author: Sarah J. Maas
Publisher: Bloomsbury USA Childrens
Released: September 1, 2015
Pages: 648 (Hardback)
The queen has returned.
Everyone Celaena Sardothien loves has been taken from her. But she's at last returned to the empire—for vengeance, to rescue her once-glorious kingdom, and to confront the shadows of her past…
She has embraced her identity as Aelin Galathynius, Queen of Terrasen. But before she can reclaim her throne, she must fight.
She will fight for her cousin, a warrior prepared to die for her. She will fight for her friend, a young man trapped in an unspeakable prison. And she will fight for her people, enslaved to a brutal king and awaiting their lost queen's triumphant return.
The fourth volume in the New York Times bestselling series continues Celaena's epic journey and builds to a passionate, agonizing crescendo that might just shatter her world.
Have you read this book? Have you been wanting to read it for a while? What were your thoughts on the book? Who was your favorite character and why? Let me know your thoughts in the comments!
Happy Reading,