I feel like I talk about the same books over and over again. It might just be me but I get tired of talking about the same book because there are so many amazing books in the world. Here are four books I have read but don't talk about as much as others.
Eleanor and Park by: Rainbow Rowell
Two misfits.
One extraordinary love.
Eleanor… Red hair, wrong clothes. Standing behind him until he turns his head. Lying beside him until he wakes up. Making everyone else seem drabber and flatter and never good enough…Eleanor.
Park… He knows she'll love a song before he plays it for her. He laughs at her jokes before she ever gets to the punch line. There's a place on his chest, just below his throat, that makes her want to keep promises…Park.
Set over the course of one school year, this is the story of two star-crossed sixteen-year-olds—smart enough to know that first love almost never lasts, but brave and desperate enough to try.
I read this book about 2 years ago and I loved it. There was nothing wrong with the book and it slowly killed me. The book has a story line that I have never read before. And let's admit it, we all want a Park in our life.
Even though Eleanor is not a real person, she has a life that I feel bad about. Her life is rough with her fatherly figure and her mom. Nothing is comforting her and she is socially different. Now, even though there is an image on the cover of her, I always saw her differently while I was reading. Was that just me?
One of my friends started to read this book the other day and she is obsessed with it. I think she said she has read it about 3 times in the past two weeks. She is obsessed with it and this is the only book she will talk about – other than Dan and Phil's. As we sit there and talk about the book, I forget about how much I love this book.
The Finisher by: David Baldacci
Welcome to Wormwood: a place where curiosity is discouraged and no one has ever left.
Until one girl, Vega Jane, discovers a map that suggests a mysterious world beyond the walls. A world with possibilities and creatures beyond her imagining.
But she will be forced to fight for her freedom. And unravelling the truth may cost Vega her life.
I think I have talked about this book before but I could be totally wrong. This was one of the best books I read in 2014 and I totally forgot about this book. I was organizing my bookshelves the other day and the whole book came back to me. This book was so action packed and there was never a dull moment.
I don't think many people have actually read this book. There are elements in the book that I really didn't like, but that is in every moment, but you are able to bypass that when you get into the story line.
Rebel Belle by: Rachel Hawkins
Harper Price, peerless Southern belle, was born ready for a Homecoming tiara. But after a strange run-in at the dance imbues her with incredible abilities, Harper's destiny takes a turn for the seriously weird. She becomes a Paladin, one of an ancient line of guardians with agility, super strength and lethal fighting instincts.
Just when life can't get any more disastrously crazy, Harper finds out who she's charged to protect: David Stark, school reporter, subject of a mysterious prophecy and possibly Harper's least favorite person. But things get complicated when Harper starts falling for him—and discovers that David's own fate could very well be to destroy Earth.
With snappy banter, cotillion dresses, non-stop action and a touch of magic, this new young adult series from bestseller Rachel Hawkins is going to make y'all beg for more.
Like The Finisher, I think I have talked about this book before but not enough. If you haven't read this book, you need to put it on your TBR. I love this book, and the other books in the series. It has magic, love interest, girl falls for wrong guy, and mystery.
Harper is actually pretty relatable, at least to me. Firstly, she is in high school. Yes, I don't go through half the stuff that she goes through but there are elements in her life that I can relate to. She is also not as annoying as most main characters in most books like this. That might be just me as well.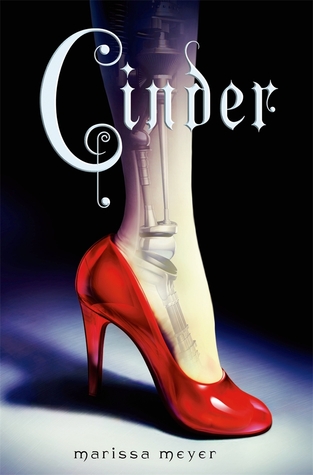 Cinder by: Marissa Meyer
Humans and androids crowd the raucous streets of New Beijing. A deadly plague ravages the population. From space, a ruthless lunar people watch, waiting to make their move. No one knows that Earth's fate hinges on one girl.
Cinder, a gifted mechanic, is a cyborg. She's a second-class citizen with a mysterious past, reviled by her stepmother and blamed for her stepsister's illness. But when her life becomes intertwined with the handsome Prince Kai's, she suddenly finds herself at the center of an intergalactic struggle, and a forbidden attraction. Caught between duty and freedom, loyalty and betrayal, she must uncover secrets about her past in order to protect her world's future.
Like most books on this list, I read in 2014 and 2015 (my 8th grade year) and loved them. Cinder, hands down is one of those books I picked up because I heard that it was good. Of course, I was really confused at first – with the only thing I understood was the fact that her sister was sick and they were in a junk yard thing. I reread the beginning of the book and it made so much more sense to me.
Before you dive into the book series, I should give you a little warning. There are 4 books in the series: Cinder, Scarlet, Cress, and Winter. Each of the titles are the names of the main character of the book but all the characters come together to defeat a certain something. Trust me. If I would have known that before I read the rest of the series, I would have enjoyed them a lot more.
What are some books that you read and you don't talk about as often as you want to? Have you read any books on this list? Do you want to know some books that I talk about way too much? Let me know your thoughts in the comments!
Happy Reading,